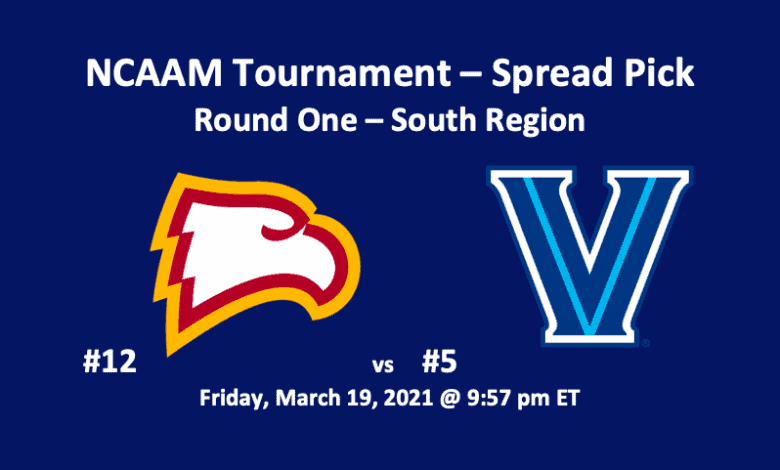 Our Winthrop vs Villanova pick is the last game in Round 1 of the 2021 NCAA Tournament's South Region. The Wildcats are favored and at -6.5 (-110), while the Eagles are +6.5 (-110). During the regular season, Winthrop topped the Big South Conference and then beat Campbell 80-53 to win the conference tourney. Over their last five games, the Eagles have five wins and no loses. The Villanova Wildcats, who've lost three of their last five matchups and missed the mark in their last two games, finished first in the Big East Conference. In the Big East Tournament Quarterfinals, the Georgetown Hoyas edged the Wildcats 72-71. Eagles and Wildcats will meet on Friday, March 19 at 9:57 pm ET. The game will be held at Indiana Farmers Coliseum in Indianapolis, IN. Can underdogs North Texas cover Purdue> We've got the Mean Green vs Boilermakers best pick.
Winthrop vs Villanova Pick – Stats
Winthrop is coming in with some very sound stats. The Eagles are averaging 79.5 PPG, while the Wildcats are putting 75.5 PPG on the scoreboard. Additionally, Winthrop is averaging 40.3 RPG and 7.8 SPG. On the other hand, the Cats are grabbing 34.3 RPG and making 5.3 steals. Both teams are shooting 45% from the court and 35% from the arc. However, 'Nova has a better percentage from the charity stripe (76.5% to 68.6%). Also, they are making five fewer turnovers than the Eagles. Assists are even at 15 per game.
Key Players
Much of Winthrop's scoring comes from four players, guards Chandler Vaudrin, Adonis Arms, and Charles Falden and forward D.J. Burns Jr. Each is a double-digit scorer with Vaudrin topping the Eagles, averaging 12.2 PPG. Vaudrin is the team's floor commander and playmaker, as he's recording 6.9 APG and 7.2 RPG. He a 48% field-goal shooter and is good on 37.5% of his threes. The other three players are each averaging about 10 PPG and are responsible for 11.2 RPG.
Villanova also brings four double-digit point-makers to this game. Forward Jeremiah Robinson-Earl leads the pack with 15.7 PPG. He's also averaging 8.3 RPG. Additionally, forward Jermaine Samuels is putting up 11.8 PPG and 6.3 RPG. Guards Collin Gillespie and Justin Moore are averaging 14.0 and 12.6 PPG. Combined, they're good for 7.5 APG and 7.4 RPG. At least six players on this team are shooting 41% or better.
Winthrop vs Villanova Pick – Final Thoughts
This Winthrop vs Villanova pick finds that the Eagles should be able to keep this game close. They can shoot, rebound, and play defense. However, the Wildcats do a better job of protecting the ball and are much sounder at shooting free throws. It's a tough call, but we are going with the Eagles at +6.5 (-110).
#12 Winthrop Eagles vs #5 Villanova Wildcats
Winthrop Eagles at +6.5 (-110)