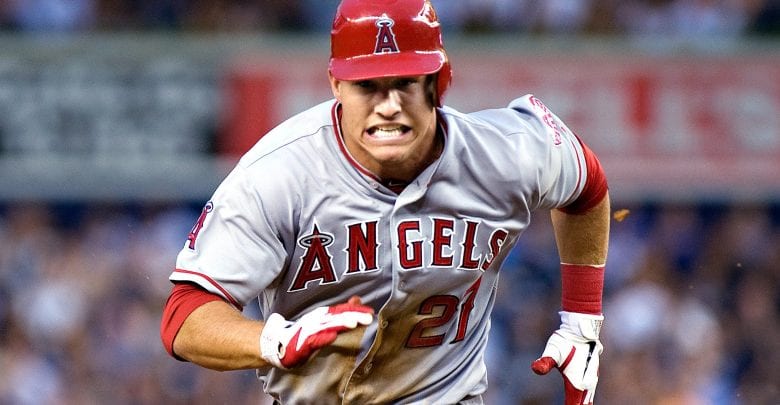 Things didn't go so well for our 8/17 free MLB pick thanks to a tremendous wind blowing out at Wrigley and an injury to starting pitcher Jon Lester. That's what you get though when you bet on an outcome you want to happen instead of one that you know will happen. That brings us to the 8/18 free MLB pick that sees the Los Angeles Angels travel to Baltimore to face the Orioles.
As it stands, the Angels definitely need Friday night's game more Los Angeles holds a 0.5 game lead over Kansas City for the second wild card spot in the American League. The Angels have gotten into this position thanks to a 7-3 run over their last 10. Baltimore on the other hand is only 3 games back in the Wild Card race, but they have 5 teams to leap frog to make the postseason happen. Not impossible – but highly improbable. Things do bode better for Baltimore at home though where they are 12 games above .500 (35-23) on the season.
Chris Davis' game-ending K sets new low in tough season for the Orioles first baseman #orioles #MLB https://t.co/mvU4Ll20rC pic.twitter.com/lqEjNyvLu1

— Orioles 101 (@Orioles_101) August 18, 2017
8/18 Free MLB Pick Starting Pitchers
If the Angels are going to hold on to their Wild Card lead the theme of Friday night's game is "unknown". This is because Los Angeles trots out Andrew Heaney to the mound – making his first start in over a year (April 5, 2016) as he recovered from Tommy John surgery.
By all accounts the recovery has gone well for Heaney. That being said, there's got to be some major league rust for a guy who has only thrown 6 MLB innings in two years. Heaney wasn't exactly seasoned to begin with as his injury occurred in only his third major league season and 24th career start. That being said, many times the "unknown" favors the pitcher.
Woke up pumped for @Heandog8 return today!

— Matthew Black (@Mattyblack69) August 18, 2017
Baltimore counters with Jeremy Hellickson (7-7) in their effort to upend the Angels on Friday night. Hellickson came over from Philadelphia at the trade deadline but has been underwhelming in his time in Baltimore, going 1-2 with a 4.50 ERA in three starts. Prior to coming over to the AL, Hellickson was only 6-5 with a 4.75 ERA in his time with the Phillies – not the most flattering stats either way.
8/18 Free MLB Pick Betting Matchup and Variables
Ironically enough oddsmakers have made Baltimore the favorites in Friday night's tilt at -135. This is largely due to the questions surrounding Angels pitcher Andrew Heaney. The odds are the Los Angeles pitcher won't pitch deep into tonight's game but Fangraphs actually projects Heaney pitching into the 6th tonight. That being said, sometimes you'd take the potential compared to what you know is coming – specifically Hellickson's performance thus far in 2017.
The Orioles have hit Heaney very well in limited appearances, batting .333 combined albeit in only 21 plate appearances. Look for Mike Trout to lead the way for Los Angeles as he's reached base 7 of the 12 times he's faced Hellickson in his career.
8/18 Free MLB Pick – What's the Play?
The over (10.5) in tonight's game is looking real pretty with a struggling pitcher on one side and his opponent making his first start in 16+ months. That being said, the most reliable play is on the team that has gone 7-3 in their last 10 and with a real incentive to win to keep their grasp on the wild card – especially with the value of an underdog.
http://mlb.mlb.com/images/2/5/2/248662252/081517_kintzler_records_strikeout_mid.gif
Pick: Angels +120