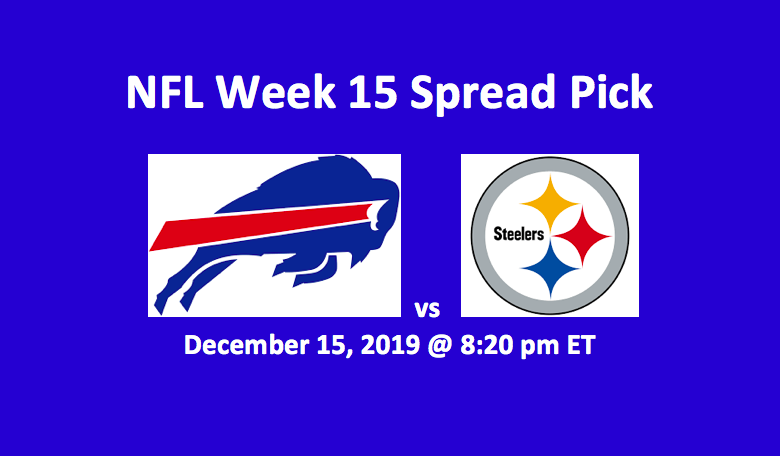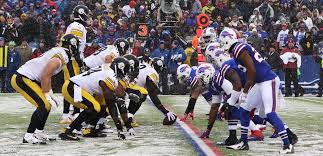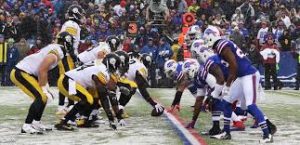 This Buffalo vs Pittsburgh pick looks to be a tight one. Our Buffalo Bills vs Pittsburgh Steelers prediction has Pittsburgh at -1.0. This Sunday Night Football game will be played on December 15, 2019 at Heinz Field in Pittsburgh, PA. Kickoff is at 8:20 PM ET. The weather should be uneventful with cloudy skies and temperatures right around freezing.
The Buffalo Bills (9-4 Overall, 5-1 Away) are in the mix for a playoff spot. They are certainly a contender for a wildcard, and, in order to keep pace with the AFC East-leading Patriots, they must win tonight. The Pats, who won early today, are presently 1.5 games up on the Bills. Buffalo comes to this game having gone 3-2 for their last five contests. The Bills lost last week 24-17 to Baltimore. Prior to that loss, they had a three-game winning streak, having taken down Miami, Denver, and Dallas.
The Pittsburgh Steelers (8-5 Overall, 5-2 Home) are second in the AFC North. They are 3.5 games behind the Ravens who have clinched the division. Still, Pittsburgh is also in the hunt for a wildcard berth. Pittsburgh has won four of its last three games and are on a three-gaming winning streak.
Buffalo vs Pittsburgh Pick – Select Stats
Point differentials are especially tight between these two teams. In PF/PA differential, the Bills are about +3.0 over the Steelers. That's negligible. The Bills have an offense that's a bit more productive and a defense that's a little stingier. The Bills bring a solid pass rush and are also adroit at containing the run. They feature a sound secondary. The Steelers have a scary pass rush and an extraordinary secondary. Their defense is adroit at forcing fumbles and scoring. This season they have posted three TDs.
Bills at Steelers – Key Players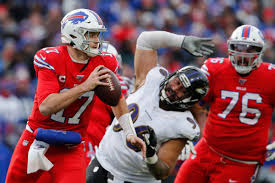 The Bills are led by QB Josh Allen. Allen is vulnerable to the sack having been brought down 33 times this season. He's thrown 17 TD passes and eight interceptions. Allen is completing 59.8% pf his passes. The receiving corps includes John Brown, who caught five TD passes, and Cole Beasley, who's scored six times. Devin Singletary and Fran Gore lead what is a productive ground attack. On defense, end Shaq Lawson and tackled Jordan Phillips are top-notch. Lawson's posted 5.5 sacks and 13.5 TFL, while Phillips has made 7.5 sacks and a dozen TFL. In the secondary, Tre'Davious White is key. He's notched four picks, two FF, and 15 PD.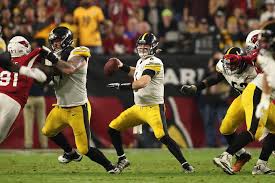 The Steeler offense could be led by QB Mason Randolph. In nine games, he's tossed 12 TD passes and nine picks. He's been sacked 14 times. We may also see QB Devlin Hodges who over five games has four TD passes and two INTs while having been sacked six times. The receiving unit is especially deep, while the running back situation for the Steeler is very uncertain. On defense, watch Pittsburgh corner Joe Haden who has four picks and 15 PD. DT Cameron Heyward and LB Bud Dupree have posted 8.0 and 9.5 sacks and 13 and 16 TFL respectively. LB T.J. Watt leads Pittsburgh with 12.5 sacks and 19 TFL. Our Buffalo vs Pittsburgh pick finds that the Bills may find it tough going versus this defense.
Our Buffalo vs Pittsburgh Pick
This game is especially tough to call. We do like Buffalo's offense a lot, and we find their defense certainly contains some premium players. Pittsburgh's lack of a running game is problematic. But they do have some good quarterbacking and a very fine group of receivers. Plus, the Pittsburgh defense is a step above Buffalo's. When all is said and done, our Buffalo vs Pittsburgh pick is the Steelers at -1.0.
Buffalo Bills vs Pittsburgh Steelers Prediction Summary
Pittsburgh Steelers at -1.0