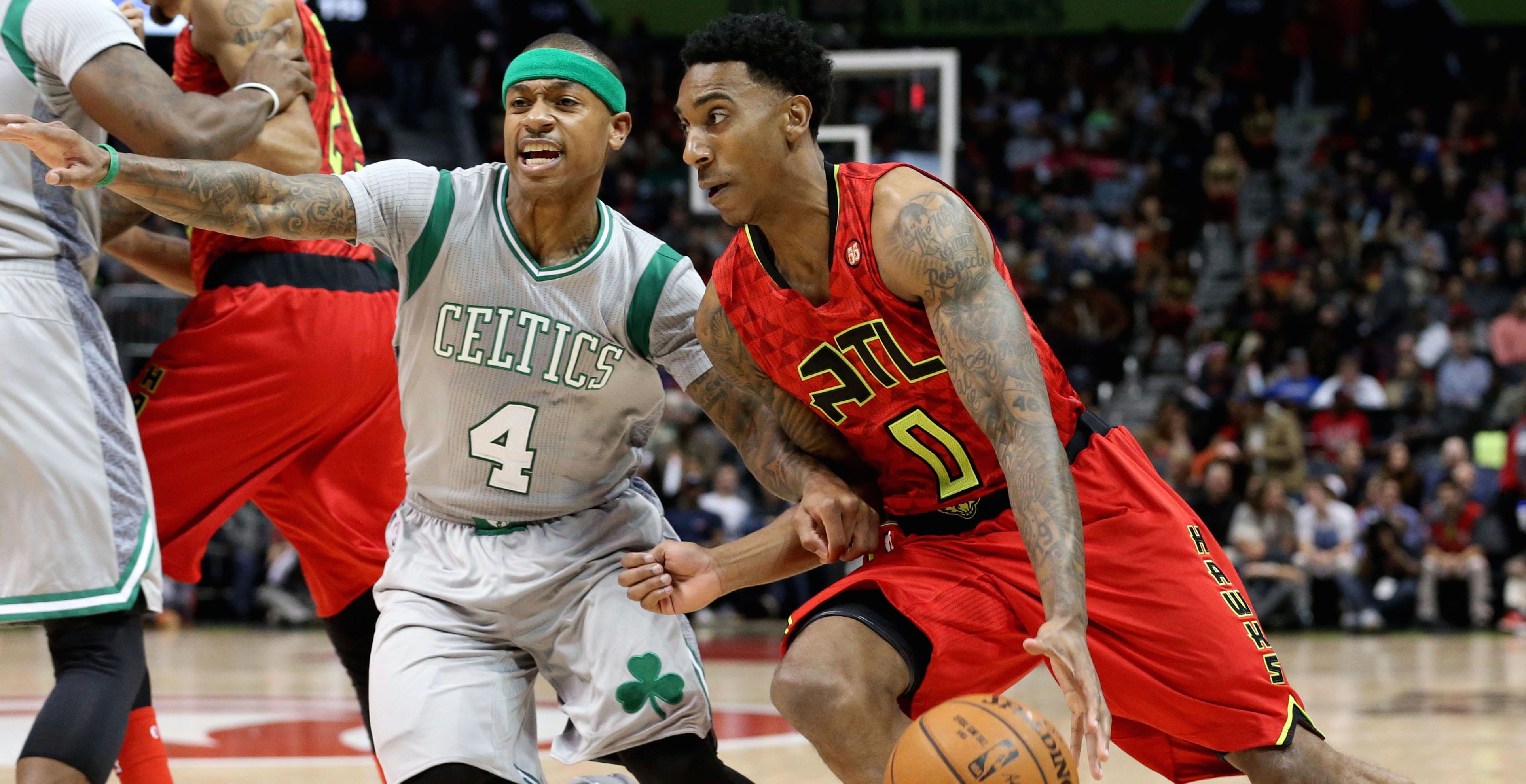 It's said that a playoff series doesn't truly start until the home team loses on their court. This is good news for the Celtics as they head back to Boston in an 0-2 deficit to the Hawks. For this 4-22 NBA Pick Hawks Celtics Game 3 oddsmakers are counting on Boston to turn things around at the TD Garden, listing them as -3 favorites on their home court. With Atlanta series wins of 102-101 and 89-72 so far, the game 3 total of 201.5 could land anywhere.
Atlanta Hawks Overview
The key for Atlanta in the first two games of the series has been a fast start. In game one's tight 102-101 win, the Hawks led by as many as 19 in
the first half and held a 51-34 halftime lead. Boston chipped away in the 3rd quarter but was never able to overcome the huge deficit Atlanta had built against them. In game 2 Atlanta burst out to a 24-3 lead essentially ending the game before it truly began. If Atlanta can build a similar lead in the 4-22 NBA Pick Hawks Celtics Game 3 it could be demoralizing for Boston.
So far Atlanta has taken advantage of poor Celtics shooting and the fact that their best two way player Avery Bradley will likely miss the rest of the series after injuring a hamstring in game one. Boston hasn't been able to stop Hawks star Al Horford either. The 29-year-old big man is averaging 20.5 points, 8.5 rebounds, and 3.5 blocks through the series so far. Combine that with the improved 3-point shooting of Kyle Korver (5-7 in game 2 after 0-7 in game 1) and the Hawks have a formative inside-out attack that Boston hasn't been able to match.
Boston Celtics Overview
Of course the buried lead in the first two games of the series is that the Celtics have shown mettle in the second half of each game outscoring Atlanta 67-51 in game one and just 46-48 in game two. How do they avoid the slow starts though, especially without Bradley and possibly Kelly Olynyk who is questionable for game 3 after missing game 2? The home crowd should help Boston avoid the miserable first half shooting that has plagued them the first two games and coach Brad Stevens is sure to have some adjustments as he looks to win his first NBA playoff game.
Game 3 TONIGHT!
Celtics vs Hawks at 8:00et

We're back in Boston, Lets defend home court. This is our city! ????☘ pic.twitter.com/qUZe5uVZKj

— Forever Green™ (@ForeverGreen_) April 22, 2016
It hasn't been all gloom and doom for the C's as Isaiah Thomas is averaging 21.5PPG through the first two games. If Marcus Smart can step up in Bradley's absence, Boston will have a backcourt attack that can at least absorb some of the damage Horford is going to inflict on the front lines for this 4-22 NBA Pick Hawks Celtics Game 3 .
4-22 NBA Pick Hawks Celtics Game 3 Overview
This game could come down to Atlanta just seemingly having Boston's number as a team matchup. Counting the first two games of the series the Hawks are 5-1 against the Celtics including winning 5 straight. This almost feels like Boston should be a home dog, yet are listed at -3. The home court advantage is nice, but it can't overcome injuries to Bradley, Olynyk, and Jae Crowder battling through a sore ankle. You could call cold shooting a fluke, or you could say Boston shot that way because Atlanta made them. A lot of people like the C's here, but we'll rest easy with the healthy, more versatile team and a few points to play with.
Pick: Atlanta +3