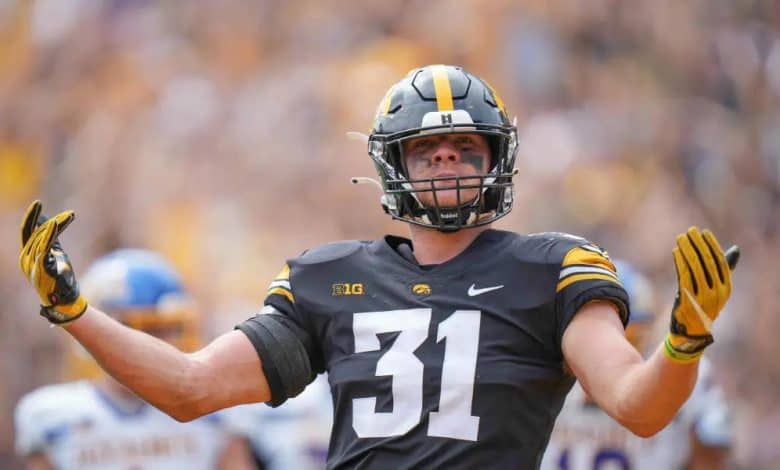 Looking at the O/U of 31.5 for the Kentucky vs Iowa matchup in the 2022 Music City Bowl, this game looks more apt for New Year's Day morning where people are still groggy and trying to get their bearings. There doesn't look like there will be much to process in this Hawkeyes vs. Wildcats matchup mainly because of two good defenses but also some very key opt-outs.
The biggest name missing from the 2022 Music City Bowl is Kentucky QB Will Levis, who could very well be the #1 pick in the NFL draft. Kentucky RB Chris Rodriguez, Jr. is also skipping this game to prepare for the professional level. It's not opt-outs driving the low O/U on the Hawkeyes' side, just an elite defense and a really bad offense. This is a very tough matchup to put a line on but oddsmakers are going with Iowa -3.
Big Pieces Missing for UK
Levis was supposed to be a Heisman Trophy contender in 2022 following 2,593 yards with 23 TDs and 12 INTs last season, but his numbers actually dipped to 2,406 with 19/10. Levis' loss is still big, but you also have to wonder with a lot of the hubbub surrounding him just being hype? UK was a solid 10-3 last season, but also just 71st in passing at 225 yards/game.
Kentucky's passing numbers have dipped to 216.1 yards/game this season and that's with Levis, so how are they going to do with likely starter Kaiya Sheron who threw just 29 passes this year and hasn't played since October 15th? Sheron doesn't get the best of matchups either, with Iowa boasting the #4 defense in the country allowing just 277.9 total yards/game.
Perhaps the biggest reason for Levis' drop in production this year – or maybe a byproduct – is the decline of the Kentucky running game. Rodriguez, Jr. ran for 1,271 yards last season as teh Wildcats had the #23 run game in the country (206.1) but those numbers have dropped to 903 and 120.3 respectively. Rodriguez also missed the start of the year after being suspended for an offseason DUI.
Iowa Offense a Detriment
There are a lot of what-ifs surrounding Kirk Ferentz's team heading into Saturday's Iowa vs Kentucky matchup. Those questions all circle around the offense, as in 'what if' the Hawkeyes had just a mediocre presence on that side of the ball instead of a downright atrocious one?
The numbers don't lie, Iowa's offense was that bad. They were third worst in the entire country in total yards (263.3), 119th out of 131 teams in rush yards (100.6), 121st in passing (162.6), and 118th in points scored (18.4). Those numbers were also inflated a bit by scoring 24+ points in three of their last five.
The Hawkeyes are down to QB3 with Spencer Petras out with a shoulder injury and Alex Padilla transferring, but really could things be any worse with Joe Labas and/or Carson May?
Free Kentucky vs Iowa Betting Pick
There are two games that stick out on Iowa's schedule this past season, a 10-7 loss to Iowa State and falling 9-6 to Illinois. Both are not only close proximity rivalry games, but also contests in which the Hawkeyes defense played more than better enough to win. If Iowa claims those two victories – or even one of them – they're playing in the Big Ten Championship Game and either the Rose bowl or the Citrus Bowl.
With a defense that good – if the Hawkeyes can get something (anything) from their offense they take this one and avenge a 20-17 loss to Kentucky in last year's Citrus Bowl.
Free Pick: Iowa -3