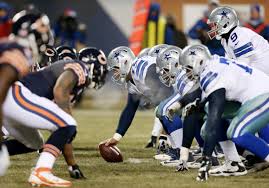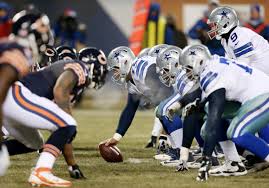 Our 2016 Sunday Night Football free pick has the Chicago Bears at the Dallas Cowboys. The Bears are 0-2 and suffering greatly from a lack of offense. The Cowboys are 1-1 and are doing well under the guidance of rookie quarterback Dak Prescott. In some ways, this game looks like the perfect opportunity for the Bears to finally get a win. After all, the Cowboys are without their number one and two starting quarterbacks. But Prescott seemed pretty unflappable in his first NFL start last week. This week he is at home and should be even more comfortable.
The Bears lost their first game to the Texans 23-14. That game was played in Houston. They then lost their home opener to the Philadelphia Eagles 29-14. One of two things has to happen today for Chicago to get one in the win column. Their offense has to double their output or their defense has to step up. Those are their choices. The Cowboys lost their initial game, which was played at home against the Giants. The final score was 20-19. Last week, they went on the road and beat Washington 27-23.
Chicago Offense vs. Cowboys D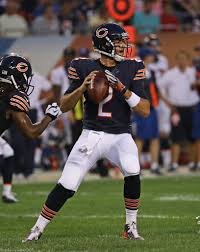 Our 2016 Sunday Football free pick has to consider the quarterbacking situation for the Bears. Jay Cutler (60.9 COMP%, 1 TD, 2 INT, 8 Sacks) is not your best passer. Additionally, he struggles to keep out of trouble and is prone to turning the ball over. Cutler is listed as doubtful for the game. That means Chicago would start Brian Hoyer. This season, Hoyer has tossed a dozen passes and completed eight. Over seven previous seasons, he's played for four teams, tossing 38 TDs and 26 INTs. He's fumbled the ball 11 times. The good news is that injured WR Alshon Jeffrey (9 REC, 201 YDs, 22.3 AVG, 0 TDs) will play. RB Jeremy Langford (28 ATT, 85 YDs, 3.0 AVG, 2 TDs) needs to contribute more, but he's hampered by a weak O-line.
Top performers on the Dallas defense include LB Sean Lee (20 TCKL, 1 PD) and safety Barry Church (12 TCKL, 1 INT, 1 PD). They'll work towards shutting down the Chicago receivers. CB Brandon Carr (7 TCKL, 1 INT, 2 PD) is also an essential part of this team's defense. The Dallas frontline needs to be more proactive in putting pressure on the QB, as does the linebacking unit.
Dallas Offense vs. Bears Defense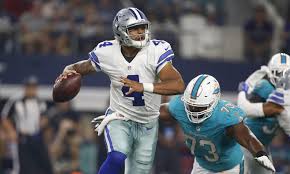 QB Dak Prescott (62.7 COMP%, 0 TDs, 0 INTs, 4 Sacks) may not be tossing touchdown passes, but he's playing good ball control football. His lack of mistakes has helped the Cowboys a lot. He's got a good squad of reliable receivers, including TE Jason Witten (12 REC, 117 YDs, 9.8 AVG, 0 TDs) and WR Cole Beasley (13 REC, 140 YDs, 13.8 AVG, 0 TDs). RBs Ezekiel Elliot (41 ATT, 134 YDs, 3.3 AVG, 2 TDs) and Alfred Morris (12 ATT, 42 YDs, 3.5 AVG, 1 TD) are essential to the Dallas offense.
The Chicago defense is not the best in the NFL, but they also are not the worst. As a unit, they have four sacks, eight tackles for a loss, 11 PD, and one interception. DB Tracy Porter (10 TCKL, 1 INT, 2 PD) is an essential part of this team's pass defense. News is that he may not play in this game due to a knee injury. Also out is LB Danny Trevathan (15 TCKL, 1 Sack) and LB Willie Young & TCKL, 1 Sack, 1 TFL) is questionable. DB Jacoby Glenn (12 TCKL, 4 PD) will certainly need to step up. A thinned Chicago defensive unit will help the Cowboys.
2016 Sunday Night Football Free Pick
We are going all the way with this 2016 Sunday Night Football free pick. By that I mean we are taking the favored club, which is also the home team, the Dallas Cowboys. Dallas is at -6.5. We feel that the Chicago defense will be hampered by numerous injuries and that the Cowboy offense will be able to exploit those injuries.
2016 Sunday Night Football Free Pick for Chicago at Dallas: Cowboys at -6.5