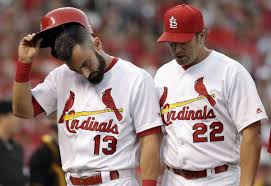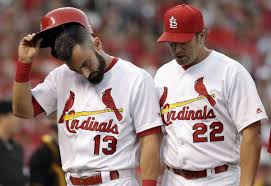 The Atlanta Braves visit St. Louis starting tonight for a major weekend series that will help determine if the Cards can make a real bid for the playoffs. St. Louis has missed the playoffs only five times since 2000. But it's been a tough year for teams in the NL Central that have had to deal with a Chicago Cubs team that has, through much of the season, has dominated the division.
Pitching Matchup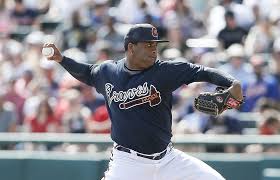 The Atlanta Braves will put right-handed starter Joel De La Cruz (0-3, 3.80 ERA) on the mound. In his last start against the Phillies in Philadelphia pitched 4.1 innings in a 2-1 win. For much of the season, he's been a one- to two-inning pitcher. He may have a tough getting past the third inning tonight.
The last time lefty Jaime Garcia (7-8, 4.30) started he had a rough time this past Saturday. Starting after just three days rest, he went 3.1 innings, allowing four runs on 15 pitches. Overall, he game up a total of six runs. The Cards lost that game 11-0. However, Garcia, who has had plenty of rest, can certainly come back and put in a quality start tonight. Look for five to even six innings tonight.
Trends and News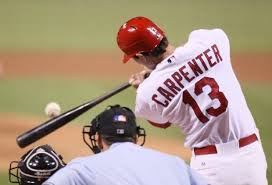 One major problem for the St. Louis Cardinals is their abysmal home record. St. Louis is 25-30 at Busch Stadium. In addition, they have gone 5-5 over their last 10 games.
There's some very good news for the Cards. Matt Carpenter (.298 BA, 14 HRs, 53 RBI) is back from his injury. If Carpenter can get into the groove quickly that can help the cards greatly.
Atlanta has gone 6-4 over the past 10 games. They took their last series in Pittsburgh with a 5-2 win on Thursday. Atlanta centerfielder Ender Inciarte brings a 15-game hitting streak to Busch Stadium.
Where They Stand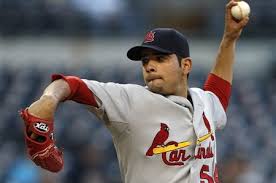 When the Atlanta Braves visit St. Louis you'll have the club with the worst record in the NL playing one that still has a chance of getting to the playoffs via a Wild Card berth. The Braves are 39-69 and 25 games out of first-place in the NL East. The Cards are at 57-51 and 9.5 games out of first in the NL Central and tied for the second Wild Card spot with the Miami Marlins.
MLB Pick: Atlanta Braves Visit St. Louis
Our MLB pick for when the Atlanta Braves visit St. Louis is for the Cardinals. We think that St. Louis will get it in gear in this series. Garcia is pitching for St. Louis on a lot of rest unlike the last time that he started. St. Louis can score runs, while Atlanta struggles to do so.
We're looking for the return of Carpenter to create some spark in the batting rotation. The St. Louis bats should come alive. Bet on St. Louis, taking the moneyline at around -230. The game starts at 8:15 p.m.
Our MLB Pick as Atlanta Braves Visit St. Louis: Cards with moneyline at -230