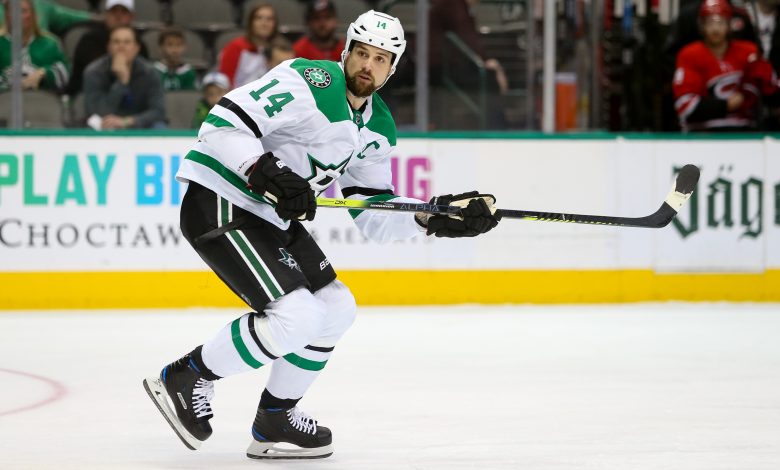 There's a Central Division showdown brewing Thursday night in the Music City, as the Nashville Predators (32-26-28) play host to the Dallas Stars (37-21-8) in the first of a home-and-home set this week. It's the first meeting since this year's Winter Classic, with both that game and a previous matchup won by the Stars.
Here is a preview for tonight's game, along with odds and a free pick.
By the Numbers
As the regular season gets closer and closer to ending, the Stars could use a win tonight. Dallas has lost three games in a row and five of their last 10, and are now six points behind the Avalanche for second place in the Central.
On the season, Dallas ranks a lowly 25th in goals per game with 2.67 on a 23rd-ranked 30.5 shots per game. While their shooting percentage of 8.8 also hangs around the same range at 24h, their power play is a solid eighth in the league, scoring 21.6 percent of the time on the man-advantage.
Defensively, the Stars are second in goals allowed, averaging 2.53 per game. However, they're only 19th in shots allowed with 31.7, and their 80.4 success rate on the penalty kill comes in at an average 16th in hockey.
In the middle of a fight for the postseason, the Predators are also stuck in a three-game losing streak. With their recent slump, Nashville has fallen out of a playoff spot and now trail the Jets by two points for that second Wild Card position.
This year, Nashville is 16th with 3.11 per game, while also averaging the fourth-most shots in hockey with 33.3. Their high shot total and average goal-scoring rate are explained by a 9.3 shooting percentage that ranks 19th, as well as a 26th-rated power-play percentage of 16.2.
On the other side of the ice, the Predators are just 26th in hockey with 3.21 goals allowed. They are 13th with 31.1 shots allowed per game, but really get hurt when they're short-handed. Nashville's penalty kill rate of 75.1 is the third-worst in the NHL.
Who to Watch
If the Stars are going to clinch their postseason spot down the home stretch, the captain Jamie Benn will be one of the big reasons why. After a slow first half, Benn has earned a goal and six assists during his six-game point streak. This latest surge moves him to 19 goals and 20 assists, and now he'll look to keep rolling a struggling defense tonight.
A couple of other players worth watching tonight for Dallas include Tyler Seguin and John Klingberg. Seguin recently put together a four-game point streak that included three goals, putting him at 17 scores and a team-high 33 assists.
As for Klingberg, the defenseman has a pair of goals and assists over his four-game point streak, giving him 32 points over 55 contests.
The push for the playoffs will fall on the shoulders of Nashville's blue line, most notably captain Roman Josi. Josi is working on a four-game, five-point streak, two of which were goals. He has now set career highs with 16 goals and 62 points and done so in just 66 games. Josi is the biggest threat the Predators have at their disposal.
Along with Josi, fellow defenseman Ryan Ellis, as well as Craig Smith, will be guys worth watching. Up until this past Monday, Ellis put together a four-game, eight-point streak that included seven assists. At 36 points, he is well within reach of his career-high 41 points set last year and has only played in 46 games this season.
Meanwhile, Smith's goal on Tuesday against the Wild was his second straight game with a point. Smith has now moved past his six-game point drought and sits at 18 goals and 12 assists on the year.
Goalies
Dallas is expected to send their starter Ben Bishop out to the net tonight. Bishop is 21-14-4 with a 2.49 GAA and .921 save percentage.
Meanwhile, Nashville will likely counter with Pekka Rinne. Their longtime starter, Rinne is 18-14-4 with a 3.17 GAA and .895 save percentage.
Odds and Pick
In what is the closest game on the NHL schedule tonight, the Predators are slight home favorites at -110. In Nashville, the Preds are 16-14-4, while the Stars are 18-11-5 away from Dallas.
While the Stars have dominated this series so far, I like the Predators to get their revenge. I think Nashville is desperate to stay in the playoff race and will do everything they can to try to shut down a Stars team that also isn't great at scoring goals. I'm picking the Predators -110 to get the win tonight at home.