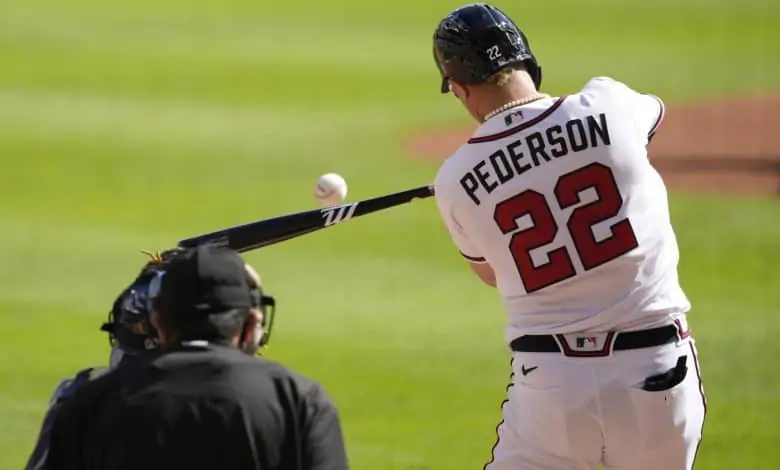 Atlanta looks to advance to the NLCS for the second straight year with a win in the NLDS Brewers at Braves game 4 matchup. Atlanta has gone up 2-1 in the series over Milwaukee thanks to consecutive shutout wins and timely hitting from Joc Pederson.
Both teams are scrambling a bit for starting pitching on Tuesday night, with Atlanta having the advantage of still having a game in hand if they lose game 4 even though they would go back to Milwaukee after a loss. The Brewers are set to go with Eric Lauer in his first start since October 1st and Charlie Morton looks to be making his 2nd start of this series after taking the loss in game 1 despite allowing just 3 hits over 6.0 IP.
Milwaukee's Offense In a Rut
The Brewers have scored 2 runs so far this entire series so in some ways it's astounding that they're still alive. Milwaukee has been shut out in back-to-back games, and is now up against Charlie Morton who they managed just 3 hits against in the 2-1 game 1 win that was largely fueled by a great pitching performance from Corbin Burnes.
It's pretty ugly up and down for the Milwaukee offense heading into the NLDS Brewers at Braves game 4 contest. A Rowdy Tellez 2-run blast in the 7th inning of game 1 has accounted for all of Milwaukee's offense in this series. Kolten Wong is 1 for 12 out of the leadoff spot (.083) while Christian Yelich and Lorenzo Cain have combined to go 3-19 so far in the series.
While Atlanta is going with their game 1 starter Morton in the NLDS Brewers at Braves game 4 matchup, Milwaukee is saving Corbin Burnes for a potential game 5 back at American Family Field. That means Craig Counsell turns to Eric Lauer (7-5, 3.03 ERA) in his first start since giving up 5 ER to the Dodgers on October 1st. The lefty had been great before that though with a 1.15 ERA in five September starts.
Braves Seem in Control
Joc Pederson has just 3 ABs this series, but he's made the most of them with 3 hits including 2 HR to go with 4 RBI. It's been "Joctober" for Atlanta as his 3-run blast in the 5th of Monday's game was the jolt the Braves needed to take the 3-1 series lead.
Pederson also had a solo shot in the 8th inning of game 1 but all that did was trim the Brewers lead to 2-1 which they ultimately held on to. The Braves did win game 2 by the score of 3-0 but that was more of a team effort with Austin Riley, Freddie Freeman, and Ozzie Albies all knocking in runs to get the road win.
The Braves have made the most of the few hits they have gotten as Eddie Rosario, Riley, and Pederson are the only Atlanta players hitting above .200 this series. Counsell could've easily went with Burnes here to get the series back to Milwaukee but he must have confidence the Brewers can get to Charlie Morton (14-6, 3.34 ERA) even though the 2 ER scored in game 1 were just enough.
NLDS Brewers at Braves Game 4 Pick
There's not a ton of value on either side just because both offenses are struggling to score this series. All three games have gone under the total and that's probably going to remain the trend even if this does go to a deciding 5th game back in Milwaukee.
Brewers 3 – Braves 2 
Free Pick: Under 8