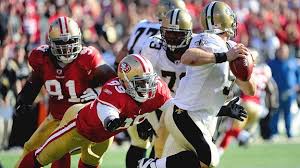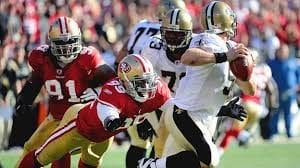 Our New Orleans at San Francisco free pick game will be played at 4:05 p.m. on November 6. The Saints (3-4) are second in the NFC South while the 49ers (1-6) are last in the NFC West. New Orleans is at -4.5 in this game. They bring a dynamic offense and a weak defense. San Francisco's offense is much less productive than their opponent's, but their D is just as porous.
The Saints are coming off a big 25-20 win last week against the Seahawks. In their four games prior they are 2-2, losing to Kansas City 27-21 and Atlanta 45-32. Sandwiched between those two losses were wins against San Diego 35-34 and Carolina 41-38. After beating the Rams 28-0 in week one, the Niners have lost six straight. All of those losses were by 10 or more points except the one to Dallas. That one was by seven, 24-17. This is a tempting game when it comes to the over/under, which is at 53 points, and the spread.
New Orleans Offense vs. 49ers D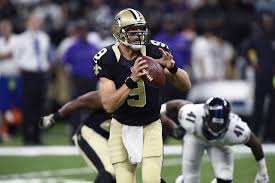 QB Drew Brees (69.9 COMP%, 18 TDs, 5 INTs, 11 Sacks) generates much of the New Orleans offense, which is averaging 28.7 PPG, Brees is having a solid season. Four different Saints receivers have two or more touchdown catches. Top pass catchers include Brandin Cooks (36 REC, 530 YDs, 14.7 AVG, 5 TDs) and Michael Thomas (42 REC, 500 YDs, 11.9 AVG, 3 TDs). Most of the New Orleans offense will be generated by the air game.
San Francisco is giving up 31.3 PPG. The interesting thing is that their stats are not bad. However, their red zone defense is ranked 27th, as 65.38% of the time teams are scoring on them. Plus, over the past three games that stat is even worse, as it stands at 75.0%. Consider this, the Saints have a weak D and they are ranked 20th in red zone play, allowing 59.26% of all scoring chances. Safety Antoine Bethea (47 TCKL, 2 TFL, 1 INT, 3 PD, 1 FF) is a standout for this team. CB Tramaine Brock (27 TCKL, 3 TFL, 7 PD, 1 FF) is also a key defensive player.
San Francisco Offense vs. Saints Defense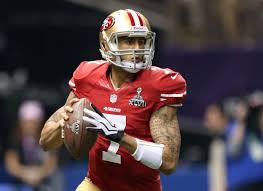 San Francisco offense is putting an average of 20.6 PPG on the scoreboard. Their primary thrust is their ground attack, which is averaging 185.1 YPG. Their air attack has been stymied for most of the season. We're expecting Colin Kaepernick to be at quarterback this week. He has replaced starter Blaine Gabbert who has underperformed all season.
Kaepernick, who has started and lost the last two games, has been completing 46% of his passes. He has two touchdown passes, one interception, and three fumbles. He's also been sacked seven times. WR Jeremy Kerley (30 REC, 331 YDs, 11.0 AVG, 2 TDs) is the team's top performing receiver. Carlos Hyde, who is the team's primary running back, is questionable for today's game.
The strongest part of the New Orleans defense is its ability for force fumbles. They have forced and recovered six balls this season. CB Ken Crawley (32 TCKL, 2 TFL, 6 PD, 1 FF) is a top performer. Although the team has just 10 sacks, DT Nick Fairley (21 TCKL, 3.5 Sacks, 1 TFL) is having a sound season. Still, they are allowing aroud 30 PPG. The saving grace for this team may be the weak offense of the Niners.
New Orleans at San Francisco Free Pick
Our New Orleans at San Francisco free pick likes the Saints at -4.5. Both teams have poor defenses. But the Saints have a strong passing game that can shred weak defenses. Plus, the 49ers offense is not just struggling it is decimated and stretched thin. Take New Orleans at -4.5.
New Orleans at San Francisco Free Pick: New Orleans at -4.5