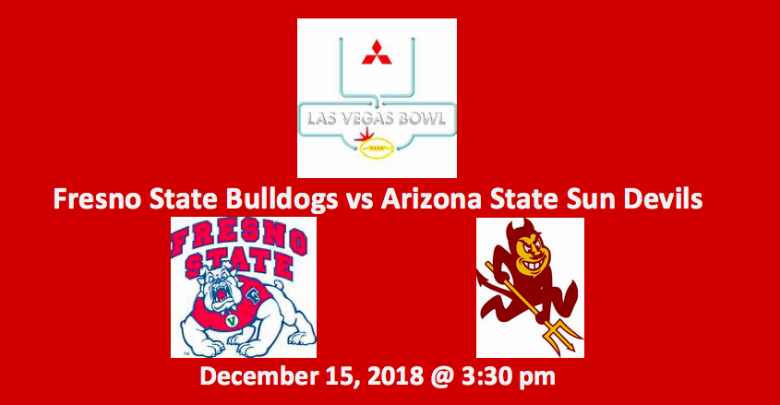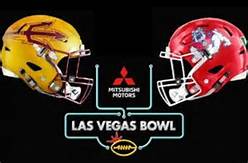 This 2018 Las Vegas Bowl pick has the Arizona State Sun Devils (7-5, 2nd Pac-12 – South) playing the #21 Fresno State Bulldogs (11-2, 1st MWC – West). The Sun Devils, a Power Five team, come into this game as the underdog at +6.0 or +6.5. The over/under stands at either 53.0 or 53.5. The Bulldogs have the opportunity to gain some respect and to notch their first-ever 12-win season.
Arizona State had an up-and-down season. They beat #15 Michigan State 16-13 early in the season and then two games latter lost to #10 Washington 27-20. A few games later, #21 Colorado beat the Sun Devils 28-21. They started November by beating the #15 Utah Utes 38-20. Over their last five games, Arizona State went 4-1. Fresno State had one non-conference loss, which was to Minnesota 21-14, and one MWC loss, as Boise State took them down 24-17. In the MWC championship game, the Bulldogs met the Broncos, defeating them in OT 19-16. Here are the spread and totals for our 2018 Las Vegas Bowl pick.
Arizona State Analysis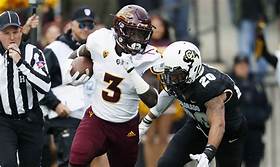 QB Manny Wilkins (63.0 COMP%, 19 TDs, 4 INTs) runs the Bulldog attack, which has been good for 30.8 PPG and 241.3 air yards per game in the air. Junior WR K'Neal Harry has 73 receptions for 1088 yards. Averaging 14.9 YPC, the wideout has scored nine touchdowns. The Arizona State ground game, which averaged 186.7 YPG, is potent. Sophomore Eno Benjamin (1524 YDs, 5.5 YPA, 15 TDs) is the featured running back. Wilkins, who had 101 carries for 416 yards and eight scores, offers added thrust on the ground.
ASU has held teams to 25.1 PPG. Opponents are averaging 238.7 YPG in the air and 163.1 on the ground. Freshman safety Aashari Crosswell leads the team in picks (3) and PD (9). The Sun Devils have nabbed a total of 10 INTs and defended over 40 passes. Those numbers are not extraordinary. LB Merlin Robertson will be key to this team's D. Robertson, a freshman, leads the team in sacks (5), TFL (8.5), and tackles (77). He's also notched an interception, defended two passes, and forced and recovered a fumble. He'll be a major factor in defending against the Bulldogs' productive pass attack.
Fresno State Analysis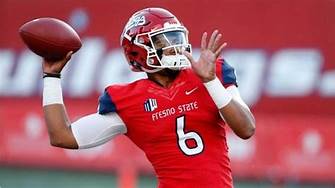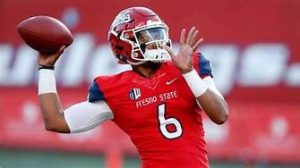 The Bulldog attack, which has been good for 34.9 PPG and 274.2 air yards per game, features two seniors. QB Marcus McMaryion (69.8 COMP%, 25 TDs, 3 INTs), who threw for over 3400 yards this season, is a dynamic offensive weapon. WR KeeSean Johnson has 93 receptions for 1307 yards and eight scores. The ground game, which averaged 146.2 YPG, is focused on two sophomores, Ronnie Rivers and Jordan Mims. Each receiver has 400-plus catching yards this season. They have eight and six TD catches respectively.
The defense has been very tight, allowing merely 13.7 PPG. Their pass D has kept teams to 194.1 YPG. Ground yards allowed stand at 129.8 YPG. The team has snagged 16 opponent passes with a trio of players having grabbed three each. Of the 60 PD, senior Anthoula Kellyhas 16. Plus, he's one of the players who has three picks. LBs George Helmuth (75 TKLs, 6 TFL, 5 SCKs) and Mykal Walker (78 TKLs, 13 TFL, 4 SCKs) are tough against the run. Junior LB Jeffrey Allison, who's tops on the team with 109 tackles, is a stopper.
Five Keys to the Game
Bulldogs have deeper defense
ASU's RB Benjamin needs 100-plus yards
For running game to work, Devils must generate passing yards
Fresno State's QB McMaryion has to be effective
Bulldog D could win the game
Our 2018 Las Vegas Bowl Pick
We do expect it to be a relatively close game. However, our 2018 Las Vegas Bowl pick likes the Bulldogs at -6.0. We think their defense will be effective against the Sun Devils' offense. Also, we find that the Fresno State offense, which has a solid balance, will penetrate what is a relatively weak ASU D. Along with taking the Bulldogs at -6.0, you should bet the over at 53.0. We do think that Arizona State will get to 16 to 20 points and FSU will take care of the rest. We've got more 2018 football bowl picks.
Summary #21 Fresno State Bulldogs vs Arizona State Sun Devils Picks: FSU at -6.0 and over 53.0