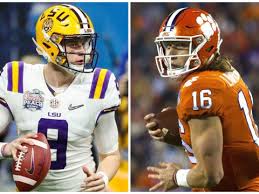 Our Clemson vs LSU totals pick offers an O/U of 68.0. What we know about our Clemson vs LSU over/under prediction is both teams belong here. The Clemson Tigers (14-0) and LSU Tigers (14-0) both come to this CFP National Championship contest with perfect records and as champs of their conferences. Clemson won the ACC crown and LSU took the SEC title. Throughout the season, both teams have been scoring a lot of points. The championship contest will be played on Monday, January 13, 2020 at the Mercedes-Benz Superdome in New Orleans, Louisiana. Kickoff is 8 pm ET. Here's how we see the scoring going in this college football game.
Clemson vs LSU Totals Pick – Statistics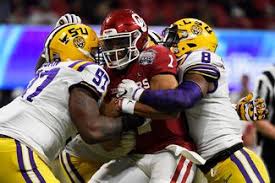 LSU is averaging 48.9 PPG, while Clemson has been good for 45.3 PPG. That's all well and good. Offensive production points to the over. However, there are two sides of the ball, and on the defensive side, Clemson is noted for shutting down teams. They're allowing opponents just 10.6 PPG. The LSU Tigers are permitting almost double that amount, 21.2 PPG. Taking the average on both offense and defense, we get 63 points. That's soundly under. Also, in two prior meetings an average of 33 points have been scored by both teams. But those games are ancient history.
ACC Tigers and SEC Tigers – Trends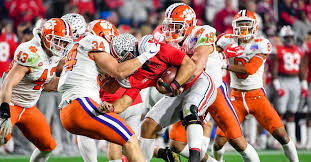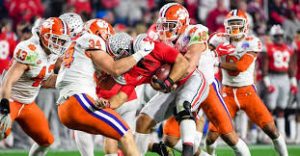 Our Clemson vs LSU totals pick notes the following trends. In five of Clemson's last six games in January, the total has gone over. Plus, in 12 of LSU's past 17 games, the total has exceeded the over. Additionally, in 12 of Louisiana State's last 15 games when they've been the favorite, the over has been achieved. It is true that in the last six games LSU has played in January, the total has been under four times. In seven of LSU's last 10 contests, they have score 40 or more points. Likewise, in seven of Clemson's last 10 games, they have accounted for 40 ore more points.
CFP National Championship O/U Projection
We find it hard to believe that between these two teams they won't be able to come up with 70 points. True, the Clemson defense is especially tight, while the LSU defense is fairly stingy, but these offenses have a lot of weapons. The LSU air game is awesome, while Clemson's ground attack is hard to stop.
Clemson vs LSU Totals Pick
Our Clemson vs LSU totals pick is over 68.0. We don't expect Burrow to be shutdown. Also, we expect Lawrence and company to be able to find ways to score. Note, be sure to also read our CFP Championship spread pick.
Summary #4 Clemson Tigers vs #1 LSU Tigers Over/Under Prediction
Total – Over 68.0