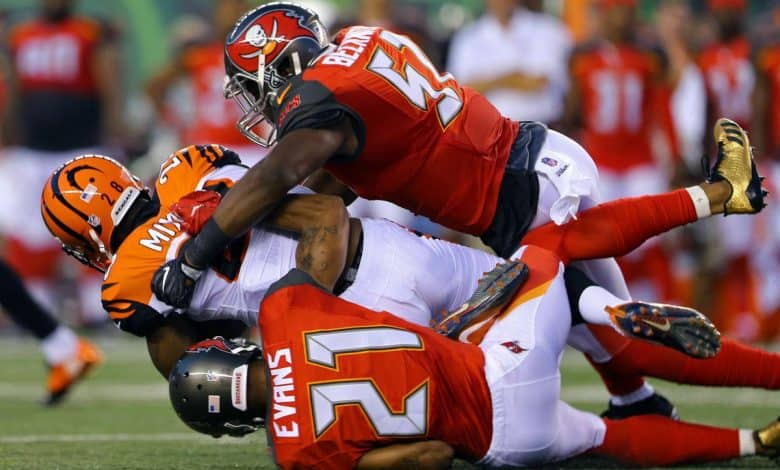 This time of year belongs to Cincinnati. They won three of their last four in the regular season in 2021 to propel them to a Super Bowl run and have rattled off five straight coming into Sunday's Bengals at Buccaneers betting matchup.
Both the Bengals (9-4) and Tampa Bay (6-7) sit atop their respective divisions although with that record TB is kind of there by a default of playing in the NFC South. Baltimore's loss on Saturday dropped them to 9-5, meaning Cincinnati can take sole possession of the division with three to play. There's a lot on the line for both clubs, but oddsmakers have the Bengals as the -3.5 road favorites here.
Bengals Offense Licking Their Chops
Cincinnati has won seven of their last eight, with this stretch starting off with more high scoring games (30-26 at New Orleans, 37-30 at Pittsburgh) but becoming more defensive minded lately including a 20-16 win over Tennessee and a 23-10 win over Cleveland over the last three games.
There are signs that the week 15 Bengals at Buccaneers betting matchup could be a big offensive day for Cincinnati, most notable because Tampa Bay is coming off a 35-7 loss at San Francisco. The 49ers were starting the very last player drafted in the Spring, QB Brock Purdy, and he was 16/21 with 2/0 in his first NFL start.
If Purdy can cut through the Bucs secondary like a surgeon, what is Joe Burrow going to do? The 49ers also ran for 209 yards vs Tampa Bay, which means another likely big day for the Bengals backfield duo of Joe Mixon and Samaje Perine who both have a 95+ yard outing in the last two games.
Bucs Look Overmatched Here
There aren't a ton of reasons why you'd think that Tampa Bay can keep this game close on Sunday. The Bucs are at home, but they're also just 3-3 on the season (while the Bengals are 4-3 on the road). TB has a top 10 defense, but also just gave up 35 points to a QB making his first NFL start.
Tampa Bay had done a good job of holding four straight opponents to 17 points or less in regulation before getting blown out in the Bay. The problem with that is Cincinnati's offense is much more potent than the Rams, Seahawks, Browns, and Saints.
Sunday's game will be the first meeting between Burrow and Tom Brady, but the Tampa Bay offense is sputtering averaging just 15.6 ppg over their last five. Brady went 8 games without throwing an INT, but has three in the last three games.
Free Bengals at Buccaneers Betting Pick
You used to at least be able to trust the Tampa Bay defense, but it looks like they were just putting up some solid numbers against mediocre-or-worse offenses after getting torched by S.F. last week. At the same time the Bucs offense really hasn't had a complete game since the 41-31 loss to the Chiefs in week 4 so the only way to play this one is on the Bengals.
Free Pick: Cincinnati -3.5