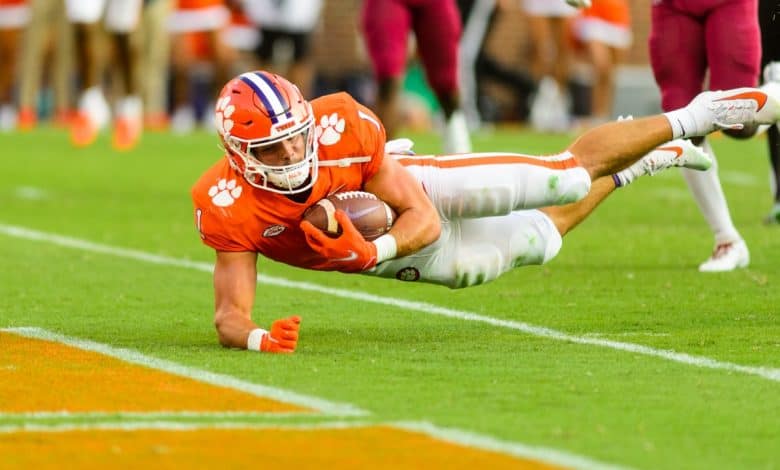 Nobody is going to argue that it's been a down year for Dabo Swinney's team heading into the week 10 Clemson at Louisville matchup. The Tigers are still a decent 5-3 on the season, but that's almost an unheard of record when you consider Clemson had three total losses in the last three seasons combined.
Louisville has a great opportunity at home against Clemson on Saturday, but why would any bettor have confidence in the Cardinals right now? Louisville has lost three of their last four games while the Tigers seem to be trending in the opposite direction in winning three of their last four. Oddsmakers have Clemson a -3.5 favorite, which they pretty much have to do based on past success.
Clemson Has Put Up Lofty Wins Lately in Series
We all know #1 NFL draft pick and former Clemson QB Trevor Lawrence isn't walking through that door and Louisville is in the mood to take advantage of that. The Tigers have thrown absolute beatings the Cardinals' way the last few years with or without Lawrence, winning 47-21 in 2017, 77-16 in 2018, and 45-10 in their last meeting in 2019.
Does Clemson, and in particular Swinney, just own this matchup against Louisville? Those big wins over the last three meetings have all come when the Tigers were a double digit favorite, but they are just -3.5 on the line heading into the week 10 Clemson at Louisville meeting. That spread is a huge indictment on just how bad the Tigers offense has been this season.
Clemson finally put up some points last week in a 30-20 win over Florida State while barely covering the -9.5 point spread. The Tigers had been held to under 20 points in four of five games prior, but their offensive "outburst" last week still wasn't because of QB DJ Uiagelelei finding his stride as he was held to 207 yards or less for the 8th straight game. Instead Clemson found their running game as freshman RB Will Shipley had a career high 128 yards and 2 TD.
Vengeance for Louisville
There's no better time than now for the Cardinals to avenge 26, 51, and 35 point losses to Clemson the last three times the teams have met. The only problem with that is the fact that Louisville just isn't playing good right now. Well, they're playing well, just not doing enough to win as evidenced in a 37-34 loss to Wake Forest in week 5 and falling 34-33 to Virginia in week 6.
Sure the losses to the Demon Deacons and Cavaliers were close, and Louisville did bounce back with a 28-14 win against Boston College at home in week 8, but the team seemed to have regressed in a 28-13 defeat at NC State last Saturday even as +6 point underdogs.
Last week's loss was the first time Louisville was held under 24 points since the season opener although it did come against an NC State defense that is 2nd in the ACC in giving up just 16.3 ppg. The only problem with that is the fact that Clemson ranks tops in that category in the conference and 3rd in the nation in allowing just 22.3 ppg.
Free Week 10 Clemson at Louisville Pick
The big question here is how long the Clemson offense will continue to play this bad? It's unfathomable that Clemson is the lowest scoring team in the ACC at just 21.3 ppg but Louisville can be exploited, especially through the air where their 281.4 ypg passing is 2nd worst to only Duke in the ACC. Maybe we finally get that Uiageleli 250+ yard passing game.
Clemson 31 – Louisville 24
Free Pick: Clemson -3.5