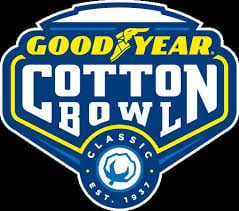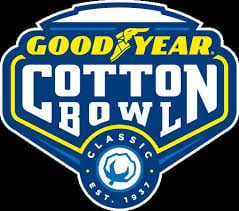 The Goodyear Cotton Bowl Classic has the #15 Western Michigan Broncos play the #8 Wisconsin Badgers. Our 2017 Cotton Bowl free pick weighs the winners of the Mid-American Conference, Western Michigan, against the team that came in second to Penn State for the Big Ten Conference title Wisconsin. The Cotton Bowl is one of two bowls with a 1 p.m. ET Jan. 2 kickoff. The other is the Outback Bowl, which will air on ABC. The Cotton Bowl is being carried on ESPN.
The Badgers (10-3 Overall, 7-3 Big Ten Conference) finished first in the Big Ten West and met Penn State in the title game. Penn State won that contest 38-31. Wisconsin started the season beating #19 LSU 16-14. Their two regular season losses came one after the other. On Oct. 1, they lost to #6 Michigan 14-7 and on Oct. 15, they were beaten by #2 Ohio State 30-23. Other big wins included 17-9 versus #21 Iowa and 23-17 over #24 Nebraska. Those wins occurred in successive weeks and following the losses to Michigan and OSU.
The Broncos (13-0 Overall, 9-0 Mid-American Conference) had a perfect record in both conference and nonconference play. Their first game, against the Big Ten's Northwestern, resulted in a 22-21 victory. That was the only time in the entire regular season that the Broncos were challenged. The score in their title win against Ohio was the only other time a team stayed within one TD of Western Michigan. That score was 29-23.
#15 Western Michigan Broncos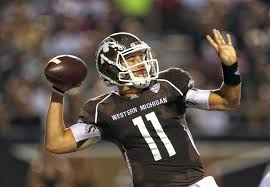 The Western Michigan Broncos averaged 43.5 PPG. But that stat needs to be tempered a bit due to the level of competition they faced. Unlike their opponents who faced six nationally ranked teams, the Broncos played no club that made the rankings.
The Broncos can score in the air and on the ground. QB Zach Terrell (70.8 COMP%, 32 TDs, 3 INTs) is amazingly accurate. Along with having a great arm, Terrell can also run. He has six rushing scores and is averaging 3.2 YPA. However, the primary running back is Jarvion Franklin (241 ATT, 1,300 YDs, 5.4 AVG, 12 TDs). He'll get the most carries. There are five players on this team with four or more rushing touchdowns. There is also an amazing unit of accomplished receivers with Corey Davis (91 REC, 1,427 YDs, 15.7 AVG, 18 TDs) leading the pack.
The Broncos held opponents to 19.5 PPG, while their red zone mark is 83.87%. Their D stats include 26 sacks, 70 TFL, and 15 picks. Plus, they have 12 FF, 32 QB hurries and 39 PD. Their turnover margin is huge at plus 19.
#8 Wisconsin Badgers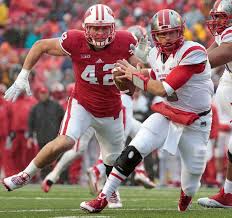 The Badgers are averaging 28.7 PPG. They will start senior QB Bart Houston (65.9 COMP%, 5 TDs, 3 INTs) who was sidelined mid-season as he dealt with injuries. WR Jazz Peavy (43 REC, 635 YDs, 14.8 AVG, 5 TDs), the team's leading receiver, will be on his radar. The Badgers will use numerous running backs, but senior Corey Clement (292 ATT, 1,304 YDs, 4.5 AVG, 14 TDs) will be their go-to guy.
The Wisconsin defense is massive with 21 interceptions, 32 sacks, and 71 TFL. They've also broken up 54 passes, manufactured 40 QB hurries, and forced 10 fumbles. They have a hefty turnover margin of plus 11 and a red zone defensive mark of 77.14%. Those are impressive numbers especially when you consider the strength of their schedule. The Badgers are holding opponents to 15.5 PPG.
2017 Cotton Bowl Free Pick
The big question here is can the Wisconsin defense shut down the Western Michigan offense? We think that they can and will. For our 2017 Cotton Bowl free pick we're taking the Badgers at -7.5
The 2017 Goodyear Cotton Bowl Classic will be played on Jan. 2 at 1 p.m. ET at AT&T Stadium in Arlington, Texas. It will be on ESPN.
2017 Cotton Bowl Free Pick: Wisconsin at -7.5