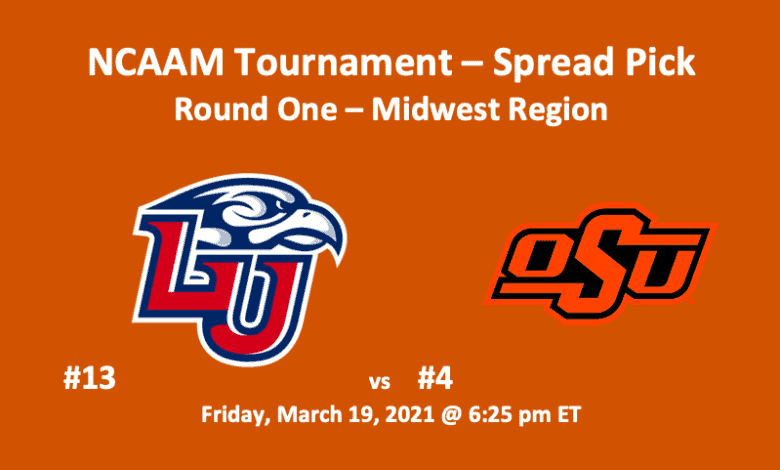 Our Liberty vs Oklahoma State pick offers two teams in the Midwest Region that that can score. This contest could certainly be a shootout. In this 2021 NCAA Men's Tournament Round of 64 game, the Cowboys are favored. You'll find them at -7.0 (-115), while the Flames are +7.5 (-105). Liberty finished first in the ASUN Conference and then beat the North Alabama Lions 79-75 in the conference tournament. Over their last five games, the Flames have gone undefeated. The Oklahoma State Cowboys, who've won three of their last five contests, were fifth in the Big 12. The Cowboys lost to the Texas Longhorns 86-91 in the conference tournament finals. The Flames and Cowboys will meet on Friday, March 19 at 6:25 pm ET. The game will be held at Indiana Farmers Coliseum in Indianapolis, IN. Here's our latest pick, Georgia Tech vs Loyola Chicago.
Liberty vs Oklahoma State Pick – Stats
As noted, these teams can score. The Flames are averaging 74.9 PPG, while Oklahoma State is averaging 77.1 PPG. Liberty is sinking 49.1% of their field goals. The Cowboys are completing 46.7% of their shots. The Flames are solid from downtown (39.1%) and from the charity stripe (77.7%). OSU is demonstrably less effective from beyond the arc and the foul line, completing 33.8% and 71.3% respectively. The Cowboys are better on rebounds (38.6-33.4), steals (4.4-2.3), and blocks (7.3-4.6). The Flames are dishing off 15.9 APR, while the Cowboys are making 13.2. Finally, Liberty is committing six-fewer turnovers than Oklahoma State.
Key Players
For Liberty, it starts with the guards, Darius McGhee, Chris Parker, and Elijah Cuffee. Parker, the court general, is averaging 3.5 APG and 10.3 PPG. Both McGhee, who's hitting for 15.6 PPG, and Cuffee, who's recording 9.6 PPG, are shooting 41-percent-plus from downtown. Blake Preston and Kyle Rode patrol the paint. Together, they're combining for 16.5 PPG and 10.6 APG. Each of the starting five is shooting 45% or better from the floor with Preston being good on 63.2% of his field goals.
OSU's strength is also in the backcourt, as Cade Cunningham, Avery Anderson III, and Isaac Likekele are all 45% or better field-goal shooters. Also, each one is averaging over one steal per game. Likekele, who's hitting 44% from the arc, is recording 9.6 PPG, 6.7 RPG, and 3.7 APG. Cunningham leads the team in points per game with a solid 20.2, while dishing off 3.6 APG. He's also grabbing 6.3 RPG. Avery Anderson III is averaging 11.7 PPG. In front, Kalib Boone and Matthew-Alexander Moncrieffe are recording 9.8 and 9.2 PPG and 5.6 and 5.1 RPG respectively.
Liberty vs Oklahoma State Pick – Final Thoughts
Our Liberty vs Oklahoma State pick notes that the Cowboys are certainly the better team. However, we do surmise that the Flames have some sound firepower that can keep them in the game. Can Liberty rise above what could be a dominant OSU team? We think they will keep it close enough. We're going with the Flames at +7.5.
#13 Liberty Flames vs #4 Oklahoma State Cowboys
Liberty Flames at +7.5 (-105)