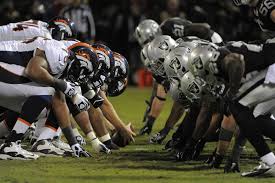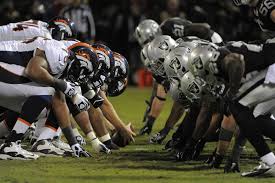 Our 2016 Sunday Night Football free pick is for Denver versus Oakland. This is a huge game due to the fact that this week nine game finds these two teams tied for first in the AFC West. Both teams have 6-2 records and both have won two straight. This is the first meeting between these two teams this season. They will meet again at the end of the year.
Oakland is 1-2 at home and 5-0 on the road. They are 1-1 in the division and 4-1 in the conference. Denver has the same division and conference records, but they are 2-1 on the road. They have a home record of 4-1. As of late these Sunday night games have been very close with the last three going into overtime. This contest has the two teams even, although some odds makers have Oakland at -1.0.
Denver Offense vs. Raiders Defense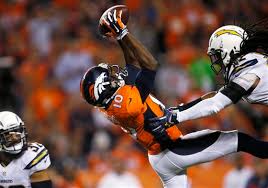 Denver is averaging 25.3 PPG. This is a team that can score when on defense. Offensively, QB Trevor Siemian (61.7 COMP%, 8 TDs, 4 INTs, 11 Sacks) is having a decent season as a first-time starter. Two wide outs, Emmanuel Sanders (44 REC, 567 YDs, 12.9 AVG, 3 TDs) and Demaryius Thomas (42 REC, 535 YDs, 12.7 AVG, 4 TDs), are his primary outlets. RB C.J, Anderson (110 ATT, 437 YDs, 4.0 AVG, 4 TDs) is having a good season. But it looks like, once again, he will be without running mate Devonate Booker. Booker, who has practiced sparingly, is sidelined with an injury.
The Oakland defense is allowing opponents 417.5 YPG and 24.5 PPG. Those are not great numbers. But Oakland's defense has compiled some impressive stats. These include 13 FF with six recovered, seven interceptions, and 39 passes defensed. They have 11 sacks and 19 TFL. Neither of those numbers are extraordinary. Some of the key players on this side of the ball include DE Kahlil Mack (39 TCKL, 5 Sacks, 4 TFL 1 FF), CB David Amerson (37 TCKL, 2 INTs, 12 PD), and CB Sean Smith (24 TCKL, 2 INTs, 8 PD). Smith is ailing and may not play in this game. Although the Raiders have allowed more points than Denver, they do have the stuff on D to stop the Broncos.
Oakland O vs. Broncos D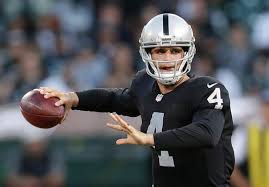 Oakland has been good for 26.9 PPG and 406.6 YPG. QB Derek Carr (66.3 COMP%, 17 TDs, 3 INTs, 9 Sacks) has played well this season. He has three quality receivers in Amari Cooper (52 REC, 787 YDs, 15.1 AVG, 2 TDs), Michael Crabtree (47 REC, 569 YDs, 12.1 AVG, 6 TDs), and Seth Roberts (22 REC, 245 YDs, 11.1 AVG, 4 TDs). Cooper is ailing with a strained back but is expected to play. RB Latavius Murray (69 ATT, 279 YDs, 4.0 AVG, 5 TDs) is providing sound ground gains. The frontline has been has been providing good protection for Carr.
The Bronco D has been stellar. But they will be challenged in this game as they have lost numerous key players from their secondary. Perhaps the biggest loss is Pro Bowl CB Aqib Talib. Talib has recorded three interceptions and 11 PD this season. He has one touchdown. Also out is corner Kayvon Webster. The good news is CB Chris Harris Jr. (1 INT, 7 PD, 1 FF, 1 FC) is healthy as is safety T.J. Ward (1 INT, 7 PD, 3 FF, 1 FC). LB Von Miller (33 TCKL, 8.5 Sacks, 2 PD, 1 FF) continues to play like the Super Bowl MVP he is. Denver has 46 PD and eight INTs. They also have seven forced fumbles, 26 sacks, and 13 TFL. These are dominant stats. They are holding teams to 17.0 PPG.
Our 2016 Sunday Night Football Free Pick
This game is very much about Oakland's offense against Denver's defense. Denver has suffered numerous losses in its secondary due to injury, and that may be a factor in this game. Plus, the Raiders do put a decent defense on the field. Our 2016 Sunday Night Football free pick is taking Oakland as the straight up winner.
Our 2016 Sunday Night Football Free Pick: Oakland Raiders