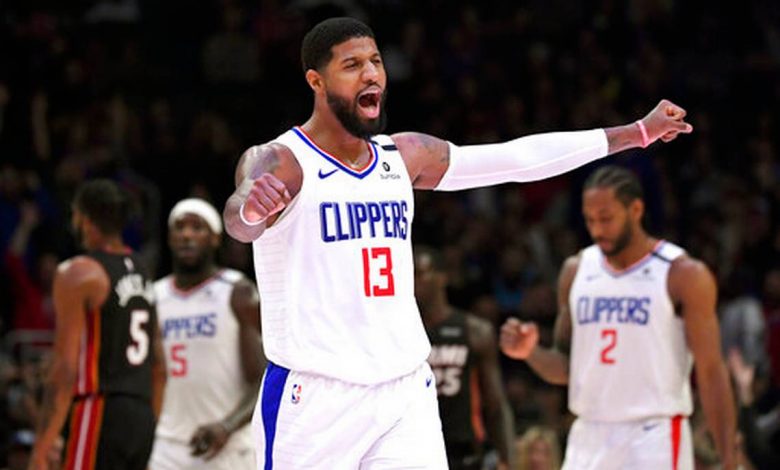 On the last day before the All-Star break arrives, two third-place teams will square off in Beantown. The LA Clippers (37-17, 3rd West) are set to go up against the Boston Celtics (37-16, 3rd East) for the second time this season. The first meeting was an overtime thriller in Los Angeles in which the Clippers prevailed 107-104.
Here is a preview for tonight's game, along with odds and a free pick.
By the Numbers
After falling on Tuesday to the 76ers and getting trounced by the Timberwolves last Saturday, the Clippers are hoping for some momentum to carry over into the break. This season, Los Angeles is tied for fifth in points scored with 115.6, scoring on a solid 46.4 percent of their shots.
They are also top-10 in three-point percentage with 36.5, as they make an average of 11.9 triples per game. Additionally, they're a very good offensive rebounding team with 11.0 per night, and also average 23.9 assists.
Defensively, the Clippers are 13th with 109.7 points allowed, holding opponents to the third-lowest clip of 43.7 percent shooting from the field. They've also done a great job of defending the three-ball, with teams shooting just 34.3 percent from long-range against them.
The steals are lacking a little bit for LA, tied for 21st with 7.3, but they're just outside the top-10 with 5.1 steals.
As for the Celtics, their seven-game win streak was halted on Tuesday with a road loss to the Rockets, and now they hope to get one last win before the weekend. So far this season, Boston is averaging 112.6 points per game, 12th in the NBA, on 46.3 percent shooting.
They hit about 12.2 threes a night, with a 36.2 make percentage that ranks 13th in the NBA. The C's rank around the same area in offensive rebounds with 10.6, while also dishing out 23.3 assists a night.
On the other side, the Celtics have proven to be a strong defensive unit. Their 105.7 points allowed is second to only Orlando in the entire league, while the 44.2 percent rate opponents shoot against them is the fifth-lowest.
They're also tied with the Clippers for three-point percentage against with 34.3. Boston can also force turnovers, ranking seventh in steals with 8.3 per game and in blocks with 5.7.
Who to Watch
Los Angeles' biggest acquisition from last summer, Kawhi Leonard, has delivered all season. Leonard is coming off of a 30-point performance Tuesday against Philadelphia, upping his season average to 27.1.
He has also been averaging over seven rebounds and seven assists over his last 10 games, making him the best player on the court tonight.
His superstar teammate Paul George is coming off of an off-night shooting the ball, scoring just 11 points but still pulling down 12 boards. Through 33 games, George is averaging 22.3 points and just under 40 percent from beyond the arc.
LA will also try to get trade deadline acquisition Marcus Morris Sr. going. Morris has scored 10 and 13 points in his first two games with the Clippers, well under his 19.2 average.
As for the Celtics, their leading scorer has also been the hottest one over the last few weeks. Jayson Tatum was held to 15 points in his last outing, snapping a nine-game streak of 20 or more points.
The third-year forward is now up to 22.1 points per game and has been averaging around 44 percent from three over his last 10 games. With Leonard and George on the other side guarding him, we'll see if Tatum can end the first half on a high note.
Along with Tatum, Kemba Walker has had a great first year in the green and white. The veteran point guard is averaging 21.8 points and leading the team with five assists. He managed just 13 points against LA earlier this season but has averaged over 22 points over his last 10 games total.
There's also Jaylen Brown, who scored 19 against the Rockets before exiting the game with a calf contusion. The young wing is probable for tonight.
Odds and Pick
With both teams itching for a win, it's the Celtics who are favored at -2 at home. Boston has dominated in their arena, going 22-5 at TD Garden this season. Meanwhile, the Clippers are just 15-12 away from Staples Center.
Tonight, I like the Celtics to get the win. I expect big things from Walker tonight, especially with defensive specialist Patrick Beverley out once again for the Clippers.
Look for him, the combo of Brown and Tatum, and the big man Daniel Theis to come up big at home against a Clippers team that is eager to reach the break. Give me the Celtics -2 tonight.