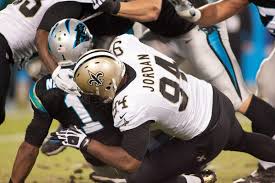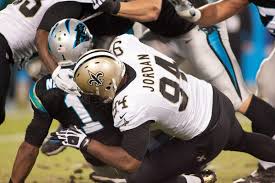 In our 2016 NFL week 11 Thursday pick New Orleans plays Carolina for the second time this season. In their first meeting on October 16, the Saints (4-5) beat the Panthers 41-38. Despite that occurrence, the Panthers (3-6) are favorites listed at minus 3.5 points. Can the Panthers actually beat the Saints? Their last meeting was close and Carolina does seem to have been playing better the past few weeks.
Over their last five games, the Saints have three wins and two losses. After beating Carolina, they lost to the Chiefs 27-21 on October 23. New Orleans then beat the Seahawks 25-20 and the 49ers 41-23. Last week, they lost to Super Bowl champion Denver Broncos 25-23.
The Panthers are 2-3 over their last five contests. Along with their October 16 loss to the Saints, they lost on October 10 to the Bucs 17-14 and to Kansas City last week 20-17. Wins were against Arizona 30-20 on October 30 and Los Angeles 13-10 on November 6.
New Orleans Offense vs. Panthers D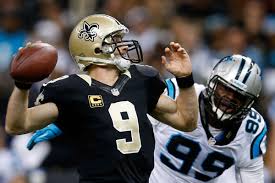 The Saints, who are averaging 29.4 PPG, will first rely on QB Drew Brees (69.9 COMP%, 24 TDs, 7 INTs, 13 Sacks) to generate as much offense as he possibly can. He has a good number of quality receivers, including Brandin Cooks (44 REC, 694 YDs, 15.8 AVG, 6 TDS) and Michael Thomas (51 REC, 613 YDs, 12.0 AVG, 5 TDs). Mark Ingram (115 ATT, 547 YDs, 4.8 AVG, 2 TDs) and Tim Hightower (76 ATT, 297 YDs, 3.9 AVG, 1 TD) anchor the ground attack. When the Saints' pass game is on target, it can be devastating.
The Panther D is holding teams to 25.1 PPG. They come to the game with 27 sacks, 31 TFL, and nine FF. Plus, they have nine interceptions and 37 PD. Those are very good numbers. DE Mario Addison (4.5 Sacks) and DT Star Lotulelei (4.0 Sacks( are premium players. DE Charles Johnson (2.0 Sacks, 1 PD, 3 FF) is an intimidating presence. LB Thomas Davis (56 TCKL, 2 TFL, 3 PD, 2 INT, 1 FF) tends to be everywhere, while LB Luke Kuechly (88 TCKL, 2 Sacks, 6 TFL, 5 PD, 1 INT, 1 FF) is a preeminent playmaker.
Carolina Offense vs. Saints D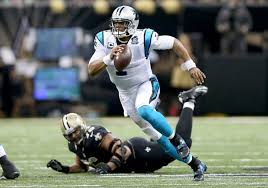 A major concern for Carolina is center Ryan Kalil who is injured. He was listed as questionable on Wednesday. If he does not play, it can affect QB Cam Newton's play. Newton (51.2 COMP%, 10 TDs, 7 INTs, 23 Sacks) has performed unevenly this year. Newton is a big presence on the field due to the fact that he's a dual threat. As a runner, he has four TDs and is averaging 4.6 yards per rush. John Stewart serves as the team's primary running back, averaging 3.6 YPG and scoring four TDs.
TE Greg Olsen (50 REC, 712 YDs, 14.2 AVG, 3 TDs) and WR Kelvin Benjamin (43 ATT, 627 YDs, 14.6 AVG, 4 TDs) are two talented pass catchers. Look for WR Devin Funchess (14 ATT, 234Yds, 16.7 AVG, 3 TDs) to be a factor as a secondary outlet. The offense is scoring an average of 24.6 PPG.
The Saints offer a better defense than one might expect. They've got eight forced fumbles, six interceptions, and 40 passes defended. Plus, New Orleans has accumulated 20 TFL and 17 sacks. DE Cameron Jones is a big talent with four sacks and seven tackles for a loss. DT Nick Fairly, with 4.5 Sacks and one TFL, is an important guy upfront. The Saint defense is holding teams to 29.2 PPG. CB Ken Crawley has posted two TFL and six PD.
2016 NFL Week 11 Thursday Pick New Orleans Plays Carolina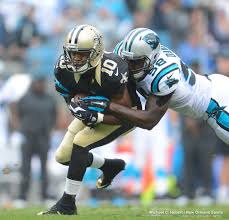 In our 2016 NFL week 11 Thursday pick New Orleans plays Carolina after each has had just four days rest. This past Sunday, both clubs lost in the final moments of games that it appeared as if they had won. It's gut check time for both. The Saints are tied for second in the NFC South, while the Panthers are last in that same division.
Interesting to note that New Orleans at 70.27% has the second best red zone offense in the league, while Carolina is third at 68.97%. When it comes to red zone D the Panthers are tied for third at 44.44%. The Saints are 12th at 52.94%. Although in the last three games, New Orleans' red zone D is at 30.00% while the Panthers' has escalated to 50.00%
We like the Panthers at -3.0. The game will be played on Thursday, November 17, 2016 at 8:25 p.m.
2016 NFL Week 11 Thursday Pick New Orleans Plays Carolina: Carolina at minus 3.0