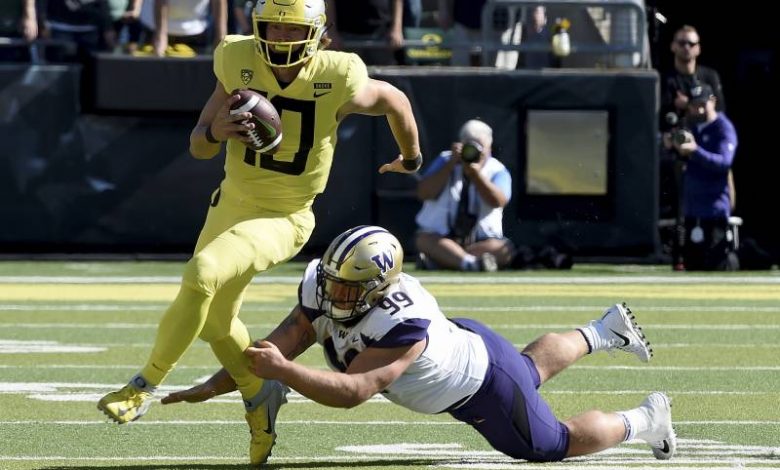 The NCAA week 8 Oregon at Washington free pick is a good one with both teams combining to be 10-3 on the season. The Ducks are on the road as 3 point favorites with 62% of public liking Mario Cristobal's squad going away. The Huskies return home after two tough road tilts and have gone 3-1 in Seattle this season. The total for Saturday afternoon's contest is just 48.5, which seems low with two top 30 scoring offenses in action.
Oregon a Risky Play Here?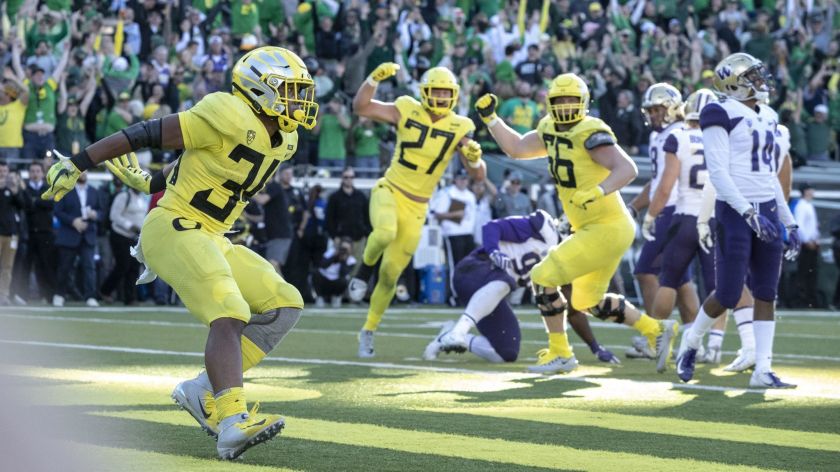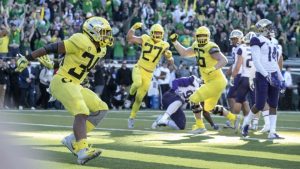 The Ducks are 12-3-1 ATS in the last 16 meetings with Washington but last year's game showed that these two teams were very evenly matched. The squads traded blows until the Ducks ultimately came out on top with a 20-27 win in Eugene but as +3.5 home underdogs. The shoe is very much on the other foot with the Huskies being the home 'dog in the NCAA week 8 Oregon at Washington free pick.
One thing Chris Petersen's team can hang their hat on is that they held Oregon QB Justin Herbert in check last season as he was 18-32 for just 202 yards but with 2 TD and 0 INT. Herbert has helped Oregon rattle off five straight wins this season after falling 21-27 at Auburn in the opener. For as much potential as the Ducks offense has in Seattle on Saturday, CJ Verdell could be the difference maker as he toted the rock 14 times for 171 last week vs. Colorado. Washington is 57th in the country vs. the rush and 63rd vs. the pass.
Another reason Oregon is a road favorite in this conference matchup is because they've shown to have the better defense of the two teams midway through the year. Oregon forced 4 INTs from Colorado's Sr. quarterback Steven Montez last week and have now gone five straight games holding opponents to 7 points or less.
Washington Ready for Big Home Win?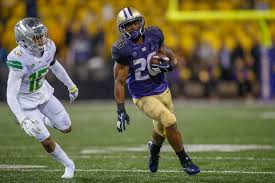 The 2019 version of the Oregon/Washington matchup is almost a mirror flip-flop of last year's game. In 2018 it was #7 Washington traveling to Eugene as -3.5 favorites and losing outright whereas this year it's the #12 Ducks favored in Seattle vs. the #23 Huskies. If you're a revenge factor bettor, this one is definitely a system play on Washington's side.
Washington could use a big victory after splitting their last two on the road. That includes a 13-23 loss at Stanford as -13.5 favorites and a 51-27 beating at Arizona last week. Take away laying an egg vs. Stanford and a 1-point loss at home to CAL (when the Huskies were also -14.6 favorites) and Washington would be getting some real national hype. The Huskies do have nice momentum here after Jacob Eason threw for 243 and 2 TDs to lead the 51 point outburst vs. Arizona. It was the Washington ground game led by Salvon Ahmed's 95 yards and 3 TDs that really gives them optimism vs. Oregon's #23 rush defense.
The Washington defense limited Herbert's effectiveness last season and that was in a home game for Oregon. The Huskies have the ability to repeat their 2018 performance, especially in Seattle where opponents are averaging just 17 ppg in four games.
NCAA Week 8 Oregon at Washington Free Pick
The Ducks pulled one out at home last season vs. the Huskies but this year it's Washington's time to return the favor. The Ducks have won 5 straight, but 4 of those 5 were at home. This will be a lower scoring game than most people think with two solid defenses, but Peterson's squad gets their revenge here.
Pick: Washington Huskies +3