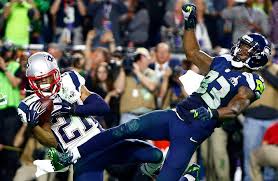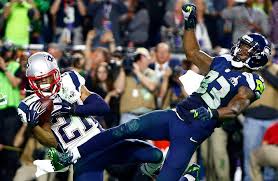 For our Sunday night 2016 NFL Week 10 free pick Seattle plays New England. The Seattle Seahawks (5-2-1) have been off and on this season. They are coming off a win, which was 31-25 against the Buffalo Bills. The Patriots are coming off their bye-week and, two weeks ago, a win against those same Bills. That score was 41-25. Both teams sit at the top of their respective divisions. But the Pats are doing so with a tad more confidence.
Seattle is 3-1-1 over their last five. Along with the Bills win, they also beat the Jets 27-17 (Oct 2) and the Falcons 26-24 (Oct 16). After a six-all Sunday night tie against Arizona (Oct 23), the Seahawks lost to the Saints 25-20 (Oct 30).
The Patriots' one loss of the season was to the Buffalo Bills at Gillette Stadium on October 2. The score was 16-0, and it was the last game of Tom Brady's four-game suspension. With Brady back, the team has won four in a row, and along with their win versus the Bills, they have beaten the Browns 33-13, Bengals 35-17, and Steelers 27-16. All of that occurred in October!
Seattle Offense vs. Patriots Defense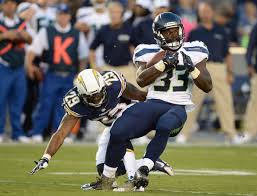 The Seattle offense is generating 20.3 PPG. Most of that is in the air as they are averaging just 75.4 YPG on the ground. Red zone offense for the team is 50.00%, which puts them 16th in the NFL. New England defense in the red zone has them 22nd at 59.09%. But over the past three games, the Pats have a red zone mark of 41.67%, which puts them eighth.
There are times when the Seahawk offense simply stalls. QB Russell Wilson (66.7 COMP%, 7 TDs, 2 INTs, 16 Sacks) has to make sure that does not happen in this game. His go-to receivers include wide out Doug Baldwin (44 REC, 570 YDs, 13.0 AVG, 2 TDs) and tight end Jimmy Graham (38 REC, 547 YDs, 14.3 AVG, 3 TDs). RB Christine Michael (112 ATT, 447 YDs, 4.0 AVG, 6 TDs) is struggling with a hamstring but is expected to play. They need his power on the ground. Wilson has fumbled five times and needs to protect the ball. PK Steven Hauschka has missed two extra point and two short field goals, although he's 12 of 12 from 30-55 yards.
The New England D is stingy, allowing opponents just 16.5 PPG. The secondary has 31 PD and five picks. The Pats don't bring a lot of heat to the QB. The team has a total of 13 sacks and just 17 TFL on run plays. They have forced eight fumbles and recovered four. LB Jamie Collins (43 TCKL, 1 Sack, 1 TFL, 2 INT, 3 PD, 1 FF) and safety Patrick Chung (49 TCKL, 1 INT, 3 PD) are quality players. DL Jabaal Sheard (3.5 Sacks, 2 TFL, 1 PD) is an important defensive force.
New England Offense vs. Seahawks Defense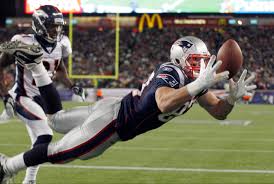 Over eight contests, the Pats are averaging 27.1 PPG. However, in the four games that Brady has played in they are averaging 34 PPG. QB Tom Brady (73.1 COMP%, 12 TDs, 0 INTs, 8 Sacks) is playing great football. Two of his big-time receivers, Julian Edelman and Martellus Bennett, are questionable for the game. WR Chris Hogan was also added to the questionable list late in the week. Together those three receivers have caught seven TDs. Hopefully Brady will have more guys to throw to than TE Rob Gronkowski (22 REC, 484 YDs, 22.0 AVG, 3 TDs.). Although Gronk is a quality pass catcher and scorer, Brady needs more options. Others like Danny Amendola and Malcolm Mitchell, each with three touchdowns, are ready to play.
The good news is that RB James White (26 ATT, 107 YDs, 4.1 AVG, 0 TDs) is also an able receiver. He has three receiving TDs. New England's primary running back, LeGarrette Blount, has performed well this season, scoring nine rushing TDs and averaging 3.8 YPA.
The Seattle defense is still awesome. They are allowing just 16.8 PPG. The team has notched 27 sacks and 21 TFL. They have 37 PD, six INTs, and seven forced fumbles with two recovered. If they can, the Pats must try to slow down DE Cliff Avril who has nine sacks, three passes defended, and three forced fumbles. DE Frank Clark is also intimidating with 6.5 sacks, one TFL and one FF. CB Richard Sherman (3 INTs, 7 PD) is one of the best in the league. The Pats do catch a break in that DE Michael Bennett is out with an injury.
2016 NFL Week 10 Free Pick Seattle Plays New England
In our Sunday night 2016 NFL Week 10 Free Pick Seattle plays New England, and this is a tight game to call. The spread is 8.5 with the Pats favored. I'm taking Seattle with the points. If going with this pick, wait until the final hour. The spread has been going up all day. The game will be played at Gillette Stadium with at start time of 8:30 p.m. ET.
2016 NFL Week 10 Free Pick Seattle Plays New England: Seattle at +8.5