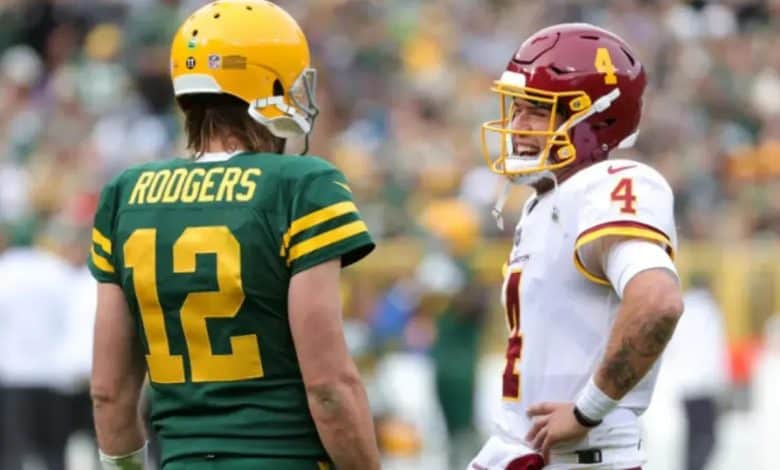 Even with the longer break after beating Chicago 12-7 last Thursday, it still wasn't enough time for Carson Wentz's broken right ring finger to heal. That means Taylor Heinicke gets the call once again in the Packers at Commanders betting matchup after going 7-8 in 15 games last year.
Green Bay doesn't care who is under center for Washington, as they have their own QB issues. Aaron Rodgers missed practice time this week with thumb soreness and he's been hurried the fourth most times in the NFL. The Packers are still a -3.5 road favorite here with 59% of the betting public liking the visitors.
Green Bay Fading Fast
The Packers were able to put together a three game win streak with an easy win over Chicago (27-10) and then holding on against Tampa Bay (14-12) and the Patriots (27-24). Since taking a 20-10 halftime lead over the Giants in London though, Green Bay has now been outscored 44-12 in the last six quarters.
Rock bottom for Green Bay may have come in last week's 27-10 loss to the Jets at Lambeau Field as -7.5 favorites. New York has improved this season, but Green Bay threw for just 218 yards nd was sacked four times while also injuring his thumb. The Packers have fallen to 3-3 which is already two games back from the Vikings.
The Green Bay defense also looked sloppy in the loss to the Jets, giving up 179 yards rushing. The Packers have the #1 pass defense in the league (164.0 ypg) but they will give up some yards on the ground (135.2, 27th in the NFL). The Commanders look like they might have a solid backfield duo in Antonio Gibson and rookie Brian Robinson, Jr. who scored his first NFL TD against the Bears.
Home Field Heinicke
Home games have been interesting for Washington this season as you're more likely to hear "sell the team" than "let's go Commanders." Controversial owner Daniel Snyder may have finally wore out his welcome with the NFL, and fans haven't been shy to let him known.
Things in the crowd could be different in the Packers at Commanders betting matchup as Heinicke returns to the starting QB spot in light of Wentz's injury. The emotional Heinicke has been a fan favorite ever since he almost led the team to a wild card upset of Tampa Bay back in 2020 with a 306 yard passing day. He had three fourth quarter comebacks last season and led another game winning drive to break a tie against Carolina.
Washington was just 2-4 with Wentz, with one of those wins the 12-7 eyesore against Chicago on Thursday. A little change could do the Commanders good, especially with the Eagles (6-0) and Giants (5-1) already out to fast starts in the division and with 4-2 Dallas getting Dak Prescott back this week.
Free Packers at Commanders Betting Pick
It honestly wouldn't have been a  shock to see Washington favored this week the way Green Bay got rolled at home last week by the Jets. The Commanders have had a few extra days to prepare coming off the Thursday game and Rodgers is a bit out of sorts both with his thumb and his offensive line / receivers. Add in the spark that Heinicke brings and the Commanders should probably take this game outright.
Free Pick: Commanders +4.5