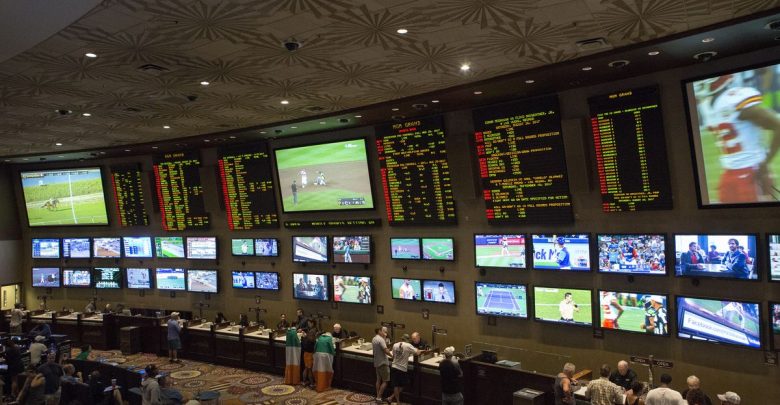 Reports of the demise of Nevada sports betting in the new legal US market have not only been misleading, they've also been greatly exaggerated. Sportsbooks in Nevada took in a huge and record-breaking $571 million in wagers in the month of September. This appears to be the largest total in the state's grand history, going all the way back to the start of such record-keeping in 1984. Nevada sports betting hit its previous high of $565 million in October 2017. These are big numbers and the revenue of more than $56 million also looks to be a new record for Nevada sportsbooks. Nevada set the old record of over $53 million in September of 2012. Not only are these numbers big, they are just the shot in the arm the state needed to prove their worth in the ever-expanding world of legal sports gambling in the United States.
Earlier in October when the top gaming regulator of New Jersey, David Rebuck, announced his self-described "stunning" September revenue numbers, many people speculated that the Garden State would eventually eclipse Nevada in revenue— and soon. New Jersey sports betting totaled $184 million for the month after all, a strong number in its first full month after being able to capitalize off of both NFL and NCAA football action.
Nevada sports betting posting its best month in history should help delay the chatter for sometime. It's important to note that all of these numbers mean one thing, and it's a big positive for the industry as a whole. Nevada's record September coupled with New Jersey's excellent start shows that one market does not need to attempt to lure bettors away from one another in order to succeed. An ever-growing community of players is rapidly expanding revenue without having to steal from other competing sports gambling markets.
That said, concern still exists in Nevada. New Jersey has some advantages in its pocket. The state is not only much larger in population; their location near New York City will also drive expansion in revenue even more. This is why a handful of casinos this month asked Nevada regulators to consider fully remote registration and verification of bettors on mobile apps, just as New Jersey has done. Obviously, the two states have much to learn from each other.
One thing neither state will have to learn is just how important football betting is in the United States. Two out of every three wagers placed in Nevada sportsbooks in the month of September were placed on football. The total football handle of almost $389 million broke the Nevada record for the month of September. With a hold of 11.4 percent, Nevada sportsbooks collected more than $44 million in revenue on just the NFL and college football. Parlays are certainly factoring into the football total as well, even though Nevada sports betting regulators break down that revenue separately and what a huge month for the sportsbooks for parlays.
While sports bettors put up more than $11 million in parlays, books held an incredible 60.67 percent on them, which equates to incoming revenue of more than $6.8 million. Plenty of months in Nevada sports betting past approached the 50 percent win mark, but this past September proved even more lucrative for the sportsbooks. And football was not the only success story. Sports gamblers also wagered more than $131 million on Major League Baseball in September. They did much better with baseball as well because the sportsbooks held only 3.24 percent.
Las Vegas Raiders Sign First Major Partner For New Stadium
Caesars Entertainment announced last Thursday it will be a founding partner of the Las Vegas Stadium, which is the eventual home of the Las Vegas Raiders. The deal does not include naming rights to the $1.8 billion stadium, and those rights are expected to create a large portion of the Raiders' cost to the stadium. "Sports have long been a core part of the Caesars experience," said Chris Holdren, the chief marketing officer for Caesars Entertainment. "With this deep partnership, Caesars will become an essential part of the game time ritual for Raiders fans everywhere."
As part of the 15-year partnership, select Caesars customers and Total Rewards members will have some exclusive perks. A few of them include a suite at the 50-yard line, VIP dinners on the field and Stadium tours. Raiders president Marc Badain said the organization was proud to have Caesars as a founding partner:
"We are honored to align with a company that shares the Raiders' values of improving the local community and delivering exceptional customer service in creating this transformative project."
The Las Vegas Raiders are hopeful to abandon Oakland and make the move to the stadium for the 2020 season. The stadium currently is under construction across from Mandalay Bay near the Las Vegas Strip. It's easy to see why the Raiders were able to make such a move as he Nevada lured them from Oakland with a $750 million contribution of tax money toward the new stadium.