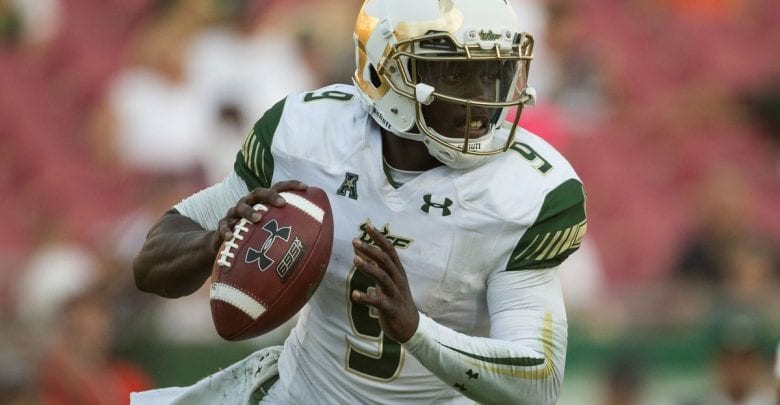 USF is back in action after laying the egg of all eggs, losing 28-34 to Houston two weeks ago spoiling their undefeated season and a showdown of unbeatens next week at Central Florida. The Bulls bounced back nicely with a 17 point win at UCONN and probably shouldn't expect much a fight from 2-8 Tulsa in the 11/16 college football free pick…or should they?
To be fair, South Florida still has a chance at representing the East in the American Athletic Conference championship game. As long as the Bulls can get past Tulsa, they'll be 6-1 in the conference and a win over would-be 7-0 Central Florida next week gives USF the nod. Tulsa on the other hand can throw a wrench in all those plans during the 11/16 college football free pick.
Can the Golden Hurricanes Keep It Under?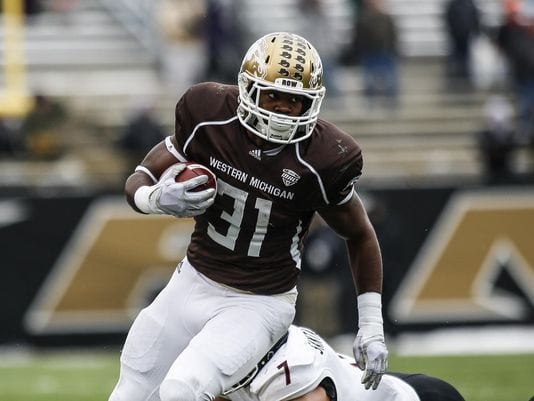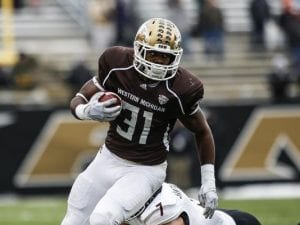 Oddsmakers have given Tulsa more than three TD on the road setting the 11/16 college football free pick spread at USF -23. It seems like a legit bet laying the number, as South Florida is 4-1 at home this year while the Golden Hurricanes have yet to win a road game going 0-6.
Tulsa also has one of the absolute worst defenses in the nation giving up 547.5 total yards per game (128th) including 270.8 on the ground (128th) and 276 in the air (118th). 'Keeping it close' doesn't really sound like an option for Tulsa against the #10 offense in the nation which includes South Florida's 7th ranked rushing offense.
This week in #TulsaFB: Five things to know about USF https://t.co/P3QqAz5eW9 via @KellyHinesTW pic.twitter.com/aSrzkisrBV

— Tulsa Sports Extra (@TUSportsExtra) November 16, 2017
South Florida An Obvious Blowout in a High Score?
The Bulls are 8-1 on the year but they haven't always blown teams out of the water like you might expect them too. Not counting the loss to Houston at home by 10 point favorites, USF only beat 2-4 Tulane by six, and even the 17 point win last week against UConn was as -23 favorites.
Tulsa is bad – nobody is debating that – but they might be an underrated bad. The Golden Hurricanes do feature the #14 rushing attack in the nation putting up nearly 250 ypg on the ground. D'Angelo Brewer is a 1,000 yard rusher that has went for 119+ in six of nine games. Tulane hasn't won a road game this season, but their last two road losses have come by just a combined 10 points. Earlier in the year the Golden Hurricanes went into 9-2 Toledo and only lost by a field goal.
Less than two hours until #USF kicks off against Tulsa in the Bulls' final home game of the year. Tune in to @BullsRadio at 7:30 for the call. pic.twitter.com/rBLgfS2c3d

— Taylor Jenkins (@TJenkinsTampa) November 16, 2017
11/16 College Football Free Pick – Total Betting
There are two very significant spots that a college football team can find themselves in, the look-back game and the look ahead contest. In the look-back game, a team is fired up after blowing what was supposed to be an easy win. USF got their 'look-back' game out of the way last week beating UCONN 37-20 after squandering an undefeated season in a loss to Houston.
That being said, the Bulls' season comes down to next week's in-state showdown against Central Florida. How motivated can you be against a 2-win Tulsa team when so much is riding in a week's time? The Golden Hurricanes have shown the ability to keep it close in road games and although they'll likely lose this tilt, 23 is a lot of points.
Pick: Under 65