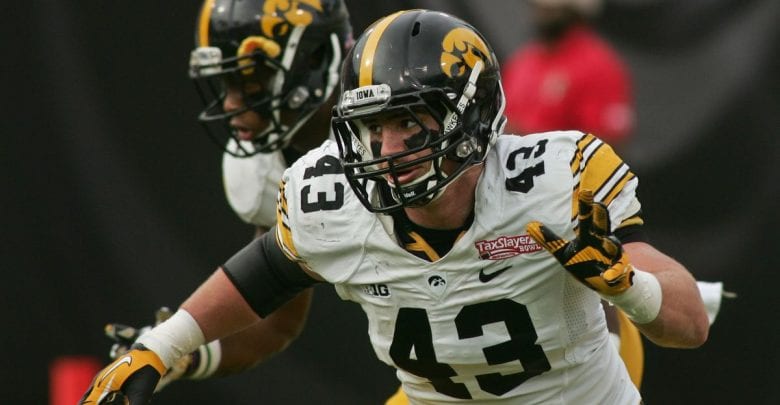 Iowa fans are starting to think that their team is the Hard Luck Hawks after back-to-back crushing defeats. The Fighting Illini coming to town looks to be good for what ails them as oddsmakers have made Iowa -16 point favorites. Lovie Smith's Illinois squad has lost two in a row and they seem to be regressing after a positive start to the season. In the College Football week 6 early game betting Smith turns to a new signal caller in Jeff George Jr., the son of former NFL #1 draft pick Jeff George.
Also, it's homecoming day in Iowa City
Welcome home! ????⚫️????#Hawkeyes #FightForIowa #UIHomecoming pic.twitter.com/ZqyFyQ1QjT

— The Iowa Hawkeyes (@TheIowaHawkeyes) October 7, 2017
Will Illinois' QB Switch Invigorate the Offense?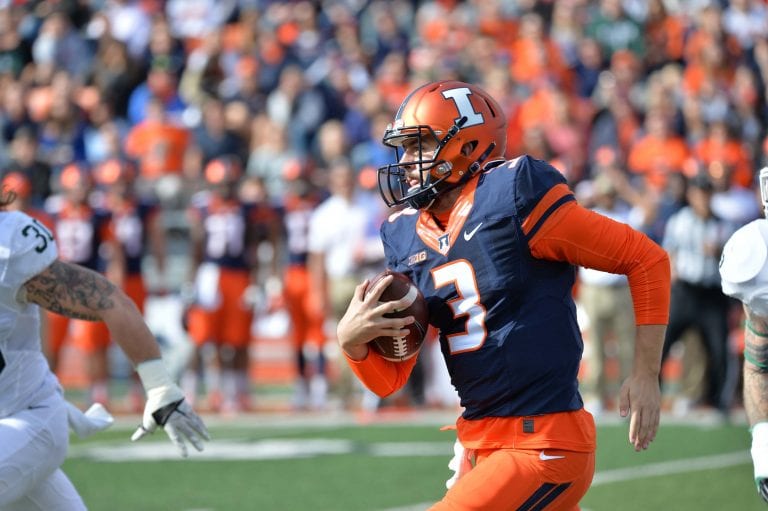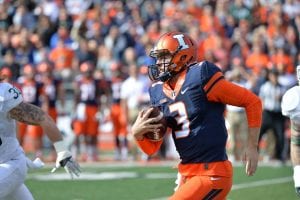 While this is George's first start of 2017, he did make four starts for the Fighting Illini last year down the stretch. George was at the helm when Illinois upset Michigan State 31-27 a year ago. At this point, Illinois will try anything to kick start their enigmatic offense. The Fighting Illini are 17th worst in the nation in rushing offense (106.0) and 16th worst in passing with just 161.3 yards per game through the air.
So how is Illinois going to score against the Iowa defense, the staple of their team? Iowa is top 30 in the NCAA in points allowed (19.2) and allows less than 250 YPG through the air and under 150 on the ground. Illinois has yet to score over 25 points in a game and was held to 6 last week against Nebraska, gaining under 200 yards of total offense.
Jeff George was 1-1 against the #Hawkeyes 1-0 as an #Illini. Time for Jr. to keep dad's Illini record at undefeated. #FightingIllini

— JSS (@SmAHAmoment) October 6, 2017
Can the Iowa Offense Get Going?
The Iowa defense has kept them in back-to-back games against Penn State and Michigan State but their offense was lackluster which has led to the two game losing streak. Iowa managed only 273 yards in a 21-19 last second loss to PSU and only 226 a week ago in a 17-10 loss to Michigan State. Iowa is 105th in the nation in total yards (338.8) and QB Nathan Stanley has thrown for 200+ yards only once this season. Even the Iowa running game has been stagnant as they rush for only 128.2 YPG (96th in FBS).
The Iowa defense has struggled mightily in two of their games which has skewed their season stats a bit. They allowed 478 total yards in a 44-41 win over Iowa State and nearly 600 in the loss to Penn State a couple weeks ago. Aside from that the Hawks held Michigan State to 300 total and held Josh Allen's vaunted Wyoming offense to just 228. It's hard to see them struggling against the Illini "attack" in the  College Football Week 6 Early Game Betting.
Bobby Roundtree has 0.75 sacks/game most in the nation among true freshmen & 6th most in the Big Ten.#ILLvsIOWA #Illini #Hawkeyes #B1G

— SERC (@SERCenter) October 7, 2017
College Football Week 6 Early Game Betting Pick
Oddsmakers opened Iowa as a -18 favorite but despite the fact that 71% of the public is on the Hawks the line has dropped to -16. That kind of awkward line movement is screaming to stay away from the side bet. Lovie Smith has doubled down on his stance that the Illini are a running team, even with the move to the gunslinger George. This will chew up clock and allow an underrated Illini defense a chance to rest. The Hawkeyes offense doesn't strike fear in any team and their D should be able to contain Illinois. Thus the College Football Week 6 Early Game Betting is a play on the total.
Pick Illinois / Iowa *Under* 42