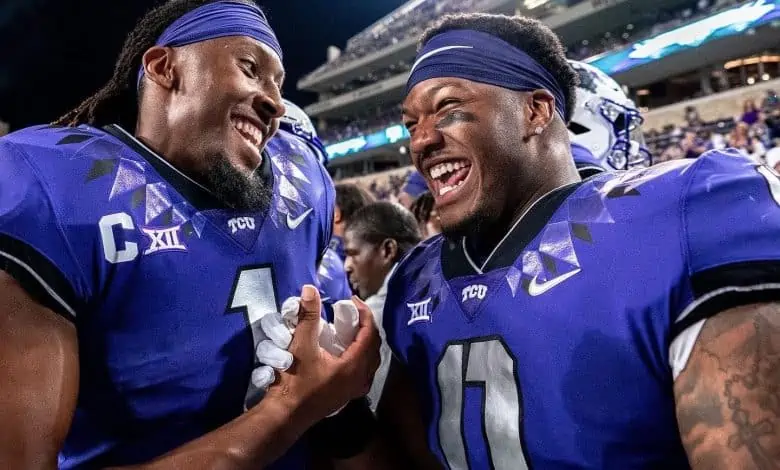 Sonny Dykes has crossed one thing off his goal sheet in his first year in Ft. Worth as the Horned Frogs (10-0, 7-0 in conference) have clinched their spot in the Big 12 Title Game. This is a team that now has bigger items on their agenda as they are in the driver's seat for a berth in the College Football Playoff ranked #4 heading into the TCU at Baylor betting matchup.
Baylor is the defending Big 12 champion but they'll need a lot of help to return to AT&T Stadium, needing wins in their final two games with Oklahoma State and Kansas State tripping up as well. This is still a refreshing spot for Baylor to play spoiler though, especially with TCU being dominant in the head-to-head series with wins in six of the last seven.
TCU Just Wins
To be fair Teas Christian has been favored in 8 of their 10 wins this season, a trend which continues on Saturday listed at -2.5 at Baylor. It's still impressive picking up victories week in and week out, especially in a tough Big 12. Over a four game stretch this year TCU has beaten #18 Oklahoma (55-24), #19 Kansas (38-31), #8 Oklahoma State (43-40), and #17 Kansas State (38-28).
TCU added to their resume of ranked opponent wins by taking down #18 Texas 17-10 last week as +7.5 road underdogs in Austin. It wasn't the prettiest of victories for TCU, but they held the Longhorns to under 200 yards of total offense including corralling RB Bijan Robinson for just 29 yards after he had gone for 100+ in his previous seven.
The Bears' offense is another tough test heading into TCU at Baylor betting, but the Horned Frogs should take some solace in BU getting beat 31-3 at home last week by Kansas State. That's well below the Bears' 34.8 ppg scoring so we will see if TCU can flex their defensive muscles again this week.
Baylor Needs a Rebound
The Bears had a three game win streak snapped last week and they have two home losses this season to Kansas State and Oklahoma State – the two teams they are trying to chase down in the standings for a return trip to the conference title game.
Hope is probably lost for Baylor to repeat as Big 12 champions, but they can still play spoiler and hand TCU their first loss of the season. In order to do that though the Bears are going to have to do more than their 306 yards of total offense against Kansas State. The Wildcats have the #3 total defense in the Big 12, but TCU isn't far behind them at #5.
Another thing about Kansas State is that they have the second lowest scoring offense in the Big 12 and QB Will Howard threw for 3 TDs while KSU ran for 184 yards. TCU has the top scoring offense in the conference – 8th in the country at 40.5 ppg – and have an experienced QB in Max Duggan (25 TDs, 2 INTs), a RB Kendre Miller who has 100+ yards in 7 of his last 8, and an NFL caliber WR in 6'4″ Quentin Johnston.
Free TCU at Baylor Betting Pick
This seems like a season of destiny for TCU, who finishes the season at home next week against Iowa State. You don't mess with destiny – nor a team who has a very good defense and some real weapons on offense.
Free Pick: TCU -2.5