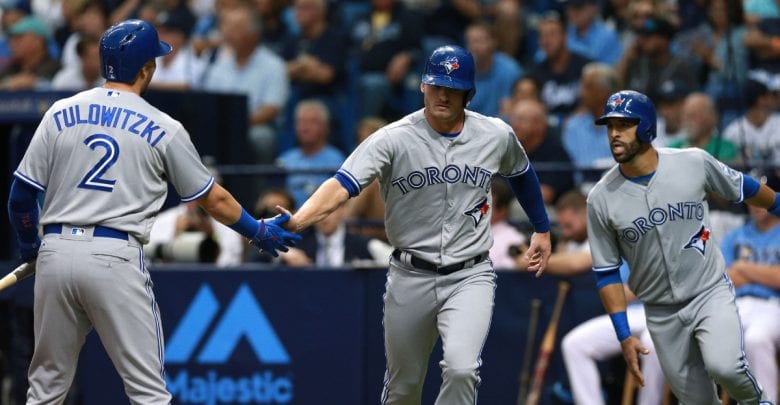 The 8/23 free MLB pick sees the Toronto Blue Jays take on the Tampa Bay Rays Wednesday night from Tropicana Field. Last night in the opener of a three game set, Tampa was able to get the win 6-5 behind a 4H, 10K outing from pitcher Chris Archer.
The Rays have now won two in a row while the Blue Jays loss marks their 4th in a row after a three game weekend sweep by the Cubs in Wrigley. Tampa's chance at a postseason is about as good as witnessing another eclipse this week as they are only 4.0 GB, but with four teams standing in front of them just to get the #2 spot.

8/23 Free MLB Pick Pitching Matchups
Toronto sends Marcus Stroman (11-4) to the mound as he looks to continue a very successful 2017 campaign. Stroman has had a rough go of it lately, losing 3 of his past 5 starts but it hasn't all been on his shoulders. The pitcher has gone into the 7th inning in 7 of 8 starts and has posted a 2.02 ERA over his last 10 outings. In fact in 20 of the 25 times Stroman has taken the mound this year opponents have scored less than 3 ER.
Stroman has had success in hi 3 starts against the Rays this season. In his first start of the year Stroman went 6-1/3 allowing only 1R in a 5-2 Toronto win in Tampa. He followed that up on April 23 pitching 7-1/3 allowing only 2R and striking out 10 albeit in a 7-4 Rays win. Just recently in his last start out Stroman pitched 6-1/3 allowing 2ER in a 3-2 Jays win over Tampa. In 20 innings against the Rays this season Stroman has struck out 22 while allowing only 5ER.
Good morning happy Wednesday. It's a winning day cause our ace @MStrooo6 is on the mound #HDMH #StroShow pic.twitter.com/zPWF4Rnz3E

— Antoinette (@babygirltoni) August 23, 2017
Toronto sends Austin Pruitt (6-4) in what has been a very up and down season. The rookie started the year working out of the bullpen but has been moved into the rotation for 5 starts in a row. 3 of those starts have seen a combined 4ER allowed but in the other two he's been rocked for 11 total ER. Pruitt did toss 7IP last time out but was shelled for 6ER on 11H by the Mariners.
Austin Pruitt aims to pitch Rays to 3rd straight win https://t.co/H1KiEEsEGl pic.twitter.com/ZAqX3BaCVa

— WookBox (@WookBox) August 23, 2017

8/23 Free MLB Pick Gambling Matchup and Variables
Oddsmakers have given us incredible value in the Blue Jays today, making them -112 ML favorites. Tampa Bay may conceivably be a hotter team but take away the win against Toronto last night and the W over Seattle previously and the Rays have actually lost 7 of 8. Similarly eliminate the recent loss to Tampa and the sweep by the Cubs and Toronto had won 5 of 6.
Stroman has been solid against the Rays in his career allowing only a .259 average but on those terms Pruitt has been even better stiff-arming the Jays to the tune of just a .190 career average. Even still, Pruitt is more of the wild card in tonight's matchup. Expect a great outing from Stroman and for Toronto to cash in as road favorites – they were dominated by Chris Archer last night and still only lost 6-5.
Pick Toronto -112