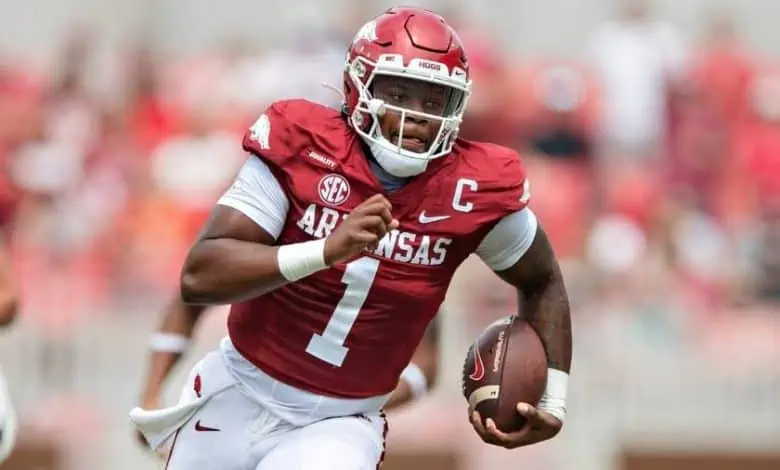 Arkansas was 9-4 last year and made an NY6 Bowl, beating Penn State 24-10 so by those metrics are a 6-6 season and playing in the Liberty Bowl betting matchup a disappointment for the Razorbacks? Arkansas doesn't exactly have momentum coming into Wednesday night's game either, having lost three of their last four to close out the year.
On the flip side the Jayhawks have to be thrilled playing their first postseason game since 2008 Insight Bowl where they beat Minnesota 42-21. Finishing 6-6 is kind of a disappointment for a KU team that started off 5-0, but that's still a nice turnaround from a 2-10 record last year. The Hogs' are -2.5 favorites in this meeting in Memphis, TN.
Kansas Defense Could Be a Liability
The Jayhawks aren't going to rely on their defense to get a win in the Liberty Bowl, in fact this unit is the sixth worst in the nation allowing 474.5 yards/game. The good news for Kansas is that Arkansas is nearly just as bad, giving up 457.2 yards/game to FBS opponents which also ranks in the bottom 10 in the entire country.
The big difference between KU and Arkansas is that you have to have a bit more confidence in the Arkansas offense, a balanced attack that is especially good on the ground 224.9 rush yards/game which is 9th best in the country. The Jayhawks have balance too with Devin Neal being a 1,000 yard rusher, but KU also only averaged 20.5 ppg when QB Jalon Daniels returned from a shoulder injury the last two games of the regular season.
Razorbacks Underwhelmed to Be Here?
Arkansas had high hopes for the 2022 season, they started the year ranked #19 and opened up with a 31-24 win over Cincinnati who was fresh off a berth in the 2022 College Football Playoff. The Razorbacks rose as high as #10 before a 23-21 loss to Texas A&M sent them on a run of six losses in their final nine games.
While going from a New Year's Six bowl last year to the Liberty Bowl in 2022 might be a disappointment for Arkansas, on the bright side it does look like QB K.J. Jefferson and RB Raheim Sanders are going to play on Wednesday night. Jefferson completed 68.3% of his passes this season with 22TDs to just 4 INT (7 more scores on the ground) while Sanders' 1,426 yards on the ground were the 11th most in the country.
While Jefferson and Sanders are playing, the Razorbacks are down to 48 scholarship players for the Liberty Bowl betting matchup, which is about 25 shorter than usual. They will especially be hit in the passing game where three of the top four targets are transferring / opting out.
Free 2022 Liberty Bowl Betting Pick
Kansas allowed at least 35 points in six of their last seven games, so it's likely that Arkansas gets theirs on Wednesday, it's just a matter of if Kansas can keep up. This line dropping from the Razorbacks -5.5 to -2.5 is a bit concerning, but the combination of Jefferson and Sanders are just too much in the Hogs' backfield.
Free Pick: Arkansas -2.5