NHL Previews
New York Rangers Preview 2019 – 2020
Wild Card or Nothing?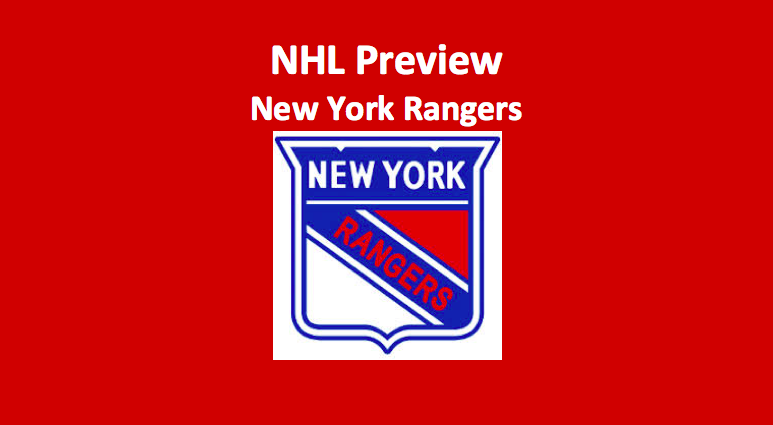 Our New York Rangers Preview 2019 – 2020 notes that the New York Rangers had a rough 2018-2019 season. This NY Rangers Preview 2019 observes that the team finished last in the Metropolitan division with 77 points. Despite their struggles last year, the Rangers retooled this offseason and have the potential to surprise They were awarded the second overall draft pick while making some key additions through trades and free agency. Our New York Rangers Season Preview 2019 – 2020 looks at how their overhauled roster will compete with the rest of the NHL.
New York Rangers Preview 2019 – 2020: Goaltending
The Rangers look likely to be one of the many teams to employ a tandem in net rather than rely on a single goaltender. Henrik Lundqvist played 52 games last season, but the 37-year old netminder would likely benefit from a few more nights off. He finished last season with an 18-23-10 record. He had a 3.07 GAA and .907 save percentage in these games. While still very talented, he could improve upon these numbers if given more rest.
Lundqvist will share the crease with Alexandar Georgiev, who is coming off of his first full NHL season. The 23-year old played 33 games last year compiling a 14-13-4 record while facing around 32 shots per appearance. Georgiev finished the season with a 2.91 GAA and a .914 save percentage. He provides a very solid backup option for the Rangers, and has looked solid enough to merit more starts in the upcoming season. Overall New York lacks elite goaltending, but they should be solid enough in net. Especially if they can manage Lundqvist and Georgiev's starts to maximize their quality of play.
Rangers Forwards
The Rangers have drastically improved upfront this offseason. They landed the most sought after free agent on the market in Artemi Panarin, as well as adding a key piece through the draft in Kappo Kakko. Panarin signed with New York after departing from the Columbus Blue Jackets. He led his former club in points last season with 87 in 79 games played. He is an elite talent in the NHL and addresses a key need for a club which was among the bottom eight teams in scoring last season. Panarin is likely to slot in on top center Mika Zibanejad's left side. Zibanejad led the Rangers in points and goals last season with 74 and 30 respectively. The 26-year-old Swede likely will score at a point per game pace with Panarin on his line.
The Rangers' other big offensive addition this offseason came to them courtesy of the draft lottery. New York was awarded the second overall pick and was able to select Kaapo Kakko. Kakko is arguably the most NHL ready player from the 2019 draft class. The 18-year-old spent last season playing against older competition in Liiga in his native Finland. He scored 22 goals and added 16 assists in 45 games. He will likely slot in to the Rangers top-six forward group this season and should be in contention for rookie of the year.
New York also has some young players looking to build off promising seasons. Filip Chytil and Lias Andersson should both see more ice time than last year. Chytil spent the entirety of the 2018-2019 season in the NHL scoring 11 goals and 12 assists in his first season. He finished the season with a -22 plus-minus rating but at 19 years of age should improve upon this. Andersson split his time between the Rangers and their AHL affiliate in Hartford. The seventh overall pick from 2017 had 20 points in 36 games in the AHL and 6 points in his NHL stint. Andersson will be a player to watch in his first full NHL season.
NYR Preview – Defensemen
The Rangers' blueline got an overhaul during the offseason. They moved Kevin Shattenkirk out while adding Jacob Trouba and Adam Fox. Trouba made a case last season that he was the Winnipeg Jets' best defenseman. He finished the year with 50 points and a +8 plus-minus rating while playing almost 23 minutes per game. He is an instant upgrade over Shattenkirk who struggled with New York. Shattenkirk finished last season with a -15 rating and 28 points. This will likely be Fox's rookie season after he left Harvard following his junior year. He had a terrific college career finishing with 116 points in 97 games over three seasons. He should step in and make an impact offensively from the blueline.
Along with the new additions the Blueshirts return Brady Skjei, Marc Staal, and Tony DeAngelo. Skjei had 25 points last season but was New York's top defenseman. Staal and DeAngelo both played about 19:30 minutes per game. They finished the 2018-2019 season with 13 and 30 points respectively. DeAngelo specifically could be in line for a solid year as he enters his age 23 season.
New York Rangers Preview 2019 – 2020: Outlook
Our New York Rangers Preview 2019 – 2020 notes that the Rangers are drastically improved from last year. The additions of Panarin and Kakko immediately provide an offensive presence. They also upgraded their blueline by acquiring Jacob Trouba. While they do look much better, the rest of their division has improved significantly. Goaltending shouldn't be an issue either. Although they are not particularly spectacular at the position. The Rangers should compete for a wild card spot, but don't be surprised if they miss the postseason again.
2019-2020 New York Rangers Season Preview: Projection
Record: 41-30-11,93 points
Finish: 5th in the Metropolitan Division
NHL LINKS
Division Link
NHL 2019 Preview Link