NHL Previews
Boston Bruins Preview 2019 – 2020
B's Look Ready to Compete in a Major Way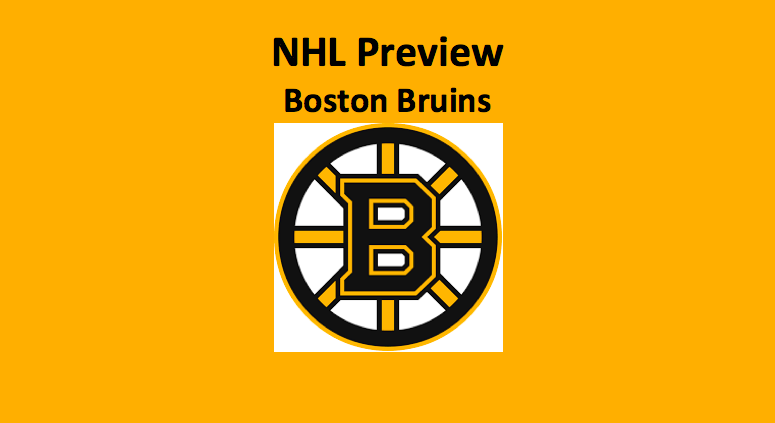 Our Boston Bruins Preview 2019 – 2020 notes that while the Bruins gave a valiant effort in pursuit of their second Stanley Cup in nine years, they fell short in game seven of the finals. Before a long playoff run, Boston finished third overall in the NHL with a 107-point season. Our Boston Bruins Preview 2019 – 2020 observes that much of the same team returns. That could be a positive. But, that could also prove to be a negative factor. Our 2019-2020 Boston Bruins Season Preview looks at whether the B's can recreate last season and finish the playoff run they had last year.
Boston Bruins Preview 2019 – 2020: Goaltending
For the past few years, Boston's biggest issue in net was the workload that Tuukka Rask was forced to absorb. He drastically increased his positive performance numbers after the Bruins signed Jaroslav Halak last summer. Rask won 27 games while posting a .912 save percentage and a 2.48 GAA. The more reasonable workload also transitioned into a very strong playoff run by Rask. He carried his team to game seven of the Cup Final. Rask had a .934 save percentage and a 2.02 GAA in his run.
As for Halak, our Boston Bruins Preview 2019 – 2020 notes that he was lights out as well. He finished the 2018 – 2019 season with a .922 save percentage and a 2.34 GAA. If this year is similar to the last, Halak will be one of the best backup options in the NHL. Both goaltenders should split the season again this year. This bodes well for a full season of strong play out of Rask and Halak.
Boston Forwards
Our Boston Bruins Preview 2019 – 2020 finds that the Bruins have arguably the best line in hockey. For the past few years, Patrice Bergeron, David Pastrnak, and Brad Marchand have all put in elite seasons. Once again, all three put in great seasons last year. Marchand led the team with 100 points on the year. Pastrnak and Bergeron were both limited to under 70 games but finished second and third on the team in scoring. Pastrnak had 38 goals and 81 points. He probably would have cranked the 40-goal plateau if he didn't injure his thumb forcing him to miss a sizable number of games. Bergeron had 79 points in 65 games and has continued dominating as one of the NHL's best all-around players. When out on the , all three players are threats to score.
The Bruins secondary scoring is paced by David Krejci and Jake DeBrusk. Krecji had 73 points last year while DeBursk scored 27 goals. While both players have been productive offensively, they could be more effective if coach Bruce Cassidy can find another top-six talent to play on Krecji's right wing. At the moment, it looks very probable that a rotation of players will be used in that slot. Karson Kuhlman and Charlie Coyle could both be used in this position at some point.
Potential
Kuhlman skated here for most of his 11 regular-season games as well as during the playoffs when in the lineup. During the regular season, he was solid with five points in 11 games. Coyle ideally would be used as the team's third-line center and will likely start the year there. If needed, he has the size and skill to complement Krecji. Coyle had six points in 21 games with Boston last season. Although neither of these scenarios is perfect, Boston should have little trouble scoring.
Bruins Preview – Defense
The Bruins blueline has some top talent, each playing different roles. Charlie McAvoy has developed into an elite defenseman in the NHL. He was limited to 54 games due to injury but had 28 points when healthy. His play was consistent enough that he led the team in time on ice, playing 22:20 minutes per game. While he is still young, McAvoy provides a cornerstone for Boston on the blueline.Along with McAvoy, Brandon Carlo, Torey Krug, and Matt Grzelcyk were all great last season. Krug led Boston's defensemen with 53 points on the year. He is an elite offensive defenseman and will help quarterback Boston's powerplay, which finished third last year.
Our Boston Bruins Preview 2019 – 2020 notes that Carlo had his strongest season to this point in his career. While playing almost 21 minutes per night against team's top two lines, Carlo had a +22 plus-minus rating. Last year he really looked like the Bruins' heir to Zdeno Chara. Grzelcyk only had 18 points in 66 games but took a large step forward in his development. The Charlestown native could see upwards of 20 minutes per games this season and will contribute on the powerplay. Overall the Bruins' blueline looks to be one of the more complete in the NHL. They have diversity in their playing styles and complement each other very well.
Boston Bruins Preview 2019 – 2020: Outlook
The Bruins are one of the stronger teams in the NHL from front to back. They have the top line in the NHL, along with a strong nucleus on the blueline, and two great goaltenders. The only factors that look to be threats are injuries and a slow start after the short offseason. Our Boston Bruins Preview 2019 – 2020 observes that the Bruins should be back in the playoffs again though. Look for them to try and finish the strong run they had last year.
Boston Bruins Preview 2019 – 2020: Prediction
Record: 48-27-7, 103 points
Finish:4th in the Atlantic, 1st wild card
NHL LINKS
Division Link
NHL 2019 Preview Link