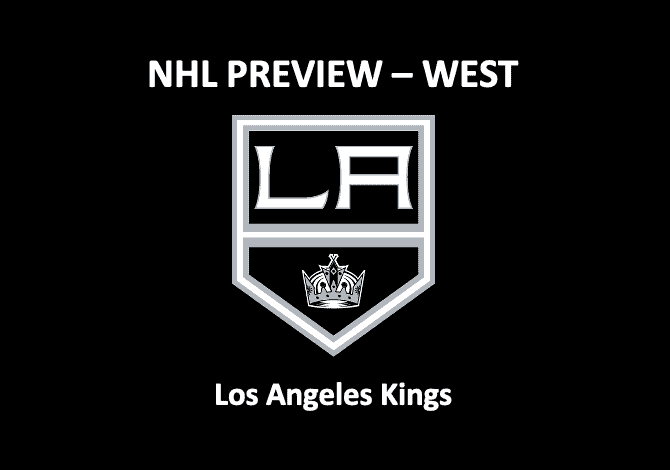 Los Angeles is coming off a season where they missed the playoffs for the second straight year. Their 29-35-6 record placed them 7th in the Pacific Division ahead of only the San Jose Sharks. The Kings were lucky enough to own the second overall pick in the 2020 entry draft and hope that it will translate, sooner rather than later, into another playoff berth. Our Los Angeles Kings preview 2021 looks at how close the club is to being competitive again.
Kings Forwards
Overall the Kings' forward core is pretty weak. They only had one player score 20 or more goals last year. Anze Kopitar had 21 goals and 62 points in 70 games during the 2019-2020 season. Tyler Toffoli scored the second most goals on the team despite being traded at the trade deadline last year. In terms of point production Alex Iafallo was the only other player besides Kopitar to top 40 points. He had 43 on the year. While this was the highest total of this three year career, it is unlikely that his production increases much more this year.
Los Angeles has two young centers who are expected to make impacts this season. Quinton Byfield was drafted second overall by the Kings in the 2020 draft. While he hasn't claimed a roster spot yet, he is expected to make his NHL debut this season. Standing at 6'4'' and 220 lbs he has the frame to jump directly into the league as an 18-year-old. The power forward had 82 points in 45 OHL games with the Sudbury Wolves last year..
Gabriel Vilardi is also expected to play a large role for LA. He saw his first NHL action last season suiting up for 10 games. He had three goals and four assists over that span. Vilardi could finish the season as one of Los Angeles' top scorers. The Kings finished with the second least goals last year. While they have some young talent who could step in and contribute, there is little reason to believe that their offensive output will increase very much in 2021.
Los Angeles Kings Preview 2021 – Defense
The Kings upgraded slightly on the blueline. They traded for Olli Maatta from Chicago over the offseason. The seven year NHL veteran appeared in 65 games with the Blackhawks last season putting up 17 points. Maatta is a bonafide top four defenseman and partially addresses the Kings' lack of depth on the blueline.
Maatta is projected to be paired with Drew Doughty, who had one of the worst seasons of his career. After finishing the 2018-2019 season with a career low -34 plus-mins, Doughty went -16 last year. He also had 35 points on the season while seeing almost 26 minutes of ice time per game. While Doughty is still an elite defensemen, his level of play has certainly diminished recently.
Sean Walker and Matt Roy are both likely to see increased playing time in their third NHL seasons. Walker finished the 2019-2020 season with 24 points while playing the second most among the team's defensemen. Roy had 18 points on the year while leading the Kings in plus-minus. He compiled his +16 rating while playing over 18 minutes per game, a substantial feat considering LA allowed 32 more goals than they scored. Overall the addition of Maatta does help the Kings' blueline. Despite this LA's backend looks weaker than averagea. If Roy and Walker can take another step in their development, The Kings' blueline could surpass expectations.
Los Angeles Goaltending
Jonathan Quick had somewhat of a bounce back year in 2019-2020. After posting a 3.38 GAA and a .888 save percentage in 2018-2019, Quick raised his save percentage back above .900. In 42 games he compiled a 2.79 GAA while stopping .904 percent of the shots he faced. Quick's performance has fluctuated wildly from year to year through his career. Depending on how he looks this season, the Kings could give Cal Petersen a greater bulk of starts in 2021. While he only played eight games last season, he was terrific when given the net. Petersen went 5-3-0 while maintaining a 2.64 GAA and a .922 save percentage. Petersen presents a solid backup option for Los Angeles.
Los Angeles Kings Preview 2021: Outlook
While the Kings looked to have improved from last season, they are still among the worst  teams in the NHL. They lack depth both up at all forward positions as well as on defense. LA looks fine in net and have some promising young forwards in Byfield and Vilardi. They should be a contender in a few years but have virtually no chance of making the playoffs this season.
Los Angeles Kings Preview 2021: Projection
Record: 21-32-3, 45 points
Finish: 8th in the West Division