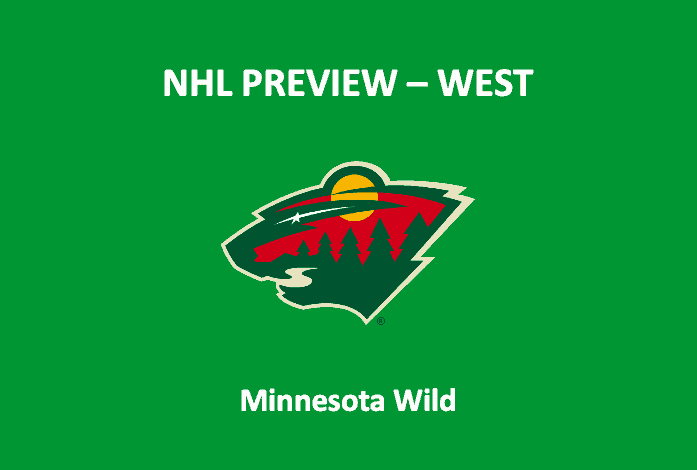 While the Wild were able to sneak into the play-in round, they failed to qualify for the playoffs falling to the Canucks in four games. They Weren't particularly impressive during the regular season either finishing with a 35-27-7 record. This placed them sith in the Central Division. The Wild made changes both at the forward and goaltending positions. Our Minnesota Wild preview 2021 looks at whether these moves put them in a spot to make the playoffs this season.
Wild Forwards
Kevin Fiala is going to be relied heavily upon to find the back of the net. The Swiss winger led Minnesota in points last season. His 54 points set a career high despite playing 16 less games than the season where he had previously scored his most points. Zach Parise and Mats Zuccarello will also be tasked with carrying the club's offense. Parise scored a team leading 25 goals in 2019-2020. As he enters this season at the age of 36, the Minneapolis native continues to provide substantial offense. Zuccarello is slated to start the season on the IR after undergoing an arm surgery during the offseason. He had 37 points last season and will be greatly missed while out of commission.
The Wild's biggest addition this season is most likely going to be Kirill Kaprizov. Kaprizov has spent the last four seasons playing in the KHL.  Last season Kaprizov finished third in the Russian league in scoring. He had 33 goals and 29 assists in 57 contests. Kaprizov could be a star in the NHL, and will likely jump into a top-six role immediately for the Wild.
Center Assistance Needed
The Biggest issue for the Wild is their lack of a top center. Last year Eric Staal slotted into the team's first line center role. They traded him away over the offseason. In return they picked up Marcus Johansson from Buffalo. While Johansson is a solid forward in his own right, he lacks the overall production and consistency to fill this void. Last season the Swede had 30 points in 60 games, far from the numbers of an elite center. Overall the addition of Kaprizov has the potential to pay huge dividends for the Wild. Despite this, their forward core would still rank in the bottom third of the league due to their lack of skill at the center position.
Minnesota Wild Preview 2021 – Defense
The strongest area of Minnesota's roster is their defensemen. Ryan Suter has continued to be a force for the Wild even while turning 36 in January. He finished second on Minnesota in points with 48 while playing a team leading 24:38 minutes a game. Apart from Suter, Matt Dumba and Jared Spurgeon have developed into very solid players. Dumba and Spurgeon had 24 and 32 points respectively during the 2019-2020 season. They both logged over 20 minutes a night and can contribute at both ends of the ice.
Rounding out the Wild's top four defensemen will be Jonas Bordin, who put together a solid bounce back campaign after a weak 2018-2019 season. He saw his plus-minus rating increase by 30 to +15 last year while finishing with 28 points. The Swede saw 21:33 minutes per game as well. Minnesota's blueline is bordering on elite. They have four very impressive defensemen, who can all eat minutes while producing at both ends of the ice.
Minnesota Goaltending
Like many teams this season, look for the Wild to deploy a goaltending tandem that will split game loads very evenly. Alex Stalock returns after having his busiest season to date. Last season the Minnesota native started a career high 36 contests. Stalock finished with a 2.67 GAA and a .910 save percentage. He will split time with Cam Talbot in the 2021 season.  Talbot Backed up David Rittich last season in Calgary. In this role he had an impressive .919 save percentage and a 2.63 GAA in 22 starts. Together Talbot and Stalock will make up a tandem that is solid enough.
Compared to other teams, the Wild's situation in net isn't great, but it shouldn't be too much of an issue either. Their goaltenders likely won't steal too many games but will give their team a chance to win on most nights. Talbot looks like an upgrade over Devan Dubnyk, who split time with Stalock last season. It should be expected that they cut down on goals against in 2021.
Minnesota Wild Preview 2021: Outlook
Our Minnesota Wild Preview 2021 identifies that the club's biggest issue this season will be their lack of depth down the center of the ice. Trading away Eric Staal created a big void in their lineup. They do look more solid in net although they aren't particularly impressive at the position. They are most solid on the blue line where they are better than average. The Wild should be somewhat difficult to score on, although their lack of depth at center is very concerning. They could be in a position to sneak into a playoff spot, although it looks more likely than not that they miss the playoffs again.
2021 Minnesota Wild Season Preview: Projection
Record: 28-19-9, 65 points
Finish: 4th in the West Division