NHL Previews
Vancouver Canucks Preview 2019 – 2020
Canucks Improve Slightly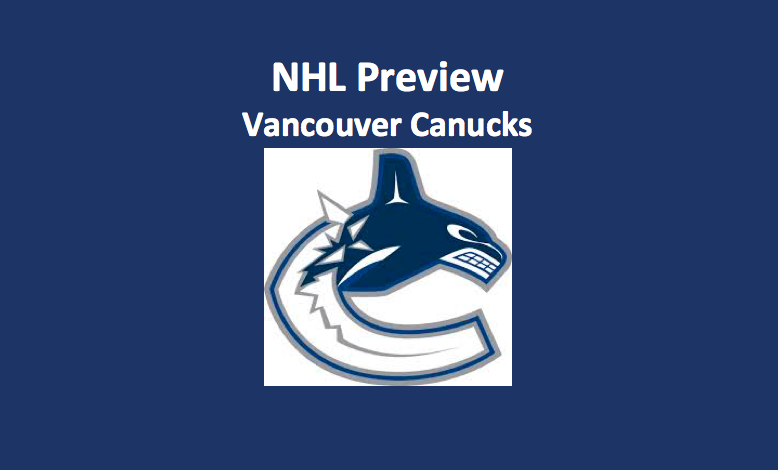 Our Vancouver Canucks Preview 2019 – 2020 notes that this team has not been strong for the last few seasons. As this Vancouver Canucks Preview 2019 – 2020 notes, they missed the playoffs for the fourth straight time last year. In 2019 the Canucks finished with a 35-36-11 record. Their 81 points landed them in fifth place among Pacific Division teams at the end of the year. Though, after numerous offseason moves, there is slightly more optimism for their 2019 – 2020 season. Our 2019 – 2020 Vancouver Canucks season preview considers how Canada's western most team will fare with the changes they made over the summer. Some of those changes could help this team start to get back on track.
Vancouver Canucks Preview 2019 – 2020: Goaltending
The Canucks come into the 2019 – 2020 season with a goaltending tandem which could surprise everyone. While his stat line may not exhibit the quality of his play, Jacob Markstrom had a terrific season last year. Markstrom played a total of 60 games for Vancouver and ended the year with a 2.77 GAA and a .912 save percentage. He had a winning record as well going 28-23-9 despite his club finishing 35-36-11. This Vancouver Canucks Preview 2019 – 2020 finds that Markstrom's stat line is made more impressive in that he faced the fourth-most shots in the NHL. He also had a .920 save percentage when his team was at even strength, a value that is tied with Carey Price. Markstrom may not be regarded as elite, but he does come into the season as a candidate for most underrated goaltender in the NHL.
Markstrom will be backed up by Thatcher Demko, whom the Canucks have taken their time developing. Demko only suited up for nine NHL games last season. He was 4-3-1 in 2019-2020. He finished with a .913 save percentage and a 2.81 GAA. Demko also played 16 games in the AHL and compiled a .911 save percentage and a 2.58 GAA. The former second round pick should see more action this season.
Vancouver Forwards
Although they lack depth on the wings, the Canucks should have a decent group of forwards assuming they can sign Brock Boeser before the seasons starts. Boeser finished third on the team with 26 goals and 56 points despite being limited to 69 games. He is the team's best winger, and if he misses time due to his contract negotiations, the Canucks' season could be derailed early. Vancouver's next best wingers project to be Micheal Ferland and JT Miller. Both were acquired over the summer. Ferland finished last season with 17 goals and 23 assists. He will be able to slot into a top six role on this team and brings a physical presence. Miller had 47 points as a member of the Tampa Bay Lightning last season. He should see increased ice time this year and could be in line for a 20+ goal year.
The Canucks come into the season with two very good centers. Elias Pettersson exploded in his rookie year leading his team with 28 goals and 66 points enroute to winning the Calder Trophy. There are some questions about his durability and his need to bulk up, but he will be Vancouver's best player when healthy. Bo Horvat will slot in behind Pettersson at center. Horvat had 27 goals and 61 points while playing all 82 games. He led all of the Canucks forwards in ice time last season averaging 20:50 minutes per game. Our Vancouver Canucks Preview 2019 – 2020 finds that both Pettersson and Horvat could have 30 goal seasons this year.
Canucks Preview – Defense
Vancouver's blueline looks improved compared to last season, although they lack a number one defenseman. Alex Edler led the team in ice time (24:34 per game) and defensemen in points with 34. He is the closest the team has to a number one D-man. Despite this, our Vancouver Canucks Preview 2019 – 2020 notes that he is aging, and there are major concerns with his durability. Last season, Edler was only able to play 56 games. Two bright spots on Vancouver's backend could be Quinn Hughes and Tyler Myers. Hughes saw his first NHL action last season after finishing his sophomore season at Michigan. He looked very good in limited action posting three assists in his five NHL games. Hughes is the most likely Canuck to develop into a top defender in the future. Myers was the team's biggest offseason addition. While playing for Winnipeg last season, the hulking right-shot defender had 31 points. He should eat major minutes for the team, but his potential maxes out as a top-four defender.
Vancouver Canucks Preview 2019 – 2020: Outlook
The Canucks should improve slightly compared to last year. Micheal Ferland and JT Miller both add scoring depth to Vancouver's young forward nucleus. The addition of Tyler Myers also gives the team a big, minute-eating defenseman to provide depth on the blueline. Quinn Hughes looked solid in his limited action last year and should be a factor this season. Our Vancouver Canucks Preview 2019 – 2020 also finds that they are also fairly solid in net. Jacob Markstrom will look to build off of a solid 2019 season, while Thatcher Demko should be able to handle a decent chunk of games. Despite the optimism, the Canucks still don't appear to be a playoff hockey team. Look for them to miss the playoffs, although they should finish around the middle of their division.
Vancouver Canucks Preview 2019 – 2020: Projection
Record: 36-34-12, 84 points
Finish:5th in the Pacific Division
NHL LINKS
Division Link
NHL 2019 Preview Link