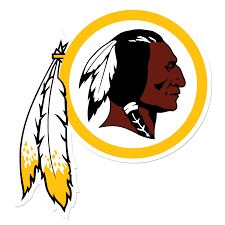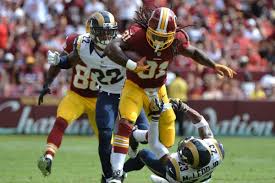 At the writing of our Washington Redskins 2017 NFL preview, the Skins have not yet hired a new general manager. In May, after a bit less than two years on the job, GM Scott McCloughan was fired, but the team has not been able to find a suitable replacement and may go into and through the season without someone functioning in that capacity. That may give more power to head coach Jay Gruden, or perhaps owner Daniel Snyder or president Bruce Allen will take complete control? Whatever the case may be, the fact that the team could not seal a deal with franchise quarterback Kirk Cousins before the tag deadline does not bode well for the management model the Redskins are presently embracing. Still, Washington comes into the 2017 season with a solid offense and a little better than average D.
Offense: 8.5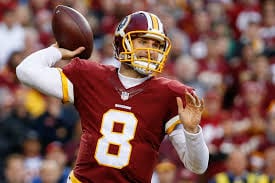 The Redskins went 8-7-1 last season and missed the playoffs. The year prior they made it to the postseason for the first time since 2012. Quarterback Kirk Cousins certainly has the tools needed to lead this team to a winning season and a playoff berth. In 2016, the QB tossed for close to 5,000 yards completing 25 TD passes while putting up 12 picks. The Skins will be without 1,000-yard wideouts DeSean Jackson and Pierre Garcon. In 2016, Jackson averaged 17.9 YPC and had 19 catches of 20 yards or more and Garcon caught 79 passes, averaging 13.2 YPC. The good news is they've brought in a different 1,000-yard guy, Terrelle Pryor Sr. But he is raw. They are hoping 2016 draft-pick Josh Doctson will have a breakout season. Also, look for Jordan Reed, who has six scores and 66 catches in 2017, to be a major contributor.
RB Matt Jones, a 2016 third-round draft-pick, struggled last season, proving to be fumble-prone and inconsistent. At the same time, undrafted back Rob Kelley had an impressive season, rushing for 704 yards on 168 attempts while averaging 4.2 YPA and scoring six touchdowns. Oklahoma's Samaje Perine, who was drafted this year, is a power runner who may give the team some options on the ground. The O-line looks solid and it has five-time Pro Bowler Trent Williams at left tackle as an anchor.
Defense: 7.0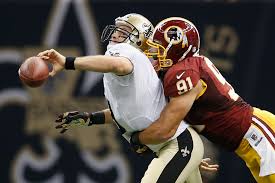 This is not a strong defensive team, which means that Cousins will need to put points on the board. Last season, the veteran QB did lead the NFL's second-ranked passing game, but still, he'll need to make up for a D that was ranked 28th overall and had a turnover differential of zero. One strong area for the Skins was sacks where they were ranked ninth, as they brought down QBs 38 times. LB Ryan Kerrigan had 11 sacks and counterpart Trent Murphy notched nine. LB Mason Foster led the team in tackles with 149. In the secondary, CB Josh Norman (3 INTs) can take on just about any receiver. The rest of the D-backs need work and experience. The frontline has been reconstituted with some decent talent although nose tackle is still an issue.
Special Teams: 8.0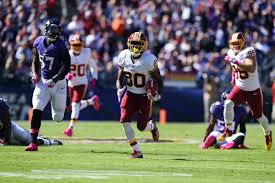 Jamison Crowder, a solid receiver who averaged 12.9 YPC and crossed the goal line seven times, also had a runback TD while being rated fourth in returns, averaging 12.1 YPR. Long snapper Nick Sundberg is one of the best in the league. Two questionable spots are Dustin Hopkins as placekicker, his accuracy went from 89.3 percent to 81 percent last season, and Tress Wray as punter, as he was ranked 26th in net punting average (38.9).
Coaching and Management: 7.5
Jay Gruden (21-27-1 Overall) starts his fourth season as the Redskins coach with a two-year contract extension. In his past two seasons, he's taken the team to a 17-14-1 regular season record and Washington has won the NFC East title once. He knows how to get the offense running efficiently, but there's concern on defense as he's into his third defensive coordinator in four years. This season, he also has a new offensive coordinator in Matt Cavanaugh.
Washington Redskins 2017 NFL Preview: Last Word
Our Washington Redskins 2017 NFL preview sees this team as performing better than expected. This prediction is based on Kirk Cousins and the offense having a very productive season and some of the younger guys on defense stepping up. New defensive coordinator Greg Manusky will need to have an impact on that group. Although there are concerns when it comes to the front office, a second place finish is achievable but it is definitely a stretch.
Washington Redskins 2017 NFL Preview Prediction: 2nd NFC East; Record 9-7
GO BACK TO: