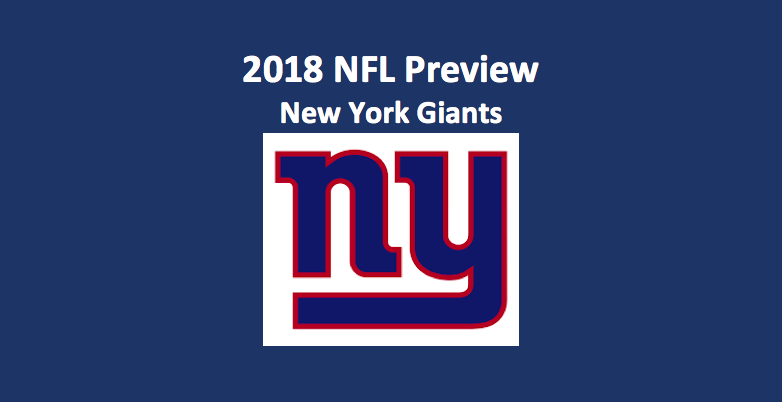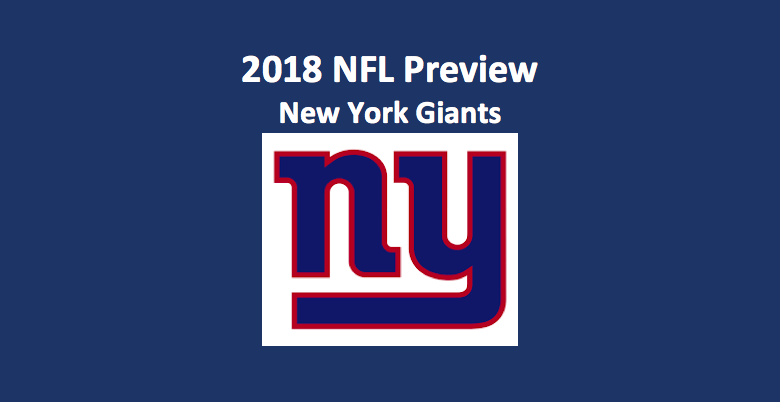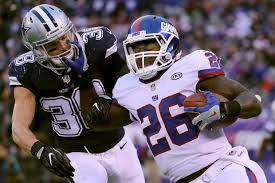 There were high hopes for the New York Giants (3-13) in 2017. Many envisioned them battling the Cowboys for the top spot in the NFC East. But the Giants started the season with five straight losses. They then beat Denver, but after that ran off three more losses. At the end of the season, there was a house cleaning. Dave Gettleman became general manager and Pat Shurmur (10-23 Overall) was named head coach. Our 2018 New York Giants NFL betting preview sees a new era for the New York football Giants. What the Giants want are more points scored, less points scored by opponents, and wins, wins, and more wins. Look to Gettleman to find out what the master plan is for this to succeed. He's put it succinctly, saying "Run the ball, stop the run, and rush the passer."
Offense
The stats for this side of the ball from 2017 are downright dismal. The Giants averaged 15.4 PPG (31st NFL) and 314.2 YPG (21st NFL) in offense. Their third down conversion rate was 33% (30th NFL). They were 19th in passing yards and 26th in rushing. We discovered in our 2018 New York Giants NFL betting preview that, obviously, this team needs major improvements.
Quarterbacks and Running Backs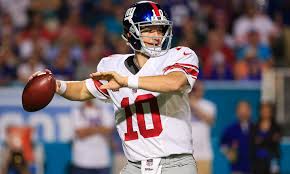 Eli Manning (571 ATT, 352 COMP, 3468 YDs, 19 TDs, 13 INTs) still get the ball. He must cut back on his picks. A major problem for Manning has to do with the O-line. Although he was sacked 34 times (12th), it could have been much more if he hadn't tried to launch the ball at inopportune times. The Giants worked in the offseason to improve the frontline.
The running back situation looks promising. As the second overall pick this year, the Giants chose Penn State's Saquon Barkley. Barkley is fast and agile, and could re-energize the New York ground attack. Look for him to also be used as a receiver. Wayne Gallman (111 ATT, 476 YDs, 4.3 YPA, 0 TDs) will most likely be the number two running back.
Receivers and Tight Ends
Odell Beckham Jr. has had ankle surgery, and it's hoped that will rejuvenate his game. If so, Manning will have his go-to receiver back. TE Evan Engram (64 REC, 722 YDs, 11.3 YPC, 6 TDs) is a tough matchup for any team. WR Sterling Shepard (59 REC, 731 YDs, 12.4 YPC, 2 TDs) also returns, making this trio especially effective.
Offensive Line
The O-line has had some major improvements. And they are big and strong. OT Nate Solder comes from New England where he offered premium protection. UTEP guard Will Hernandez comes to the Giants through the draft. Expect more upgrades in this unit.
Defense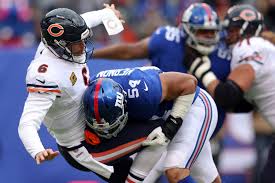 The Giant D was not any better than the O last season. They allowed opponents 24.2 PPG (T-27th NFL) and gave up a total of 373.2 YPG (31st). They were 27th in rush D and 31st in pass defense. The Giants tied for 20th in turnover differential (-3), were tied for 29th in sacks (27), and tied for 15th for INTs (13). New D-coordinator James Bettcher will utilize the more aggressive 3-4 scheme, rather than the 4-3 the Giants had been using.
Defensive Line
On the line, Davlin Tomlinson and Damon Harrison Sr. (76 TKLs) start at either end. Harrison is a noted run stopper. NT Josh Mauro, a tough defender, must sit out the first four games for a PED violation. Giants added depth upfront through the draft, taking B.J. Hill and R.J. McIntosh. Both have the potential to sub for Tomlinson and Harrison.
Linebackers
In the linebacking group, Olivier Vernon goes to the OLB spot, but expect him to still give QBs a lot of heat. He notched 6.5 sacks last season. At the same time, he has speed to get into the secondary and mix it up. Our 2018 New York Giants NFL betting preview observes that this team has made a major improvement by bringing over ILB Alec Ogletree from the L.A. Rams. Ogletree is the three-down player and considered to be the quarterback on D. Kareem Martin comes from Arizona and goes from DE to OLB. ILB B.J. Goodson looks to get back on track after an injury-filled 2017.
Secondary
The Giant corners both have a lot of promise, but they really need to come through this season. Eli Apple and Janoris Jenkins dealt with suspensions, injuries, and inconsistent play last season. They are talented. William Gay, a veteran most recently with the Steelers, brings stability to the slot corner. Darian Thompson and Landon Collins man the safety areas. Thompson needs to show he has the right stuff to keep his starting spot, while Collins tries to bounce back from two broken arm surgeries.
Special Teams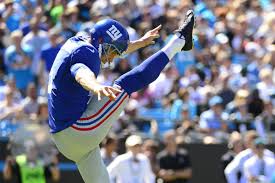 The best part of this group is vet long snapper Zak DeOssie who is back for his 12th season. Denver's punter Riley Dixon replaces the weak-legged Brad Wing. PK Aldrick Rosas is back, but may not be for long. His was 31st in field goal conversions last season. Cody Latimer (Denver) comes in to return punts as does Curtis Riley (Tennessee).
Coaching
Coach Shurmur brings in 10 new coaches, assistants or coordinators. Included are offensive coordinator and Qb coach Mike Shula and D-coordinator Bettcher. Expect Gettleman to be as active as possible insecuring the types of players this team needs to be successful. It's a make-or-break season for many on this team.
2018 New York Giants NFL Betting Preview: Final Word
In conclusion, our 2018 New York Giants NFL betting preview finds that this team is going to struggle against a slew of clubs. The Giants have issues on offense, defense, and special teams. How much of an immediate effect a new coach and GM will have is yet to be seen.
2018 New York Giants NFL Betting Preview Projection: 6-10 Record 4th NFC East
Unit Ratings
Offense:
QB: 7.5, RB: 7.8, OL: 7.2, WR: 8.8, TE: 8.0
Defense
DL: 7.0, LB: 7.3, DB: 6.5
Special Teams
PK: 5.5, PT: 7.0, RT: 7.2
Other
Coaching: 7.3
Intangibles: How will this work with such major turnovers in player personnel as well as well as coaching staff?
Overall Rating = 7.3
Links