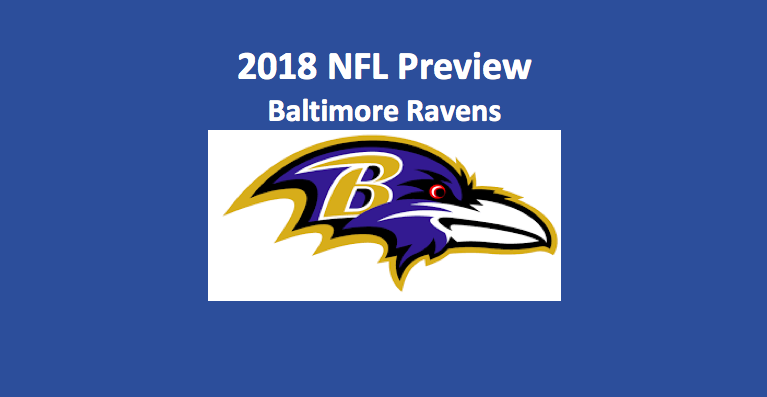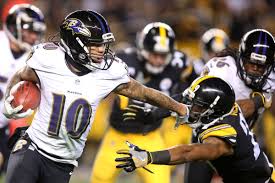 The last time the Baltimore Ravens (9-7) were in the playoffs was 2014. That season, they had their best record in the past five seasons, as they went 10-6. That regular-season mark earned them a wild card bid. Our 2018 Baltimore Ravens NFL betting preview sees this team as coming to the table with a sound defense but an offense that is lacking. Some point to quarterback Joe Flacco, claiming he's an underperformer, but others, especially those in the Raven organization, believe it's the lack of playmakers around Flacco. Whatever the cause may be, one thing is certain, this team needs more offense.
Offense
The best statistic for this team when it comes to offense is points per game. Baltimore averaged 24.7 PPG (9th NFL) last season. Their rush attack was ranked 11th, as it was good for 116.0 YPG. But after that, the stats dip. The air attack garnered just 189.4 YPG (29th NFL) and overall offense yards came in at 305.4 YPG. A very telling number was the team's third-down conversion percentage, which stood at 34% (T-27th NFL).
Quarterbacks and Running Backs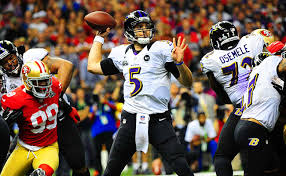 Perhaps Flacco's (549 ATT, 352 COMP, 3141 YDs, 18 TDs, 13 INTs) most revelatory stats are the number of TD passes he's thrown and his TD-to-INT ratio, which stands at 1.4:1. There's not much of a pass attack here, and when there is, it is simply not paying off. Also, in developing our 2018 Baltimore Ravens NFL betting preview, we noted that Flacco is not your consummate playmaker in crunch time. Unlike elite QBs like Roethlisberger and Brady, he's not the guy you want driving the team down the field in the final minute down by six.
Baltimore's two top rushers return. Last season, second-year RB Alex Collins (212 ATT, 973 YDs, 4.6 YPA, 6 TDs) was productive. He was ranked ninth in the NFL amongst running backs. It was a massive breakout season for the young rusher. Second in on the rush was Javorius Allen (153 ATT, 591 YDs, 3.9 YPA, 4 TDs), who, in addition to his running stats, caught 43 passes for 250 yards and two TDs. He was a real asset on offense.
Receivers and Tight Ends
Four of Baltimore's top five receivers from 2017 are no longer with them. However, the team did sign eight-year vet and free agent Michael Crabtree. Last season with the Raiders, Crabtree had 58 catches for 618 yards and eight touchdowns. He averaged 10.7 YPC. Crabtree is a number one receiver who is tough, fast, and sure-handed. He is a playmaker. Also new to the receiving ranks is free agent John Brown. For the Cardinals last season, Brown grabbed 21 passes for 299 yards and three scores. Rookie TE Haydn Hurst, from South Carolina, may get the start. The 25th pick overall in the draft, he's a big, broad-shouldered pass catcher that teams will find tough matching up with.
Offensive Line
The O-line did a good job of opening alleys for the rush attack and in protecting the QB. They allowed just 27 sacks in 2017, which tied them for seventh in the league. In two seasons, Matt Skura has been solid and reliable at center. He's a durable anchor for this frontline. James Hurst, who can play tackle or guard, is another important player in the trenches, as is franchise player Ronnie Stanley at tackle. The Ravens also added depth to this group through the draft.
Defense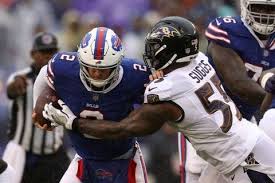 The Raven D was stingy, allowing 18.9 PPG (6th NFL). Their 22 picks and +17 turnover differential ranked them first in the league in those two areas. Baltimore was tied for ninth in passing D, allowing 213.8 YPG and came in 15th versus the run, giving up 116.0 YPG. The 325.1 YPG in total defensive last season was 12th in the league. Finally, the Ravens had 41 sacks (T-11th NFL).
Defensive Line
DE Brandon Williams is one of the best run stoppers in the league. It was noticed last year when he missed four games due to a foot injury. NT Michael Pierce made great strides in his second season, as he posted 49 tackles and a sack. At the other end, Willie Henry played in 14 games, making 32 tackles and 3.5 sacks. This is a good trio.
Linebackers
Our 2018 Baltimore Ravens NFL betting preview finds that the linebacking unit is even more stalwart than the D-line. Even though he's in his mid-thirties, Terrell Suggs performed well. The OLB led the team with 11 sacks. ILB C.J. Mosely, who starts his fifth NFL season, led the team with 132 tackles. For the third time in four years, he went to the Pro Bowl. Also at ILB is Patrick Onwuasor. Onwuasor, who was in his second pro season last year, was second with 88 tackles. He appeared in 13 games. Finally, OLB Tyus Bowser, a second-round draft pick in 2017, made his mark with three sacks in 16 games.
Secondary
Of all Baltimore defensive units, the secondary is the best. Safety Eric Weedle, who's now in his 12th NFL season, led the Ravens with a half-dozen picks. In the other safety spot, Tony Jefferson accumulated 79 tackles while making some big game-changing plays. Veteran CB Brandon Carr, who's played 10 seasons, scooped four picks, while corner Jimmy Smith, who tore his Achilles on Dec. 3, may not be able to go at the start of 2018. The good news is second-year CB Marlon Humphrey, who was a first round pick from Alabama and replaced Smith, comes back after performing well as a sub.
Special Teams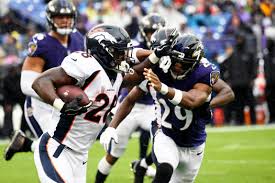 Special teams coordinator Jerry Rosburg continues to consistently create some of the best SP units in the game. The kickoff and punt return spot is open, but there are plenty of fine candidates. Long snapper Morgan Cox is the consummate professional. Sam Koch, who averaged 44.8 YPP, is one of the best in the NFL. Our 2018 Baltimore Ravens NFL betting preview finds that PK Justin Tucker is on the top of the heap when it comes to field goal and PAT accuracy.
Coaching
There's no doubt about it that head coach John Harbaugh (104-71 Ravens and Overall, 10-5 Postseason) and his team of coaches are under intense scrutiny. If there's one general problem with this team, it comes down to consistency. Harbaugh is an aggressive coach on both sides of the ball. Those risky decisions he makes often come back to hurt the team.
2018 Baltimore Ravens NFL Betting Preview: Final Word
When push comes to shove our 2018 Baltimore Ravens NFL betting preview finds that this team does have a lot of potential. But we seriously have to wonder if they do have the guy in the QB spot they need to make things happen?
2018 Baltimore Ravens NFL Betting Preview Projection: 8-8 Record, 2nd AFC North
Unit Ratings
Offense:
QB: 7.0, RB: 8.3, OL: 8.4, WR: 8.5, TE: 7.0
Defense
DL: 7.4, LB: 7.8, DB: 8.1
Special Teams
PK: 9.1, PT: 9.0, RT: 8.2
Other
Coaching: 7.3
Intangibles: With his coaching job probably on the line, can Harbaugh get this team in the playoffs?
Overall Rating = 8.2
Links