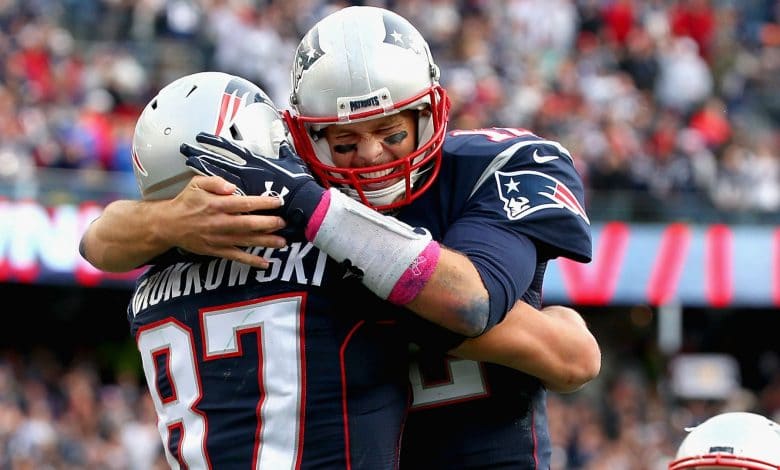 In case you are not on Twitter or are living under a rock, Rob Gronkowski has been traded to the Tampa Bay Buccaneers. New England traded Gronkowski and a seventh-round pick to Tampa Bay for a fourth-round pick on Tuesday. Gronkowski has one year left at $10 million on his contract after sitting out last year.
The reuniting of Tom Brady and Gronkowski has already started to move the Super Bowl odds of the Buccaneers. They opened the day at 16/1 and have already moved to 12/1 on some sites.
While Brady and Gronkowski are not exactly spring chickens, an offense featuring Brady, Gronkowski, Mike Evans, Chris Godwin and Ronald Jones will be able to put up some points. Tampa Bay was already decent at tight end with O.J. Howard and Cameron Brate.
I would not be shocked to see one of them traded for a late-round pick, because a lot of teams need help at tight end. The Buccaneers pick at No. 14 will most likely be used at tackle to protect Brady or an upgrade at cornerback.
If one of the best four tackles is still on the board (Thomas, Wirfs, Becton or Wills), they will take one of them. Otherwise, look for Javon Kinlaw, CJ Henderson, or K'Lavon Chaisson to be the pick.
NFL Draft
We are only one day away from the first round of the NFL Draft. With no live sports going on right now, the draft is getting even more attention than normal. I expect ratings to be the highest they have ever been for the NFL Draft.
Most experts are predicting that mock drafts will be more off than usual since there will be less group think due to the coronavirus. Expect a lot of surprises, and I anticipate more trades than usual as well.
Herbert or Tagovailoa?
One of the biggest questions of the draft is which quarterback will come off the board after presumed No. 1 pick Joe Burrow of LSU. Tua Tagovailoa was the prohibitive favorite until last night. Suddenly, Justin Herbert became the favorite to go first at most betting sites.
No specifics have been released, but where there is smoke, there is fire. Someone knows something, or there would not have been a big move. Either someone is going to trade up to get Herbert, or the Dolphins are leaning towards the Oregon quarterback.
Trades
The most talked-about trade possibility has been the Patriots moving up to get a quarterback. While the idea of New England trading up with the New York Giants to grab either Herbert or Tagovailoa is a possibility, I do not think it happens.
The Patriots have been too good with their mid-round picks to sacrifice so much for a quarterback. Trading into the late teens to grab Jordan Love is probably more up their alley and would only cost a late-round pick.
I think the most likely trade is San Francisco trading out of the No. 13 spot to move down in the first round and get a few extra picks. They are in a position of power and could utilize their early pick to add even more depth. I see them moving into the early 20s and taking a wide receiver.