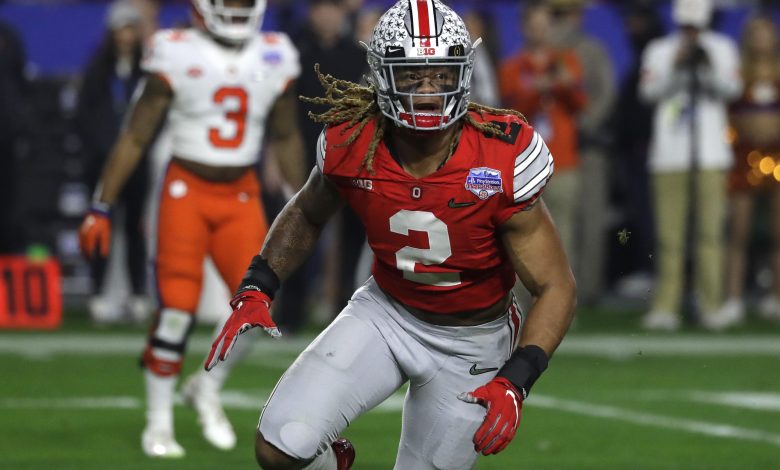 The 2020 NFL Draft was supposed to take place in Las Vegas, but that was scrapped due to its response to the coronavirus pandemic. Instead, the NFL had to settle for attracting betting action on par with a playoff game and its biggest-ever viewership as a result of a virtual draft.
While fans had to settle for watching NFL commissioner Roger Goodell announce picks from his basement rather than on a stage in front of thousands, the event turned out to be a big win for the league.
55 Million Tuned In for NFL Draft
The virtual draft, which took fans into the homes of draftees with live camera feeds, shattered previous records as it enticed 55 million viewers over the three-day event. Each day's viewership was up more than 30% from a year ago.
Thursday's Round 1 brought in an average audience of 15.6 million viewers, up 37% from 2019. Friday's second and third rounds brought in an average audience of 8.2 million, up 40% from 2019. And Saturday's final three rounds brought in an average audience of 4.2 million viewers, up 32% from 2019.
"I couldn't be more proud of the efforts and collaboration of our clubs, league personnel, and our partners to conduct an efficient Draft and share an unforgettable experience with millions of fans during these uncertain times," Goodell said in a statement.
Viewers were able to tune in to the event via ABC, ESPN, ESPN Deportes, NFL Network, and digital channels.
Virtual Draft Breaks Betting Records
In the leadup to the 2020 NFL Draft, many sportsbooks expected the event to attract action similar to that of a marquee Monday Night Football game. In the end, it was more like a featured playoff game, as the virtual event became the most-bet draft in NFL history.
According to FanDuel's Kevin Hennessy, a major difference between this year's and last year's drafts was the amount of action coming in prior to the day of the opening round.
"Unlike last year, we had a significant amount of bets come in before Thursday," Hennessy said. "It was like pre-game betting for Thursday Night Football. We look at the entire draft, but we're tracking between 8-10 times the handle we did for the 2019 Draft."
Sports bettors have been starved for an opportunity as much of the sports world has shut down amid the coronavirus pandemic. The NFL's three-day event gave them the distraction they've been seeking, and it resulted in record numbers.
And many bettors walked away happy. Hennessy noted the sportsbook took a loss on their "First 3 Picks Exact Outcome" prop, which happened to be their most popular bet of the night, as Joe Burrow, Chase Young, and Jeff Okudah went first, second, and third, as expected.
Yet FanDuel avoided even more significant losses at the No. 4 selection. Hennessy noted that the book's biggest loss of the night would have been suffered if the Giants took Isaiah Simmons in that spot. Instead, New York opted to take tackle Andrew Thomas off the board.
Sportsbooks did see some big successes, though, as surprise selections allowed the books to cash in. According to PointsBet's Patrick Eichner, Utah State quarterback Jordan Love going to Green Bay at No. 26 was their biggest winner.