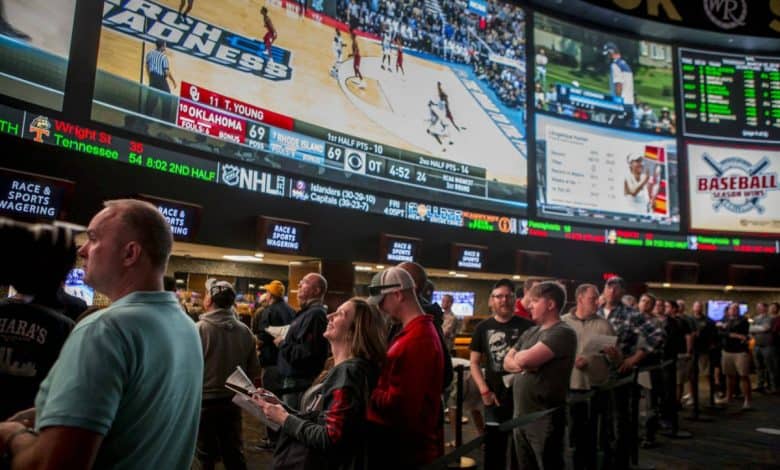 The sports betting handles across the country are seemingly setting new records every month, especially in October, due to the extra week of football, post-season baseball, NBA, and NHL. New Jersey, Mississippi, and Pennsylvania all set sports betting record handles for the month.
New Jersey tops $1 billion once again after setting a record in September
The New Jersey sports betting industry is seemingly becoming the model for other states to follow as it eclipsed the $1 billion mark once again for the second start month. October's numbers exceeded $1.3 billion thanks to its casinos, race tracks, and mobile betting platforms.
New Jersey became the first state to pass the $1 billion mark in September. October's figures showcased an increase of 28.9 percent from September's numbers of $1.1 billion. The state is home to over twenty sportsbooks and the eleventh most populated state in the country.
Up to this point, the state has collected $8.5 billion in sports wagers in 2021 and benefited from neighboring states like New York crossing state lines as it is in the process of legalizing mobile sports betting in the state. According to the NJDGE, the vast majority of wagers placed came from mobile sports betting, which showed $1.17 billion, which represented 90.5 percent of the state's handle.
The previous mobile sports betting record was set in December 2020, which topped $929 million. On Wednesday, New Jersey, Mississippi, and Pennsylvania were the only states to achieve the objective of breaking their sports betting handle records.
New York officials hope to have mobile sports betting operators running by the Super Bowl. As of right now, New Jersey can still benefit from the influx of people coming to their state to place a bet.
Mississippi shatters its sports betting handle in October
Mississippi's consumers bet up to $83.5 million in October across its 26 gaming facilities in the state. Mississippi easily topped the record of 67.7 million set in January. September's total was $54.8 million, and October's numbers signified an increase of 52.8 percent.
Over the year to date, the figures are up 36.5 percent when compared to the $61.2 million that was recorded back in October 2020. Sports betting revenue in the state hit $9.15 million in October, which was the best amount in 2021, only trailing $12.3 million that was set back in October 2019.
Mississippi gaming slots have also increased at a solid rate as they rose 8 percent from $2.15 billion in September to $2.32 billion in October. Table games also increased from $164.5 million to $170.2 million, which is an increase of 3.5 percent.
Mississippi's legislation is keen on protecting brick-and-mortar casinos as BetMGM Sportsbook extended its partnership with Beau Rivage Casino in Biloxi to set up shop due to the state's newest proposal. Mississippi has yet to establish mobile sports betting, but that could change soon.
Customers have to be inside the casino to place a wager due to geofencing. The state's legislation will make a case next year to push for mobile sports betting in the state as the convenience would be one step in the right direction.
Pennsylvania reaches new heights in October
Pennsylvania joined other states that set record highs in October as the state pushed $776.3 million in bets as it was the most number of bets taken in a given month. The number of wagers pushed the state handle's lifetime numbers to $10 billion.
The single-month record handle portrayed a 47.6 percent increase when compared to the year-to-date numbers of $525.8 million. Compared to last month, the amount was slated at $578.8 million, which was an increase of 34.1 percent.
Online betting platforms made up 92 percent of the state's handle, which came out to be $714.1 million. The previous online betting record was set back in January 2021 at $579.9 million, which is a growth of 26.2 percent. Over a year-to-date span, October 2021's numbers showed an increase of 51.2% from $472.3 million.
Despite the growth, the gross revenue in the state dropped this month was $23.5 million, which is down 16.7% from September's $28.3 million and down 36 percent when compared to the year-to-date numbers of $36.8 million. Sportsbooks in the state offered a ton of free bets and other promotions in October, which was the second-highest month in its history.
Operators handed $18.7 million in free promotions, which trailed September's numbers of $19.9 million. Gaming numbers were up across the board as they, too, reaped the benefits the market had to offer.
Table games gross revenue set a new record at $89.1 million, which increased 5.9% from September's $84.1 million. The record was set back in July 2021 with 86.9 million.
October's retail slots handle was $2.613 billion, which is an increase of 3.6% from September's numbers of $2.521 billion.
November could bring even better numbers as college basketball season has begun. More leagues imply that more wagers will be placed across the United States.