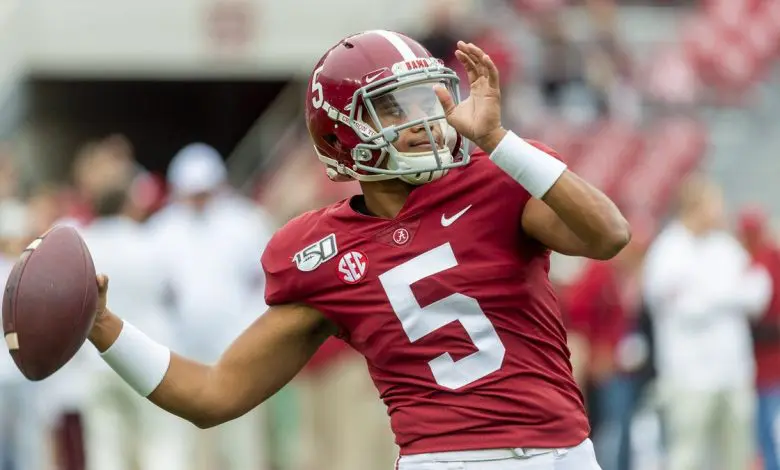 Taulia Tagovailoa is transferring from Alabama to Maryland. Tagovailoa, the younger brother of Miami Dolphins draft pick Tua Tagovailoa, was listed as a backup but did play in five games, going 9 for 12 for 100 yards and a touchdown.
Mike Locksley, Maryland's head coach, was the offensive coordinator at Alabama in 2018 when Tua broke several school records. Taulia Tagovailoa will compete for the starting job right away if he is granted a waiver.
Two-Sport Stanford Standout Passes Away
Zach Hoffpauir, who played both football and baseball at Stanford, passed away at age 26. He was an all-conference safety and played two seasons of minor league baseball for the Arizona Diamondbacks.
Hoffpauir was set to be the safeties coach at the University of Colorado. They announced that Hoffpauir died in his sleep, but no other information was released.
California May Have to Move Camp
Due to COVID-19, California may have to look at hosting camp away from the Bay Area. Coach Justin Wilcox announced this week that the team is pursuing options to host the camp off-campus due to health restrictions.
All four California Pac-12 schools may have to find different places to play as the state's restrictions could put preseason camps on hold. Whether the universities would sign-off remains in question. The two Arizona schools should be a full-go as their state is reopening very quickly, and sports are going to be allowed.
Riley Doesn't Hold Back
Oklahoma coach Lincoln Riley called the potential June 1 opening for the SEC "ridiculous." He said that college should exercise patience and put the student-athletes' health before rushing to open.
The SEC has a May 22 call to vote on opening facilities. While Riley said he remains optimistic about a 2020 season, the June 1 date is just way too early.
Buy Games Out for 2020?
It looks as if most of the buy games will most likely be eliminated from the schedule as athletic budgets all across the country are taking a hit due to the coronavirus. While it may mean more competitive games, it will also hurt the smaller conference teams who travel to take on a top team in search of a paycheck.
The big universities use it as a way to get an easy victory while the small conferences help beef up their budgets for recruiting and marketing. It looks likely that some conferences will do away with non-conference games all together.
The move should help limit travel, thus limiting exposure, and keeping expenses down. The bigger conferences have more teams, allowing this to be a reality for them.
If your conference has less than 10 teams, it will be a scheduling nightmare if the SEC, Big Ten, and Pac-12 all decide to play only a conference schedule.
Former Georgia Tech Quarterback, Coach Dies
Pepper Rodgers, who played at Georgia Tech and was the star player on their 1952 national championship team, died at 88 years of age. Rodgers also coached the Yellow Jackets from 1974-79.