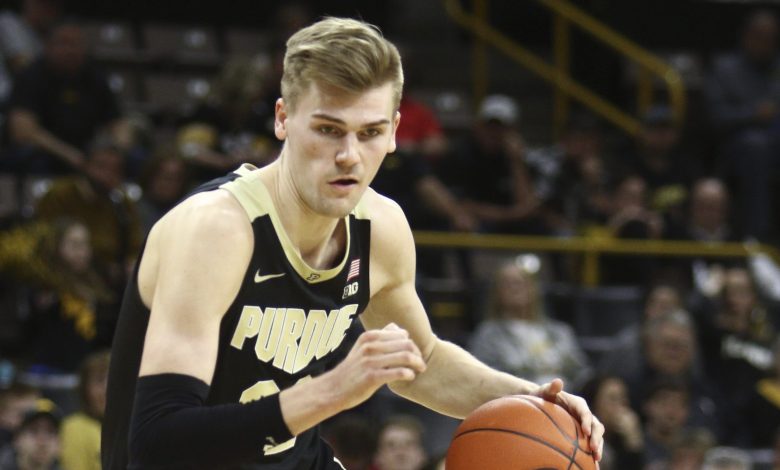 We wrote last week how Matt Haarms was down to BYU, Kentucky and Texas Tech in his transfer from Purdue. Kentucky and Texas Tech would put him on a roster capable of competing for an NCAA championship, whereas BYU would struggle to make the NIT.
For that reason, we thought it would be either Kentucky or Texas Tech. Well shows what we know as Haarms made the decision to go to BYU and become the centerpiece of the roster.
The biggest player to announce he is entering the transfer portal this week is Javon Freeman-Liberty of Valparaiso. He has pulled his name from the NBA Draft and decided to enter the transfer portal.
For those of you who do not follow the Missouri Valley Conference, Freeman-Liberty was the star player on a very mediocre Valparaiso team. The sophomore averaged 19 points and 6.1 rebounds and set a program record with 74 steals.
While the announcement is very fresh, we suspect Illinois to be a big player. Freeman-Liberty would be an ideal replacement for Ayo Dosunmu, who has put his name into the NBA Draft.
Francis Okoro from Oregon has found his new home as well. He will continue his basketball career at Saint Louis. The sophomore started 18 of 29 games for the Ducks but saw his minutes shrink significantly during Pac-12 play.
Tulane Player Charged With Murder
Teshaun Hightower was charged with murder, aggravated assault and possession of a firearm. The event occurred in Georgia, where Hightower allegedly shot and killed Devontae Long.
Hightower's attorney is claiming that it was Teshaun's brother who fired the weapon, and it was in defense of Teshaun. Five other men have also been detained, and five of the six remain in custody.
Hightower has been dismissed from the team following his arrest. He led the Green Wave in scoring averaging 15.6 points per game last season after transferring from Georgia.
Another Player Chooses G League Route
Jalen Green and Isaiah Todd have both chosen the G League route, but UCLA has experienced the first player doing it after signing a letter of intent. Daishen Nix, who is the No. 1-ranked point guard in the 2020 class, has decided to turn pro instead of playing for the Bruins.
His contract is said to be worth around $300,000. While the path is untested, the money seems to be too much to resist for some of the top prospects.
Kansas Trio Takes Salary Cut
In response to anticipated budget woes due to the coronavirus, the three highest-paid personnel in the Jayhawks athletic department have taken a 10% pay cut over the next six months. Basketball coach Bill Self, athletic director Jeff Long and head football coach Les Miles have all taken the reduction resulting in over $500,000 in savings for Kansas.
Long makes $1.5 million a year, Miles $2.775 million, and Self a little over $4 million. Long did say that more cuts could be needed depending on how coronavirus shapes the 2020-21 seasons.