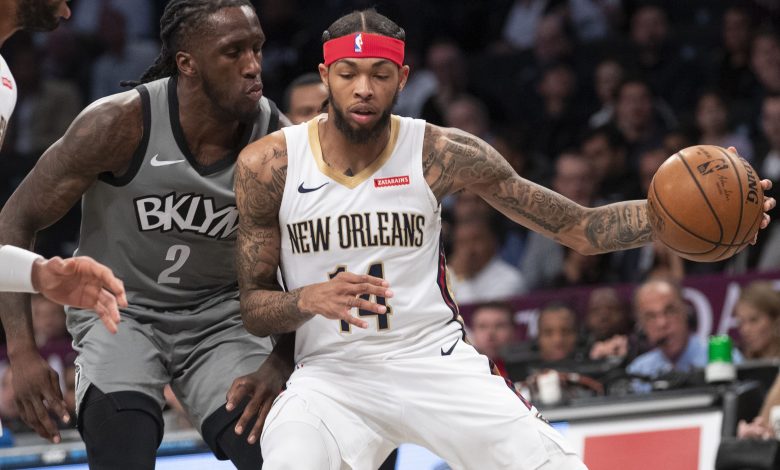 Even though the NBA is currently on hiatus due to the coronavirus pandemic, there is still plenty of news circulating around the league.  Let's take a look at some of the news from around the league from this last week.
Pelicans Likely To Match Offers For Ingram
According to Chris Fedor of Cleveland.com, it appears likely that the New Orleans Pelicans will match any offers for All-Star forward Brandon Ingram this offseason. Ingram has been stellar this year, averaging 24.3 points, 6.3 rebounds, and 4.3 assists while shooting 46.6% from the field.
Alongside players like Zion Williamson, Jrue Holiday, Lonzo Ball and Josh Hart, Ingram gives the Pelicans a nice young nucleus of players they are hoping to see improve together over the years. At just 22, Ingram would be in high demand on the free-agent market, but it appears the Pelicans would like to keep him for the long haul.
Coronavirus Cases Growing In NBA
What started with just Rudy Gobert has continued to expand in terms of positive coronavirus cases for the NBA. This past week, several Nets players (including Kevin Durant), the Celtics' Marcus Smart, a couple of Lakers players, and the Pistons' Christian Wood all tested positive.
While obviously the health of these players is paramount, it will also be interesting to see how a continued influx of players testing positive may affect any hopes of the league finishing out the season.
Will The NBA Continue This Year?
In an interview with ESPN, NBA commissioner Adam Silver said that he does think that the season can be salvaged, though there are still questions to what a modified schedule might look like (a concern that will continue to change the longer this pandemic lasts).
In the meantime, teams have shut down their practice facilities in a hope to contain the spread of the virus. If the season does resume, it will be interesting to see how long players and teams might need to ramp back up to game readiness.
Several Players Declare For NBA Draft
While there is hope that the season can finish, some have already turned their attention to the NBA Draft. In fact, with no NCAA Tournament this season, more and more players are starting to put their names in for the upcoming draft.
Here are some of the notables from the last week:
Anthony Edwards: Edwards, a freshman shooting guard out of Georgia, is considered by many to be a potential No. 1 overall pick. This season, with the Bulldogs, Edwards averaged 19.1 points, 5.2 rebounds, and 2.8 assists per game.
Edwards has signed with Octagon Basketball to represent him, the same firm that represents stars Stephen Curry and Giannis Antetokounmpo.
Tre Jones: Jones, a sophomore guard, has also decided to enter the NBA Draft. This season, the Duke guard averaged 16.2 points, 4.2 rebounds, 1.8 steals and 6.4 assists per game. He won the ACC's Player of the Year and Defensive Player of the Year awards.
Isaac Okoro: Okoro, a freshman forward from Auburn, also has entered his name into the draft. This season, Okoro averaged 12.9 points, 4.4 rebounds and two assists per game.
While he is keeping his options open and said that he would go through the player evaluation, many believe that he will be a lottery pick.