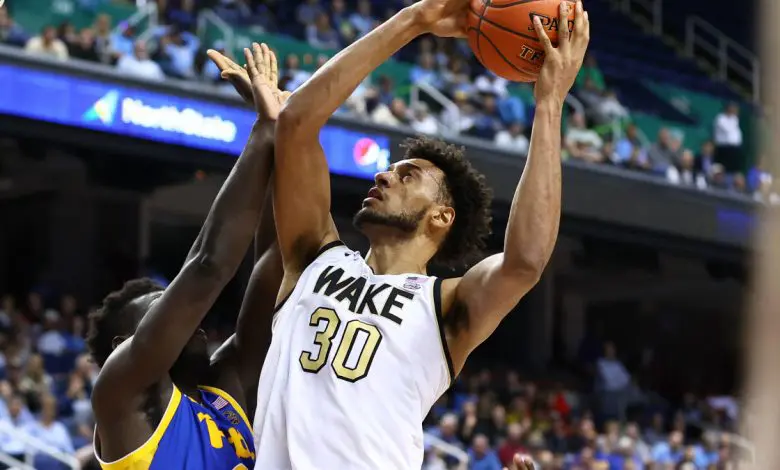 Kentucky missed out on Purdue's Matt Haarms, but they did get the big man they needed. Olivier Sarr decided to transfer from Wake Forest when Danny Manning was fired.
Sarr is a 7-foot senior, but not a grad transfer. Because of the coaching change, he will have a chance of getting a waiver to play right away.
With Nick Richards and E.J. Montgomery most likely headed to the NBA, the Wildcats needed some experience in the middle. Sarr will provide exactly that if he is granted the waiver.
Sarr averaged 13.7 points and nine rebounds a game. He was far and away the best player on the team and had a 25-point performance as the Demon Deacons pulled off an upset of Duke.
Heading To The Big East
Another one of the better names in the transfer portal was Valparaiso's Javon Freeman-Liberty. Freeman-Liberty decided to continue his NCAA career with DePaul, which is in his home area of Chicago.
The Blue Demons will get a Big East-caliber player even though he is coming from the smaller Missouri Valley Conference. The sophomore was an all-MVC selection.
Freeman-Liberty averaged 19.1 points, 6.1 rebounds and three assists for the Crusaders last year. He set a single-season record for steals and led Valparaiso the MVC championship game before falling to Bradley.
Marquette landed Gardner-Webb transfer Jose Perez. Perez had narrowed his list down to Marquette, Illinois, Georgia Tech, Iowa State and Memphis.
Perez averaged 15.1 points, six rebounds and 3.5 assists. Perez will try to help offset some of the scoring lost from the departure of Markus Howard.
Kansas Joins Louisville in Hot Water
Kansas was made aware of its NCAA violations on Thursday. The NCAA alleges five level I violations.
They went as far as to call them "egregious," and that they threaten and undermine college athletics. The report is 92 pages long. The claim is that two Adidas representatives were acting as boosters and providing illegal benefits to recruits.
This alleged misconduct led to the FBI probe that also featured last week's allegation recipient Louisville. Kansas acknowledges that Adidas representative T.J. Gassnola did provide illegal payments to family members and handlers of Billy Preston and Silvio De Sousa.
Kansas fired back, saying that the allegations are baseless and false. Kansas maintains its innocence, saying that the Adidas representatives hid their activity from the university and the basketball program.
East Tennessee State Hires From Within
Steve Forbes has moved on to Wake Forest, so East Tennessee State needed a new coach. The Buccaneers have hired an assistant from Forbes' staff in Jason Shay.
Shay has been on Forbes' staff for all five successful seasons. ETSU racked up a record of 130-43 in the five seasons with one NCAA appearance, and they were considered a bubble team this year.
Shay has been an assistant coach at Tennessee, North Dakota, Milwaukee, Mercyhurst College and Northwest Florida State College. Shay walked on to play basketball at the University of Iowa.