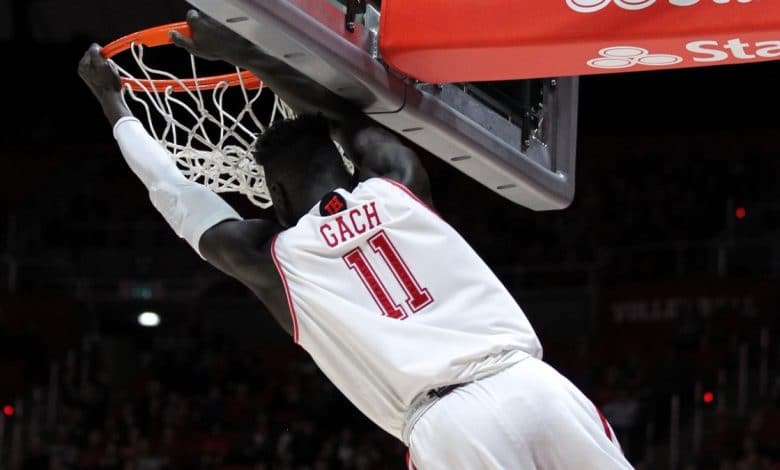 Utah transfer Both Gach has announced his final five schools should he remove his name from the NBA draft. Maryland, Creighton, Iowa State, Auburn, and Minnesota were announced as his final list on Twitter.
Gach averaged 10.7 points and 3.6 rebounds as a sophomore at Utah. The 6-7 guard is arguably the top player left in the transfer portal.
All of the schools listed could use the services of the versatile guard who can play three positions. Maryland needs to replace production, and the Terrapins would make a lot of sense for Gach, who I don't believe will stay in the draft.
Clemson's Leading Scorer Returning
Aamir Simms will be returning to Clemson for his senior year after removing his name from the NBA Draft. The 6-8 junior was third-team All-ACC last season, averaging 13 points and 7.6 rebounds per game.
Simms returning is great news for the Tigers, who should return four of five starters. Clemson should be in the top half of the ACC next year, barring any last-minute departures.
Louisville Assistant Arrested During Protests
Kahlil Fennell, Louisville's director of basketball operations, was arrested Saturday night protesting the death of Breonna Taylor. He was arrested for being out after curfew with a misdemeanor unlawful assembly charge.
Chris Mack issued a statement fully supporting Fennell. Fennell has not made a comment at this time. Seth Towns, an Ohio State player, was also arrested during a protest in Columbus.
Florida's Nembhard Will Transfer
Andrew Nembhard announced he was removing his name from the NBA Draft and transferring from Florida. It was no surprise that the sophomore guard was transferring, considering how the Gators had recruited in the past few months.
Nembhard put his name in the NBA Draft after his freshman year and then returned to school. He averaged 11.2 points, 5.6 assists, and three rebounds. Nembhard will be highly sought after as he had one of the best assist-to-turnover ratios in the nation.
Big Ten Announces Anti-Racism, Anti-Hate Task Force
After the events of the past few weeks, Big Ten commissioner Kevin Warren announced the creation of an anti-racism, anti-hate task force. Warren is the first African American commissioner amongst the power five conferences.
Warren called out the killing of George Floyd and said it could not be in vain. The task force will consist of athletes, coaches, and other university staff.
After the killing, the University of Minnesota announced that it would be cutting ties with the Minneapolis Police Department. They will no longer use Minneapolis police for extra security during university events after calling out several problems the department has had with people of color.
Former Star Return to Arizona as Assistant Coach
Jason Terry, who played at Arizona from 1995-1999 and won a national title in 1997, has been announced as an assistant coach for the upcoming season. Terry worked as an assistant GM for a G-League team last season.