Football
NCAA Football News: Oklahoma State Coach Called Out
Some Players Felt His Choice of T-Shirt Was Offensive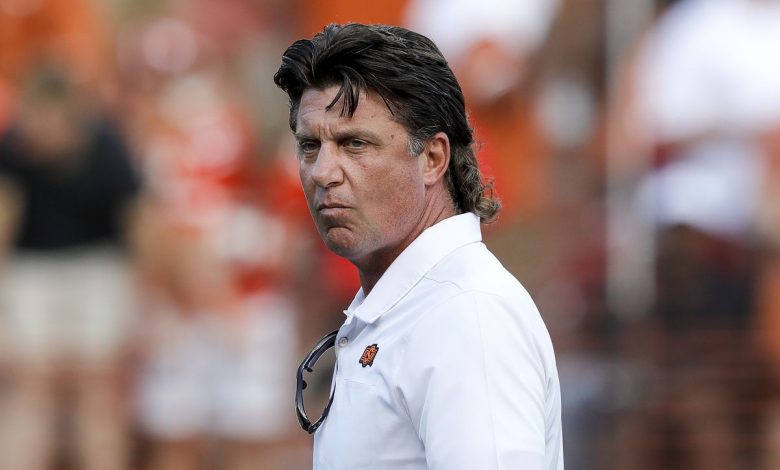 We certainly continue to travel through unchartered territory in 2020. Between the coronavirus pandemic and the racial divide in our nation, it would seem that people are being called out for apparent misdoings quite often these days.
This was certainly true of Oklahoma State coach Mike Gundy, who was called out by his star running back Chuba Hubbard this week for wearing an "OAN" t-shirt. OAN is the abbreviation for the One America News Network, a right-leaning media outlet. The photo made its rounds on Twitter and other social media.
Hubbard, as well as other players at both Oklahoma State and throughout the nation are calling out their coach for his words and actions. While the two sides appear to have smoothed out the tension, Mike Gundy has admitted that change needs to take place, and that our nation and universities still have a long ways to go.
Another issue that was exposed that showed discrimination of minority players was in Iowa. Let's take a look at some of the fallout from that program and other news from around the nation this week.
Iowa Officially Moving on from Controversial Strength Coach
Last week, there was some disheartening news as the Iowa Hawkeyes were in the midst of controversy as players accused the program, notably strength coach Chris Doyle, of experiences of discrimination and racism.
Iowa has officially decided to move on from Doyle as they agreed to part ways with their former strength coach. This was a mutual agreement, one that will still see Doyle receive upwards of 15 months of pay.
Still, despite the fact that Doyle has been there since 1999, it was absolutely the right call that he needed to go, particularly after the university had a third-party review the accusations. Our society is starting to become aware of some of the injustices that minorities face, and the accusations against Iowa was troubling. Just by releasing Doyle doesn't mean that their problems are completely eradicated, but it is a good start.
First Division-I Cancellation due to Pandemic
While the college football world is hoping that sports can resume in the fall, there has officially been one game cancelled in Division I football. The Southern Heritage Classic, featuring Tennessee State and Jackson State, has cancelled their September 12 football game for the upcoming season. This is actually the second time in the last three years that the Classic has been cancelled, although weather was the culprit for the cancellation back in 2018, not a global pandemic.
The game was scheduled to be played in Memphis, Tennessee at the Liberty Bowl Memorial Stadium, but will have to wait at least another year before they play again. This isn't the first adjustment to games at the stadium, though, as the Memphis Tigers, who play their home games there, said at best only season-ticket holders will be able to attend home games this season.
Regardless, it is a sad day for football as the pandemic officially cancels its first college football game. Here is hoping that this isn't the first of many.
Washington Brings in an Option at Quarterback
After losing Jacob Eason to the Indianapolis Colts and the NFL, it appears that Washington has found a replacement at quarterback. The Huskies are bringing in graduate transfer Kevin Thomson from Sacramento State. Given that he is a graduate transfer, Thomson will be eligible to play for Washington immediately.
Last season, with Sacramento State, Thomson went 263 for 448 (58.7%) for 3,212 yards, 27 touchdowns, and eight interceptions. He also rushed 127 times for 619 yards, with an additional 12 touchdowns.
While it is not a foregone conclusion that Thomson will be the starter next season, he should certainly be able to compete for the starting position. Last year's Big Sky Conference Offensive Player of the Year award winner should certainly have an opportunity within new head coach Jimmy Lake's program.