Sports News
BetOnline is Down
BetOnline.ag website has been down for almost 2 weeks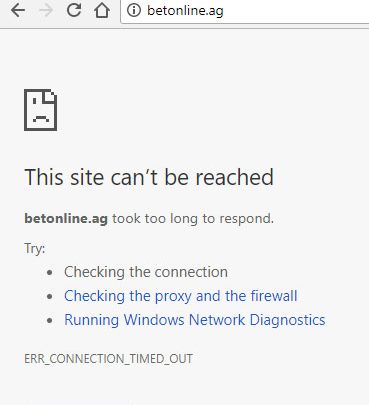 March 15, 2018 Update – The BetOnline website (betonline.ag) has been experiencing a DDoS attack and their website/server are down.  While that isn't uncommon, it is usually rectified within 24-48 hours.  It has been almost 2 weeks! This attack started on March 2 and the site has mostly been unavailable.  There have been intermittent times when people have been able to login and withdraw.
This is just an FYI post.  So if you can't access BetOnline.ag to place bets, don't panic and find another sportsbook for March Madness!
It's fck'n annoying that they weren't more prepared for something like this.  It's screwing us players who have a balance in our accounts and I'm sure it's screwing them since this is right at the beginning of March Madness.
It is very possible they just don't have a good computer team/developer/admin/engineers that did not do proper backups or know how to deal with server issues… Usually that work is outsourced and professionals handle web servers, but in this industry everything is usually kept in-house.
No need to panic yet, BetOnline have been in business since 2004 and are not some new sportsbook that setup shop and then runs off with the money after football season (I'm looking at you Real Bet!.. Where there's a list of people  waiting for payouts).  BetOnline has a long standing good reputation in this industry (which is hard to find), so I give them a little more slack.
At least you can't login to deposit money.  If you have money on the site, you better find another sportsbook for March Madness!
The good news is there are reports they are still paying out (latest payout reported 3/15/18 via bitcoin) and some have been able to intermittently access the mobile and tablet version of their site: mobile.betonline.ag and tablet.betonline.ag
We are temporarily lowering the score for BOL on our BetOnline review.
Below are the official releases from BetOnline:
UPDATE: Significant progress w/network issues over last 24hours. Upgrades continue but there will be outages throughout the day (all devices). This is huge step forward. Email going out shortly w/more details. Thanks again for your patience.

— Dave Mason (@DaveMasonBOL) March 14, 2018
First off, we want to take the opportunity to apologize for the recent instability of the desktop version of our BetOnline.ag website.

We know that some of our players have been experiencing intermittent connectivity issues and downtime. This is the result of a complex network attack targeting more than 7,000 websites around the world. It is an attempt by a third party to disrupt regular site access and upset our usual seamless service to players.

We are working closely and tirelessly with our network provider to restore services but unfortunately it has taken much longer than we'd originally anticipated. We have also engaged additional top tier service providers to help thwart this attack and are making significant progress. We expect to have service fully restored soon and we appreciate your patience while we work to resolve this accessibility issue.

It remains our priority to safeguard the security of our valued players, while protecting the integrity of player data. We emphasize that at no time has the security or privacy of personal data, account information, passwords, financial data or funds ever been compromised during this outage.

BetOnline.ag has been a trusted Sports, Casino and Poker provider for many years and we remain committed to continuing to provide the best of online betting entertainment available online. While these current events have temporarily disrupted our ability to deliver on our industry renowned standards, we assure you that this is only a temporary.

This issue will be resolved soon, allowing us to continue providing the quality of service that the online betting community has known and trusted for so many years.

We thank you for your ongoing support and patience during this time.

Sincerely,
The BetOnline Team
BetOnline.ag
Another One:
During the past weekend, BetOnline experienced some downtime and inaccessibility due to an attempt by a third party to disrupt traffic and site access. The issue was quickly identified and dealt with by our team of IT professionals.
Your access to your BetOnline account may have been temporarily impacted during this time period and we want to apologize for any inconvenience. At no time was personal information, BetOnline account information, passwords, or financial data compromised or at risk.

Thank you for your patience during this time, and don't hesitate to contact us at 1-888-426-3661 should you experience any issues.

Sincerely,

The BetOnline.ag Team