Sports News
MLB Baseball: 2017 Spring Training About 10 Days Away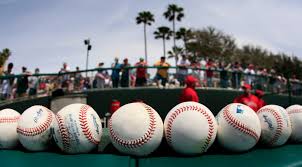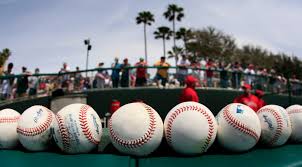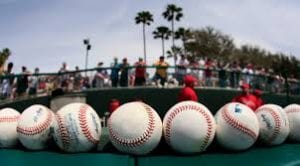 The 2017 Major League Baseball spring training schedule starts with pitchers and catchers reporting between Feb 13 and 17. Position players arrive a few days later and the first full workout occurs between Feb. 17 and 21.
As spring training begins, Betting Brain will be posting its extensive MLB Preview of each team, division and league. We don't recommend that you bet on spring training games, which often include split squads, players who will likely be in the minors, and guys getting a tryout. These games have very little to do with winning and a lot to do with teams figuring out their rosters and players getting back into shape.
Who Will Win It All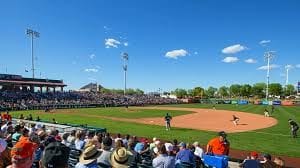 The one thing you cannot tell from a team's spring training performance is whether or not they will be in the hunt during the playoffs forget about which will take the World Series. Projections regarding which teams will make it to the postseason aren't based on spring training. They're based on information we have regarding team starters, the bullpen and established everyday players, guys who look like they'll have a breakout season, and what we know about management, the coaches and manager, each team's farm system, and more.
A team can lose a majority of their spring training games and end up having a huge season. The reverse is also true. A club can look great in spring training, but end up having a bad season. The MLB season is a grind where every team plays 162 games starting in April and finishing in October.
2017 Major League Baseball spring training is a great time to get to know the new players, see where teams are at, and do some analysis.
2017 Major League Baseball Spring Training Schedule
Here is the 2017 Major League Baseball spring training schedule. That means that the long cold winter is almost over!
Organization

Pitchers & Catchers

First

Workout

Position

Players

First full workout

Arizona D-Backs

Feb. 13

Feb. 13

Feb. 16

Feb. 17

Atlanta Braves

Feb. 14

Feb. 15

Feb. 17

Feb. 18

Baltimore Orioles

Feb. 13

Feb. 14

Feb. 16

Feb. 17

Boston Red Sox

Feb. 13

Feb. 14

Feb. 16

Feb. 17

Chicago Cubs

Feb. 14

Feb. 15

Feb. 17

Feb. 18

Chicago White Sox

Feb. 13

Feb. 14

Feb. 17

Feb. 18

Cincinnati Reds

Feb. 13

Feb. 14

Feb. 16

Feb. 17

Cleveland Indians

Feb. 12

Feb. 13

Feb. 16

Feb. 17

Colorado Rockies

Feb. 13

Feb. 14

Feb. 19

Feb. 20

Detroit Tigers

Feb. 13

Feb. 14

Feb. 17

Feb. 18

Houston Astros

Feb. 15

Feb. 15

Feb. 17

Feb. 18

Kansas City Royals

Feb. 14

Feb. 15

Feb. 17

Feb. 18

Los Angeles Angels

Feb. 14

Feb. 15

Feb. 17

Feb. 18

Los Angeles Dodgers

Feb. 15

Feb. 16

Feb. 20

Feb. 21

Miami Marlins

Feb. 13

Feb. 14

Feb. 17

Feb. 17

Milwaukee Brewers

Feb. 14

Feb. 15

Feb. 17

Feb. 18

Minnesota Twins

Feb. 13

Feb. 14

Feb. 18

Feb. 19

New York Mets

Feb. 13

Feb. 14

Feb. 18

Feb. 19

New York Yankees

Feb. 13

Feb. 14

Feb. 18

Feb. 19

Oakland Athletics

Feb. 14

Feb. 15

Feb. 18

Feb. 19

Philadelphia Phillies

Feb. 13

Feb. 14

Feb. 16

Feb. 17

Pittsburgh Pirates

Feb. 13

Feb. 14

Feb. 16

Feb. 17

St. Louis Cardinals

Feb. 13

Feb. 14

Feb. 16

Feb. 17

San Diego Padres

Feb. 14

Feb. 15

Feb. 17

Feb. 18

San Francisco Giants

Feb. 13

Feb. 14

Feb. 16

Feb. 17

Seattle Mariners

Feb. 14

Feb. 15

Feb. 18

Feb. 19

Tampa Bay Rays

Feb. 13

Feb. 14

Feb. 18

Feb. 19

Texas Rangers

Feb. 14/17

Feb. 15/18

Feb. 20

Feb. 21

Toronto

Blue Jays

Feb. 14

Feb. 15

Feb. 17

Feb. 18

Washington

Nationals

Feb. 15

Feb. 16

Feb. 18

Feb. 19