RealBet Sportsbook is a SCAM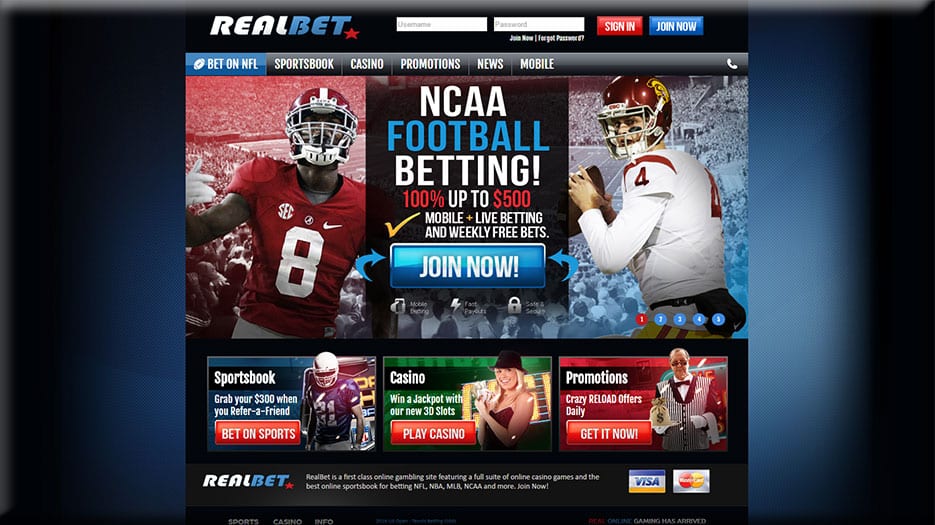 In a Nutshell...
I truly wanted RealBet.eu to succeed, but it's not looking good. Looks like another SCAM SITE.
July 2017 Update:
Be careful depositing at RealBet.eu – Plenty of no/slow payments being reported.  Some players have been waiting for payments since Jan & Feb 2017.
Aug 2018 Update: Stay away from RealBet.eu – They have not been paying ANYONE for over 6 months!
Sept 2019 Update: RealBet.eu website (and company) seemed to have disappeared.
They were added to our blacklisted sites back in early 2017.  Just a reminder to stick with the top rated sportsbooks that have been in business for 8+ years..
Below is our OLD review of Realbet for history/archive reasons
---
The best feature that a sportsbook can offer has nothing to do with lines, bonuses, or fast payments – it's longevity. When a book has been around for 10-15 years like many of the industry favorites there is a certain reliability that comes with it. Companies that have been around for years- whether it's a sportsbook, antique store, roofing contractor, etc. – have survived by providing a satisfying customer experience. Plus, you know they're not likely to simply fold up shop and scam your money because doing so would cost them long haul losses from long-term customers.
Unfortunately for Realbet.eu, longevity is something that can only be earned over time – and they've only been in operation since 2015. However, no new sportsbook would last if all potential customers waited until year 4 or 5 of them being in business which is why these books increase their incentives for you to become a member. You're banking a lot on good faith when playing at a new sportsbook like Realbet, but fortunately they provide you bonuses and promotions to increase that bank.
Company History
Partnership groups behind any sportsbook are somewhat clouded in mystery but rumors of the names surface over the years. Realbet for the most part is still behind the cloak but the chatter says it is backed by a group of experienced industry professionals with over 50 years of combined online gaming work. They are fully licensed by the gaming commission in Curacao and reports compliance to their laws and regulations.
Realbet was established just early in 2015 so, to be honest, not much is known about the company. Their website seems to be user-friendly enough with easy to use 'bet' buttons near each type of wager. The bet ticket sits conveniently on the right side bar and will be easy for anyone to use.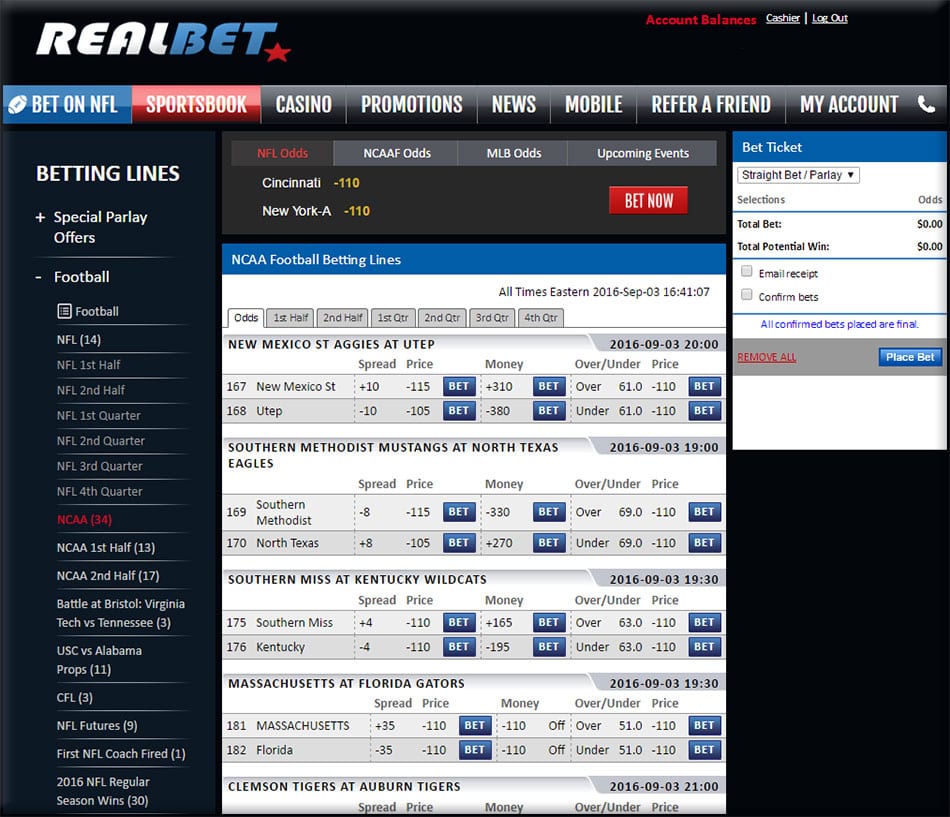 Reputation and Problems
No news could actually be considered good news when it comes to the online reputation of various sportsbooks. For one, many times complaints about different books come from cheaters who tried to take advantage of the system. Others are a result of paid contributors that are sent out to smear the name of a competitor while puffing up their employer. So far, there hasn't been any real traction about complaints directed towards realbet.eu.
Of course complaints don't always have to be aggressive smear campaigns. Something that a new book will inevitably deal with is the time needed to get their site fully-functional to match their competitors. For example right now being a member at realbet means you'll have access to a sportsbook and online casino but will have to go elsewhere to play poker or bet on OTB races. Deposit options are limited and most of the available sports to bet on are American (with International soccer) – although it is a sign that the book is geared towards U.S players. Mobile betting is also done only through a mobilized site and not a dedicated app which lowers some functionality.
RealBet Bonus Details
The new kids in town have to do something to lure players away from their current books and that's usually accomplished with better bonuses and promotions. Realbet steps up to the plate in this manner with arguably the best bonus in the industry, 100% up to $500 with just a 5X rollover requirement. Please note that the rollover is 5x both the deposit and bonus amounts (5x deposit + bonus).  They also feature a constant, everyday 10% reload bonus on every single deposit.
The bonus which is usually 100% up to $300, has been increased to 100% to $500 (with the same 5x rollover) for the NFL season.
Another thing you can expect with a relatively new book is incentive for getting the word out about their company. Realbet has an intense 25% up to $300 refer-a-friend program and even gives $10 in free money for liking them on Facebook, Twitter, and Instagram. Everybody earns points for every bet which can then be exchanged for cash or casino bucks.
Deposit Info & Fees
The deposit fees aren't really the issue with Realbet as right now it's the deposit methods, or lack thereof. Customers can only fund their accounts with either Visa or Mastercard with more types almost assuredly being added in the future. At least Realbet acknowledges these restrictions however and has upped their max transaction to $1,000 whereas most books limit you to $500 with a credit card.
UPDATE on deposit limits:
I have talked to a RealBet employee (Dustin) and he stated that while there is a max deposit of $1,000; this is for a first time player.  Once a player is established you can make multiple $1k deposits and even deposit more that $1k at once.
Withdraw Info
Realbet also only offers one withdrawal option, the courier check and you only get one free payout – once a month. After that each withdraw is subject to a $50 fee. Plus, before your first withdrawal you'll need to complete a CCVA verification for your credit card even though the CC isn't being credited. While this may be a pain in the ass, I understand they have to do it that way, so players don't request a payout and then do a dispute/charge-back for their credit card deposit.
I've been told they are in the works for adding bitcoin as a banking option in the near future..
April 2017 UPDATE: Payments are backed up since January.  We can't recommend RealBet anymore until they fix their payment issues.  If you have received any payments in 2017, please comment below.
Withdraw Time
Since there is only 1 payout option (checks only – see above) their is a necessity to get all customers paid out as fast as possible.  If RealBet slacks in this area, the other sports betting sites will eat them alive.  Their goal is 10-15 business days, but there has been many many many complaints of very slow (3+ months) payments. They had some bumps over the summer and payouts were much slower that, but it appears to be fixed now and check speed is getting faster.
Our Opinion of RealBet.eu
There is always some risk involved with depositing your money on any online sportsbook, but more so if the site lacks a solid reputation and is a relative newcomer. That being said, Realbet offers a nice easy to earn bonus that simply can't be matched by most other books. They are trying to get players and are compensating nicely to do so, just tread lightly because Realbet is still relatively uncharted waters.
While have only 1 deposit option and 1 payout option available could be seen as a problem, it is keeping RealBet.eu focused on keeping those 2 options running smoothly..
Realbet survived their first football season (2015) and are growing. It is not some book that will open just for a football season, delay payouts and then close up shop and take off with everyone's money.  Realbet has hired some well experienced employees in the sports industry.  It appears they are investing money in the business to avoid mistakes and truly compete with the other US sportsbooks.