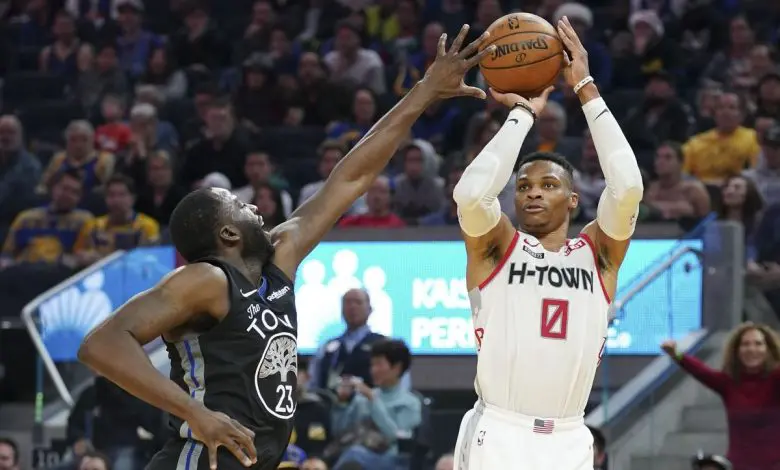 Twenty-two NBA teams have descended on Disney ESPN's Wide World of Sports complex to get ready for the restart of the season. Here are some newsworthy notes coming out of the 'bubble.'
Houston's Russell Westbrook Tests Positive for COVID-19
On Monday, NBA star Russell Westbrook announced via social media that he had tested positive for the coronavirus. Westbrook added that he was feeling well and in quarantine away from his teammates and coaches.
Westbrook's received his results prior to the team's departure for Orlando and did not travel with the team. The star guard will be allowed to rejoin his team once he tests negative for the virus on two occasions separated by at least 24 hours.
In addition to Westbrook, teammates James Harden and veteran forward Luc Mbah a Moute also did not travel to Disney's Wide World of Sports complex with the team, according to Head Coach Mike D'Antoni. It is unclear why those two did not travel with the team, but the expectation is they will be joining the team prior to the league restart at the end of the month.
Houston enters the restart with a 40-24 record, good enough for a tie for fourth in the Western Conference. Westbrook is the Rockets' second-leading scorer, averaging 27.5 points per game prior to the league suspension in March.
NBA Hotline Receiving Tips
The NBA set up an anonymous hotline for individuals inside the league's bubble to report social-distancing violations. Already, the league has said that already multiple tips have been received via the hotline.
Players are not allowed to go visit each other's hotel rooms but can socialize with each other under certain guidelines. Some NBA players are referring to the anonymous tipline as a "snitch hotline."
The league is being strict with the safety so far, sending both Sacramento Kings center Richaun Holmes and Houston Rockets forward Bruno Caboclo into quarantine after breaking social distancing protocols.
Rudy Gobert, the first NBA player to test positive for the coronavirus back in March, believes the NBA's hotline is "petty" and is not planning to turn in a fellow player. The Utah Jazz center famously touched all the mics after an interview, mocking the virus before testing positive for it.
More Betting Lines Available
As training and practices wind down and the reboot to the season closes in, Vegas is posting more lines available to the public. Now, most sportsbooks have the lines for the opening weekend of contests beginning on July 30. In addition to the conference and championship favorites, the books have also posted the most likely series final combinations.
Coming as no surprise, the two teams picked to win their conferences, the Milwaukee Bucks (-185) in the East and the Los Angeles Lakers (+135) in the West, are the favorites (+300) to meet up in the championship series.
The other high probability matchup according to Vegas is the Bucks versus the Los Angeles Clippers (+350).
The Lakers and Clippers will tipoff against each on the first night of the restart in Orlando.