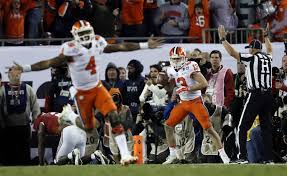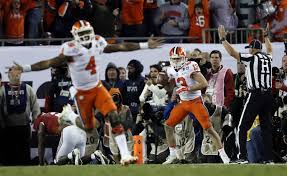 It is true that the 2018 college football championship futures are out. As a fervent sports bettor, you want to know what they are. But first, we have a few quick thoughts about last night's College Football Playoff National Championship game.
They battled once again for 60 minutes but the end was different from a year ago. The Clemson Tigers defeated the Alabama Crimson Tide last night in the final-second of play to take the national college football crown 35-31. We had predicted that both Clemson and the over were good bets in this game, and although it may not have looked that way in the first-half, the second-half of the game became a wild ride where all sorts of points were scored in all sorts of ways. That includes the game-winning TD with one second to go.
A few days before the game, Clemson head coach Dabo Swinney noted, "The last 29 games we're 27-2 and Alabama is 28-1." He added. "The best two teams are here. I don't think there's any question about that." He was correct on that second point, and after last night's game, the record for each team is now 28-2 with each holding one NCAA Football championship in those two years.
2018 College Football Championship Futures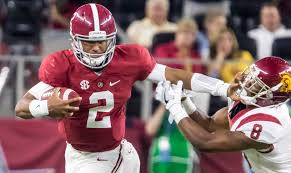 The 2018 College Football championship futures are out and the Alabama Crimson Tide are the favorites. The initial odds came out a few days ago, The following odds were updated within the past 12 hours.
Alabama Crimson Tide (2-1): The core is back, Nick Saban is coach, and they always have an amazing group of recruits.
Florida State Seminoles (7-1): A great veteran defense plus fine QB Deondre Francois makes this team a contender.
Oklahoma Sooners (8-1): The Sooners finished the year with 10 wins in a row and star quarterback Baker Mayfield will return- they have a shot.
Ohio State Buckeyes (8-1); Urban Meyer is an amazing coach and stars J.T. Barrett and Mike Weber are back, which means that the Buckeyes will have a dynamic offense.
USC Trojans (8-1): This team has a future as Heisman candidate QB Sam Darnold returns after the Trojans take the Rose Bowl by beating Penn State 52-49
Louisville Cardinals (12-1): The Cardinals sputtered at the end of the season, losing three straight, but Heisman Trophy winner QB Lamar Jackson returns and this team will be primed to win.
LSU Tigers (12-1): Great ground game, as Derrius Guice returns after rushing for close to 1,400 yards, and tough defense give this team a shot, but they need an air attack.
Michigan Wolverines (12-1): The highly respected Jim Harbaugh is the coach of a team that's losing just about every major contributor.
Clemson Tigers (18-1): Yes, they just won the national title but offense standouts Deshaun Watson, Mike Williams, and Wayne Gallman will not return.
Texas Longhorns (25-1): There's been some upheaval in the organization but freshman quarterback Shane Buechele and just about the entire defense return.
Oklahoma State Cowboys (30-1): The return of quarterback Mason Rudolph and wide receiver James Washington will give the Cowboys a shot at contending.
Penn State Nittany Lions (30-1): QB Trace McSorley and running back Saquon Barkley return to a team that won 11 games and took the Big Ten title this year.
Auburn Tigers (30-1): The Tigers have the SEC's leading returning rusher Kamryn Pettway, and the talented transfer QB Jarrett Stidham, who was at Baylor.
Washington Huskies (40-1): This team is a real long shot as they lose their top defensive players to the NFL.
Georgia Bulldogs (40-1): A large number of Georgia players elected to skip the NFL and come back for a year, including Nick Chubb and Sony Michel, and the Bulldogs have second-year quarterback Jacob Eason in charge of the offense.
Virginia Tech Hokies (40-1): They had a great season, but QB Jerod Evans has gone to the NFL and the Hokies are a major long shot.
Ready to Bet Futures?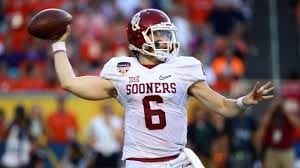 When you think about it, these 2018 College Football championship futures bets are all long shots. This is due to the way in which the selection process works for the playoffs. You can have a team like Penn State take the conference title and be passed up. There will always be some whimsy and unpredictability in the process of choosing the teams to compete for the College Football Playoff National Championship, as a committee is in charge of the process. Always remember that in wagering on futures, never bet the farm.